Delhi and Mathura are among the most-visited tourist destinations in North India. They offer a unique blend of culture, history, and natural beauty. Our Delhi Mathura tour packages offer a memorable trip that combines both these destinations in one go. Each package we offer is packed with an array of exciting activities, breathtaking sights, and delicious local cuisine.
We at "Holidays DNA" at www.delhitourism.travel have prepared Delhi Mathura tour packages to ensure you explore the best of both locations. Delhi is the capital of India and home to some of the country's most iconic monuments, such as the Red Fort and Qutub Minar. Mathura, the birthplace of Lord Krishna, holds immense spiritual significance for Hindus around the world.
Our "Delhi Mathura tour packages" include sightseeing, accommodation, meals, and transport, making it easier for you to enjoy your journey comfortably. We also offer customized packages based on your preference. From exploring historical monuments to visiting pious temples, trying out the delectable local food, and shopping at the bustling markets, our packages cover it all.
Our team of travel experts provides the best services for an amazing experience during your trip. We take care of all aspects of your journey and guide you throughout the tour, from planning the trip and making bookings to transportation and accommodation. We also offer personalized tour packages in case you have any specific needs or requirements that need to be taken care of.
In addition, we offer Delhi Mathura tour packages from several key locations across the country. These include all the major cities such as Bangalore, Hyderabad, Mumbai, Chennai, etc.
Popular Sightseeing Places in Mathura that can be visited with this package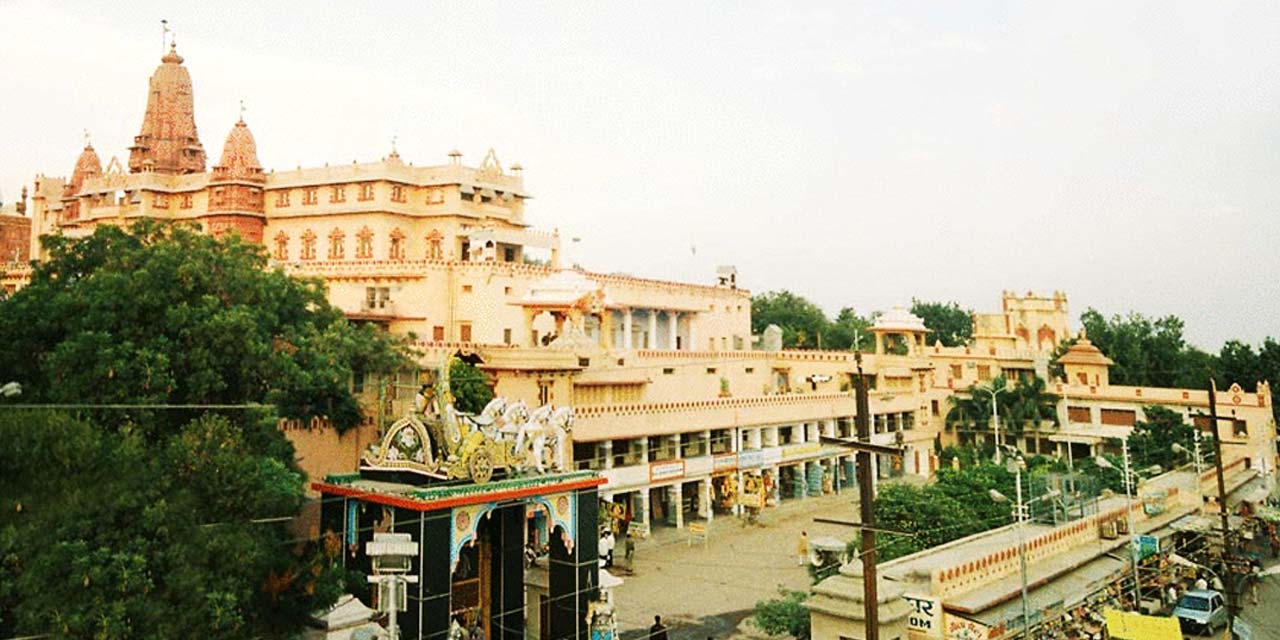 Shri Krishna Janmabhoomi Temple is one of the oldest temples in India and is considered as an important pilgrimage site for devotees of Lord Krishna. The revered temple complex marks the birthplace of Lord Krishna and houses several other shrines where devotees can offer prayers.
A walk through Shri Krishna Janmabhoomi Temple is a serene spiritual experience and an insight into the life of Lord Krishna.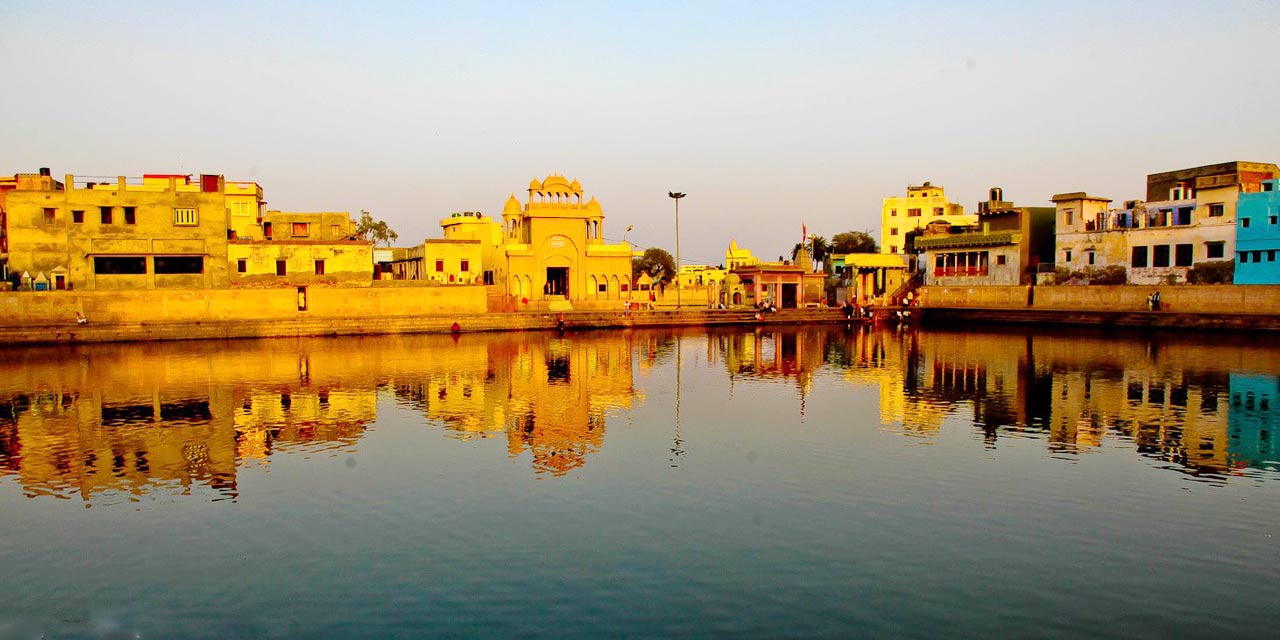 Located near Govardhan Hill, Radha Kund draws thousands of pilgrims every year who come to take a dip in the holy waters. It is said that Lord Krishna used to bathe here, and the water is believed to have healing powers. It is believed that anyone who takes a bath here will be blessed with spiritual peace and purity. In addition to its religious importance, Radha Kund is also famous for its stunning scenery.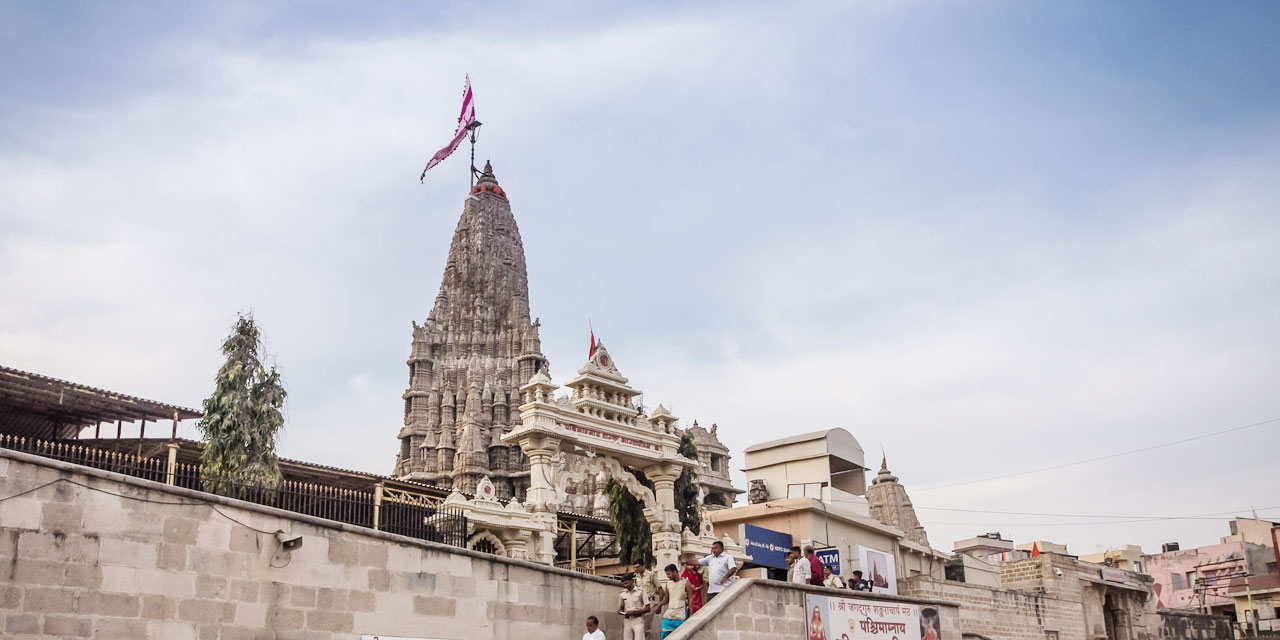 Dwarkadheesh Temple is a popular tourist attraction in Mathura dedicated to Lord Krishna and dates back to 200 BCE. It houses a beautiful idol of Lord Krishna in its sanctum sanctorum. The current structure was constructed in 1814 by Seth Gokul Das Parikh. Devotees flock to this temple from all parts of India to seek the blessings of Lord Krishna. Annakut or Govardhan Puja on Diwali is celebrated in a special way here.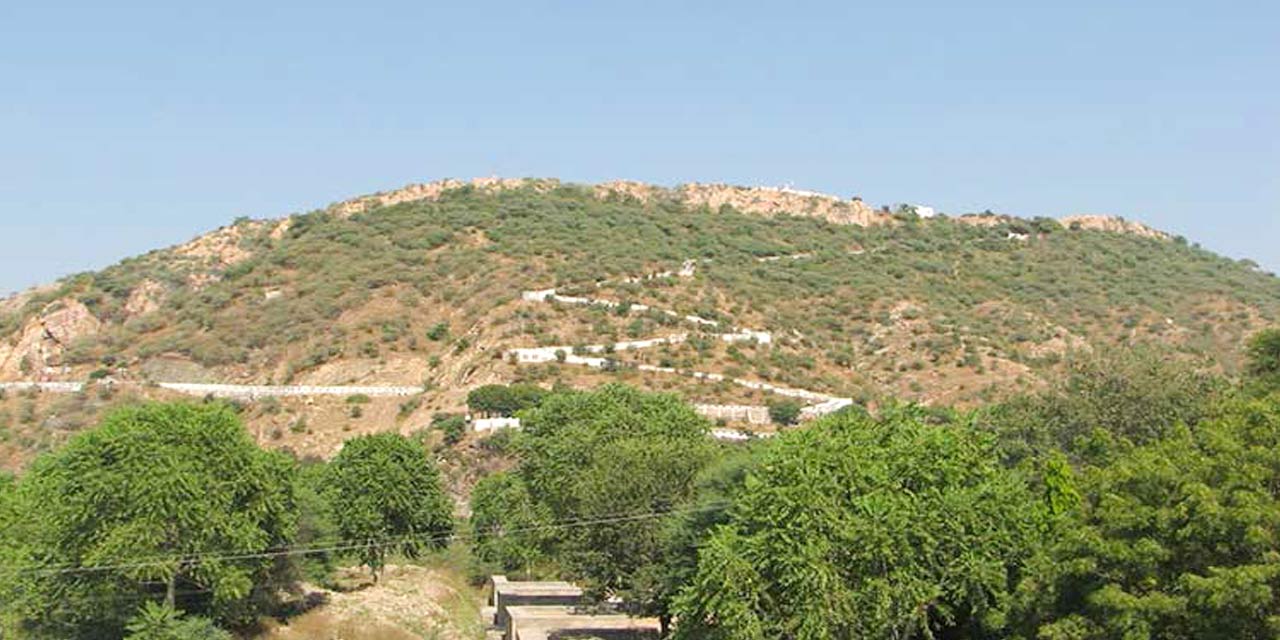 Govardhan Parvat, or Giri Raj, is a revered hill. As mentioned in the Shrimad Bhagwat Gita, the hill had been lifted by Lord Krishna on his little finger in order to protect people from the wrath of Lord Indra. Devotees can take a holy walk around the hill and visit Radha Kund, located at its base. Govardhan Parvat is also home to an annual festival held in honor of Lord Krishna's victory over Indra, known as Annakoot.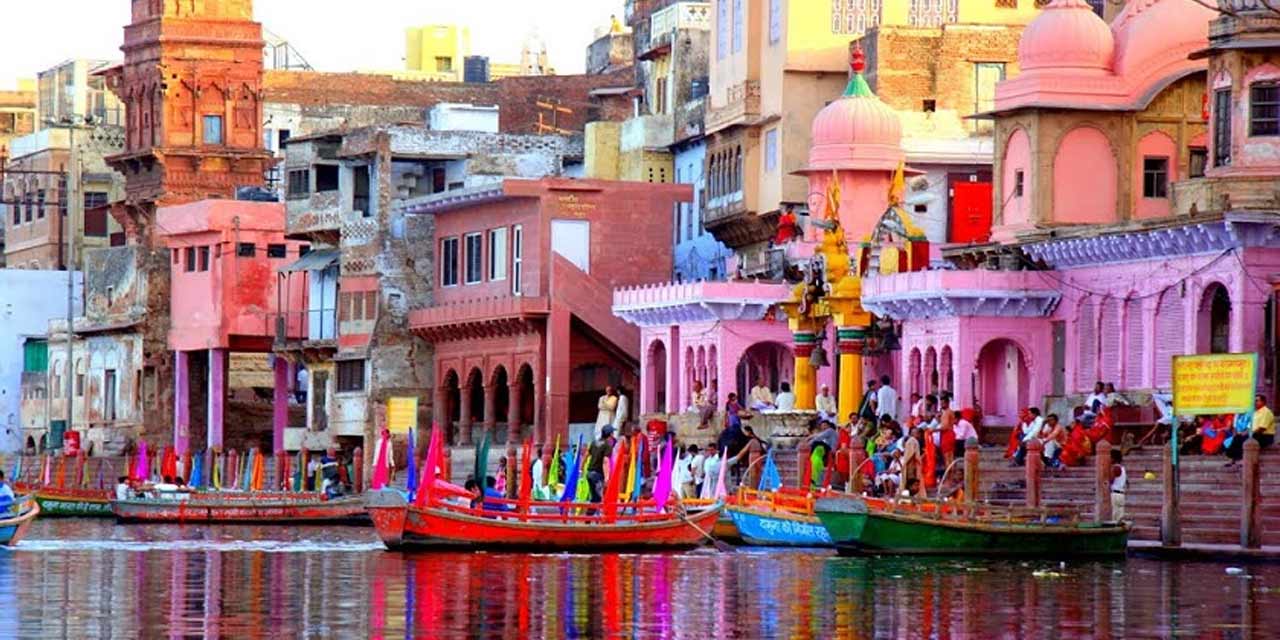 Vishram Ghat is a popular bathing ghat in Mathura, where Lord Krishna is said to have taken a rest after defeating the cruel Kansa. It consists of twenty-two ghats, each with its own unique significance.
Devotees can take a holy dip here and pay their respects at the beautiful temples located on the banks of the river Yamuna. You can enjoy a boat ride on the river and take in the breathtaking views of Mathura. Aartis are performed here every evening, making it an amazing sight to behold. Vishram Ghat is a great place for pilgrims to soak in the divine atmosphere.
Popular Sightseeing Places in Delhi that can be visited with this package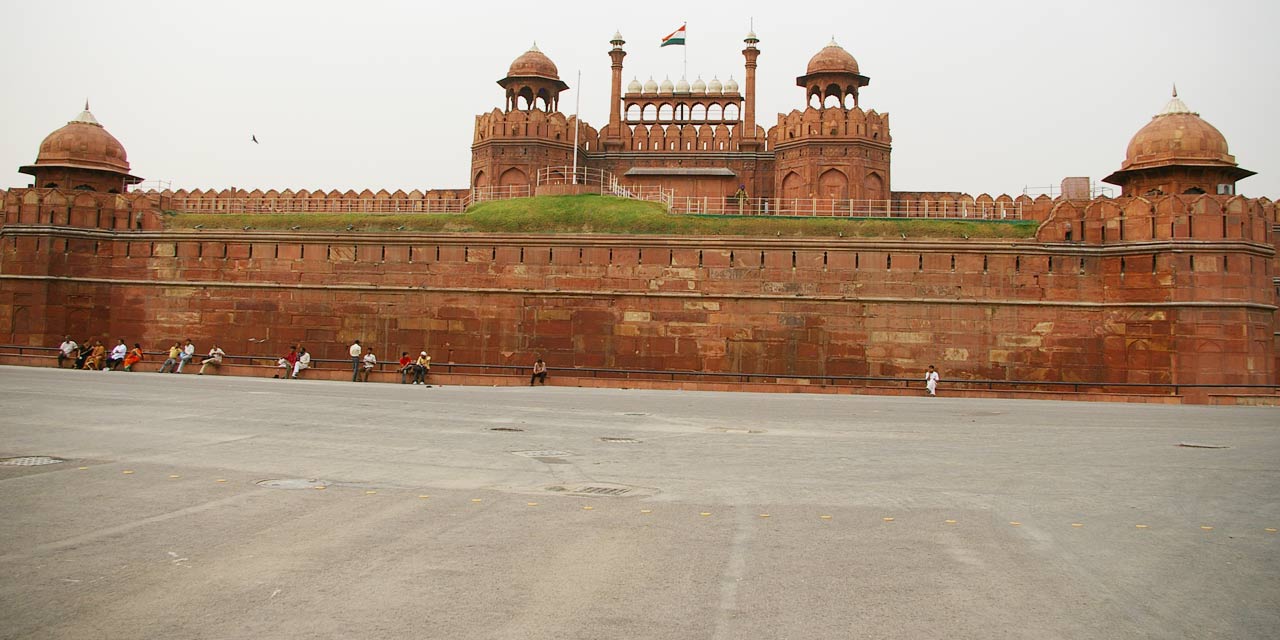 The Red Fort is one of the most well-known attractions in Delhi. Built during Mughal Emperor Shah Jahan's reign in 1638, this grand sandstone structure served as both a military fortress and royal residence until 1857.
Today, it stands as a symbol of India's rich and turbulent past and is also a UNESCO World Heritage Site. Visitors can explore the stunning marble palaces, with their intricate carvings and inlaid tiles, as well as take a leisurely stroll along the banks of the nearby Yamuna River.

Qutub Minar is a 73-meter tall tower and an iconic testament to Delhi's architectural heritage. Completed in 1193 AD by Muslim rulers, it boasts of ornate red sandstone detailing and stands out against the skyline of modern-day Delhi.
The site has been declared a UNESCO World Heritage Site and is one of the most visited monuments in India. Its surrounding gardens provide visitors with a peaceful spot to relax.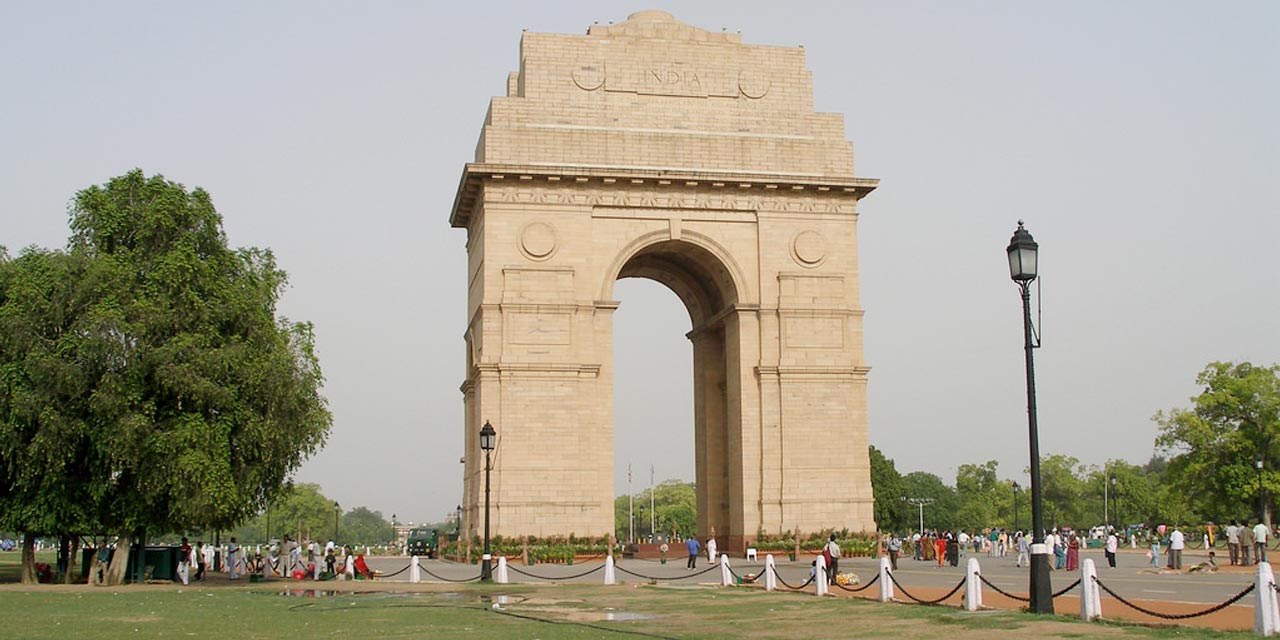 Constructed in 1931 to commemorate Indian soldiers who lost their lives in World War I, the India Gate stands as a symbol of national pride. Situated on the Rajpath, it is a 42-meter-high archway that is often illuminated at night and provides an impressive backdrop for photographs.
Besides its remarkable architecture, you can also explore the nearby India War Memorial Museum to pay tribute to the country's brave soldiers.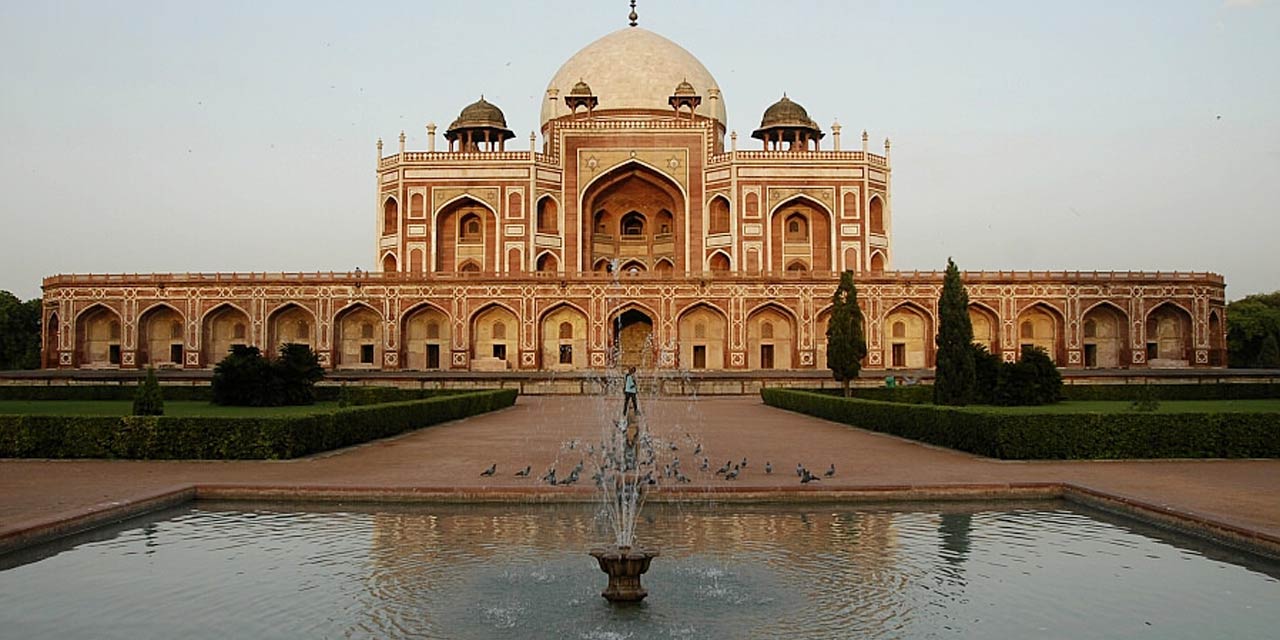 Humayun's Tomb is a beautiful example of Mughal architecture that was built in 1570 AD by Emperor Humayun's widow. The sandstone structure features intricate carvings, gardens, and four graceful minarets that tower over the surrounding landscape. You can take a guided tour and learn more about the history of the tomb.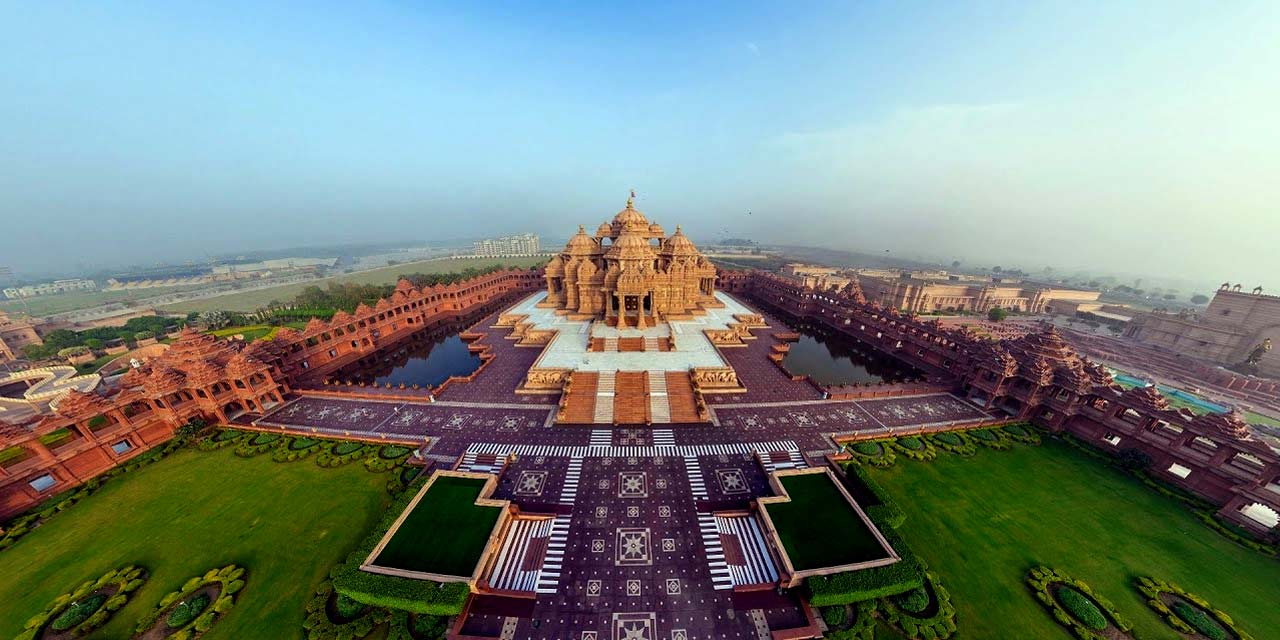 Akshardham Temple is a key pilgrimage destination in Delhi. It is an intricately designed Hindu temple dedicated to Lord Swaminarayan. Built in the year 2005, it stands tall against the skyline with its ornate domes and sprawling gardens. You can explore the temple complex and marvel at its intricate carvings and artwork.