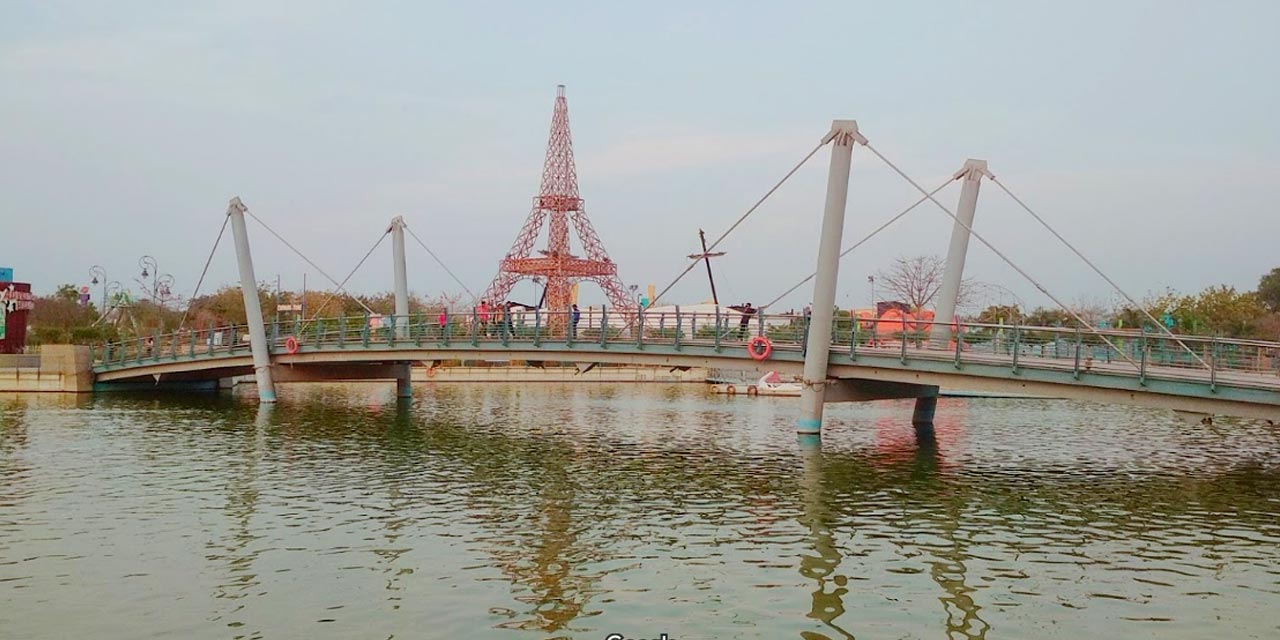 Adventure Island Delhi Entry Fee
550 per person for Adults (Weekdays)

550 per person for Children (Weekdays)

350 per person for Senior Citizens (Weekdays)

600 per person for Adults (Weekend)

600 per person for Children (Weekend)

350 per person for Senior Citizens (Weekend)

---
Adventure Island Delhi Phone
---
Quick Facts about Adventure Island Delhi
Adventure Island Delhi Timings
| Day | Timing |
| --- | --- |
| Monday | 11:00 am – 7:00 pm |
| Tuesday | 11:00 am – 7:00 pm |
| Wedesday | 11:00 am – 7:00 pm |
| Thursday | 11:00 am – 7:00 pm |
| Friday | 11:00 am – 7:00 pm |
| Saturday | 11:00 am – 7:00 pm |
| Sunday | 11:00 am – 7:00 pm |
Rating:

| 4 stars, of total 96 reviews
Adventure Island Delhi Address: Opposite Rithala Metro Station, Sector-10, Rohini, New Delhi, Delhi, 110085, India
---
One of the most entertaining attractions in Delhi's Rohini sub-city, Adventure Island invites thrill seekers of all ages to indulge in some fun and frolic. Spread over 62 acres or 250,000 square metres, this amusement park can only be entered by crossing a bridge that runs over the Lagoon, an artificial lake.
Adventure Island is connected to a specially designed open marketplace-style mall, called the Metro Walk, which houses a number of clothing, shoes and lifestyle brand outlets and eateries. With 23 rides and unique attractions to keep you and your little ones active, this theme park promises to be worth your while!
Adventure Island Timings & Entry Fee
The Adventure Island in Rohini generally opens at 11 AM and closes at 7 PM. That said, the officials reserve the right to change the entry and exit timings depending on weather conditions. The adjoining Metro Walk has separate timings which overlap with that of the theme park. It opens at 11 AM. While all the retail shops shut by 9 PM, the restaurants at the mall accept the final order until 10:45 PM.
Adventure Island extends multiple offers on its entry tickets. Their unlimited tickets are priced at INR 550 for weekdays and INR 600 for weekends and gazetted holidays. The unlimited ticket lets you access any ride or attraction any number of times without any restrictions. You will still have to pay for certain paid attractions.
The amusement park extends several special offers throughout the year for both online and offline bookings. You can take advantage of their Happy Tuesday offer which lets you buy tickets at a flat rate of INR 399 on Tuesdays.
If you are not sure about which rides to take, you can buy their Entry Only ticket for INR 300 which only lets you enter. However, you will need to pay INR 100 per ride inside the park for one-time enjoyment.
If you prefer to book ahead online, make use of their Midnight Jackpot Offer which is only valid for online bookings made between 11 PM and 2 AM. The first 100 tickets which are booked online at midnight get flat 50% off. However, you can book for a maximum of 6 people at a time for this offer.
Adventure Island also runs its own version of Happy Hours from 5 PM to 7 PM. Under this scheme, you can buy your tickets at the flat rate of INR 350 each. The only catch is, you can enter strictly between 5 PM and 6 PM, neither before, nor after this window.
Rides and Attractions at Adventure Island
Over 20 rides and attractions await every reveller at Rohini's Adventure Island. There is something for every age group as there are Adult Rides, rides for Kids and Family, and even Water Rides! Apart from these, you can take a look at the Paid Attractions on this man-made amusement island.
Adult Rides
1. Z-Force: A wordplay on G-Force, this ride works against the gravitational force of the earth to thrust you upwards. The ride stops for a while to let you have a bird's eye view from the top, after which, you experience freefall. You will hear yourself and everyone around you scream as your stomach churns with the sudden weightlessness. This ride has a capacity of 8 people, and only those who are taller than 105 cm are allowed.
2. Side Winder: Accommodating a maximum of 24 people, this ride is basically a giant wheel that spins as a huge rod yokes it up and down. The combined motion gives you the butterflies-in-your-stomach feeling. You have to be at least 134 cm tall to get on to Side Winder.
3. Sky Riders: Supporting 24 riders at the max, Sky Riders simulates a driving experience in the sky. Yoked to the spokes of an enormous wheel are hanging cars where the guests are seated. As the ride proceeds, the wheel spins and the cars are spun at varying angles, making you feel like you are flying. Only those with a height of 105 cm or more are allowed on this ride.
4. Lightning Bolt: Suitable for revellers who are 130 cm and taller, Lightning Bolt looks like a spider with multiple legs. You sit on one of a group of lockable seats set up on a life-size disc at the end of each leg. While the legs jut up and down, the disk rotates on its own axis, sending shivers down your spine.
5. Space Jump: This ride mimics the solar system, with a sun-like giant ball at the centre. Double seats jut out of its bottom, connected by thick rods, where riders are securely fastened to their positions. The ride makes you revolve around this sun as you take a "space jump" when the rods go up and down. A total of 24 people can get on this ride at a time, and they all need to be 120 cm and above.
6. Climbing Wall: If you are at least 4 feet tall and weigh between 30 kg and 100 kg, you can test your muscular strength at this artificial rock climbing installation. You need not worry about falling as you will be harnessed and a rope, supported by a pulley will control your fall.
Foot rests are provided at various distances, depending on how much you wish to stretch your limits. The Climbing Wall actually has different faces with different inclination. If you prefer the easiest, go for the forward sloping incline. There is also a 90-degree wall and a backward incline for the fitness freaks.
7. Wild Wheel: This is the classic "dashing cars" for grownups! Rubber-lined static electricity producing mini-cars have to be manoeuvred with an accelerator, break and a steering wheel. Only two participants can sit in one car as they drive around the smooth enclosure, hitting other cars for fun, or saving their own.
8. Splash Down: This adult ride is a water ride, meant for a maximum of 4 people per splash down. You are seated on a rollercoaster-style ride which, in the end, splashes down into a man-made river-track from a height, drenching you to the bone. You need to be at least 134 cm tall to experience the Splash Down.
Kids and Family Rides
1. Cyclone: This ride takes a max of 32 kids at a time. Cyclone looks like a carousel from the outside, except that 32 swings hang from its roof, spinning as the ride begins. Children need to be at least 90 cm tall to be able to enjoy this ride.
2. Air Pogo: With no height criteria, this ride is suitable for toddlers. Teach your little ones what it is to be a pilot as they sit on one of 5 planes, each plane bearing a maximum of 4 kids.
3. Wave Rocker: Another ride with no height criterion, the Wave Rocker is for every member of the family. A total of 24 people can sit on the Rocking Tug, a ship that simulates rocking on choppy seas.
4. Kids Bumper Cars: This is the kids' version of dashing cars, and only children between the heights of 90 cm and 134 cm can drive these cars. Kids Bumper Cars is a cool way to introduce your children to the joys of driving.
5. Bungee Trampoline: Children who weigh between 20 kg and 50 kg can jump to their heart's content on this trampoline. There is no height criteria for this ride, and it's quite safe as your child will be harnessed securely.
6. Tiny TV Transit: No amusement park is complete without a toy train. Adventure Island has its own train ride, complete with an engine latched before all the bogeys. Tiny TV Transit can carry a maximum of 76 kids at a time, and there is no height requirement to get on this train.
7. Fire Brigade: This cute little fire truck can carry a total of 24 kids at once. It's a fun ride without any actual fire or water involved. Children should be at least 90 cm tall to be a part of this Fire Brigade.
8. Bush Buggies: If you're a small family, take advantage of Adventure Island's Bush Buggies to explore the scenic beauty of the premises with your elderly parents or little children. This ride has no height criterion, while each buggy accommodates up to 4 passengers.
9. Splash Dunk: The kiddie version of the Splash Down ride, Splash Dunk is a water ride in which a maximum of 4 kids can sit inside a boat. This boat will travel over a rollercoaster, only to splash into water in the end. Children need to be at least 90 cm tall to get on this boat.
Water Rides
1. Aqua Bump: This is a spacious water pool with rain dance facility which can hold about 150 people in its full capacity. Kids below the height of 4 feet won't be allowed into Aqua Bump.
2. Amazon Mist Forest: Meet your favourite Cartoon Network characters, such as Dexter, on your way into the Amazon Mist Forest. We recommend that parents enter with their children.
3. SHA LA LA: Named after the famous party-song, "My Heart Goes Sha La La La", this is the place to indulge in some rain dance. Groove to the beats of trendy music with your friends as the showers make you wet.
4. Splash Pool: The perfect place to chill with your family, albeit in water! The Splash Pool offers canopies or umbrellas with showers at their edges for more frolicking.
5. Swan Boat: Seating a maximum of 10 passengers, the Swan Boat is a gigantic swan-shaped boat which can be steered across the artificial lake, called the "Lagoon", by the means of pedals. Life jackets are provided to all, irrespective of whether they know how to swim. Each participant needs to be 134 cm in height or taller to be able to do this type of boating.
6. H2O: As the name suggests, this ride is all about H2O, or water. The arena has various hurdles and slides that pass through a number of showers that continuously spew out water in different directions.
Apart from these, Splash Down and Splash Dunk water rides are available for adults and kids, respectively.
Other Paid Attractions
1. Click Art Museum: Open from 1:30 PM to 10 PM, this unique museum is a delight to the eyes. Kids of all ages will particularly want to explore this space for the vibrant paintings and the art-gallery-like feel of it.
2. Carousal: Open only to kids between the ages of 4 and 12, the carousel is a glamorous fete-style attraction where a number of animals revolve about a central axis. Get on one of the horses and hold the pole for balancing yourself on this carnival-themed ride. This Carousel can take a max of 21 children at a time.
Swan Boat and Aqua Bump are also paid attractions.
Image Gallery of Adventure Island Delhi
Interesting Facts About Adventure Island
Adventure Island and the adjoining Metro Walk are interesting not just for the thrilling rides but also some eyebrow-raising facts:
1. A number of Bollywood movies have been shot here. Some examples are Ladies v/s Vicky Bahl, PK and Pyar Ka Punchnama.
2. The park hosts a special MAD Show at its amphitheatre. MAD stands for Music, Acrobatics & Dance. Apart from magic tricks, dances and musical performances, you can witness clown acts and fire shows by skilled performers.
3. Adventure Island is jointly owned by IAL (International Amusement Ltd) & UL (Unitech Ltd).
4. The adventure park has a specially designed zone called Planet Pogo. This collaborative endeavour with Turner Network Television has a multi-purpose amphitheatre, called the MAD Theatre. This is where enigmatic and enthralling magic shows, dance performances and other entertaining acts are held. There is also a Pogo Plaza for smaller children where they can interact with their favourite cartoon characters who appear in life-size attractive costumes.
5. The adjoining Metro Walk is a one-of-a-kind concept designed and conceptualised by Forrec, Canada.
Things to Keep in Mind While Visiting Adventure Island
Some more information to help you make the most of Adventure Island:
1. School and college group visits get special timings discounted rates, and a specially designed package which includes unlimited international rides, some water rides, rain dance, MAD (Music, Acrobatics and Dance) Circus, teachers' lounge and live DJ. The premise will cater to your dining needs also.
2. If there are at least 30 guests, their green lawns can be hired for various occasions such as Teacher's Day, Annual Function, birthday or marriage parties, kitty parties, etc.
3. The adventure park conforms to European Union Safety Standards which are accepted globally.
4. Corporate bookings are also undertaken for Family Day Outs, team building, events, promotions, and client outings. The park arranges an emcee, music and sound effects, coordinator for team building activities, etc.
5. Kids' birthday parties can be celebrated with a lot of surprises thrown in by Adventure Island such as a special gift for the birthday boy or girl, return gifts for all the guests, cartoon characters for entertainment, games, a magic show, a puppet show, and more.
6. At the premises, there is a spacious walled parking area which is guarded by trained security personnel. This ground level parking is spread over 3 acres, and can hold a maximum of 1,500 cars and 1,000 two-wheelers.
7. Since costumes cannot be bought or rented at Adventure Island, it is recommended to carry a change of clothes and a towel, especially if you plan on getting on the water rides.
8. The amusement park does not provide any lockers for storage of bags or valuables. They ask that you carry minimal belongings and avoid bringing expensive cameras or other valuables along. Also, bags are not allowed on the rides, and the owner is responsible for taking care of what he has brought with him.
9. Children shorter than 90 cm have free entry into the theme park. However, there are only a handful of rides for which they qualify.
10. For senior citizens and physically challenged guests, there are wheelchairs which can be availed at the Metro Walk.
Places to Visit near Adventure Island
Adventure Island has enough to keep you occupied for an entire day. Should you still wish to visit other places, here are some suggestions which are not too far away:
1. Metro Walk: Located on the same premise as that of the amusement park, Metro Walk is a unique retail shopping experience. It is an open marketplace offering avenues to shop, dine and also indulge in some entertainment. Spread over 2 lakh square feet, this urban mall lets you go on a shopping spree at both international and local brand outlets. You can eat at the food court or walk into some of the restaurants here.
2. Lagoon: This is an artificial lake which connects Metro Walk to Adventure Island through a bridge. You can enjoy some boating on the Lagoon. Watch out for the Swan Boat ride with a maximum capacity of 10. These large swan-shaped boats let you pedal across the lake.
3. Japanese Park: Only a couple of minutes' drive from Adventure Island is this gorgeous park in Rohini's Sector 10 at Swarn Jayanti Park. The park is open from 5 Am until 8 PM, but it is recommended not to hang around after dark. Colloquially known as JP, one can find several gardens and children's play areas inside. It is possible to play football, skate, walk or even run on their dedicated jogging track. Fountains enhance the overall experience.
4. Bhalswa Golf Course: A 20-minute drive away, this golf course is accessible between 6:30 AM and 5:30 PM on all days except Mondays. This semi-private golf course is owned by DDA (Delhi Development Authority) and is quite affordable as compared to fully private upscale golf arenas. For as little as INR 500, you can tee across the 9 holes of Bhalswa Golf Course. One can also enjoy the tall tree cover, colourful flowers and the adjoining Bhalswa Lake.
5. Pitampura District Park: Only 25 minutes from Adventure Island, this public park stays open from 4 AM to 9 PM on all days. The sprawling fields are ideal for playing cricket or football. If you would rather play some badminton, you will have to carry your own net to tie across the poles installed here. Their open air gym is quite a useful addition, helping people of all ages work their muscles. Maintained by DDA, Pitampura District Park is also popular for picnics, morning walks and jogs as it is generally quite clean and peaceful.
How to Reach Adventure Island
Adventure Island is situated in Delhi's Rohini area, specifically in the neighbourhood of Rohini Sector 10. One can reach this amusement park through various modes of transport as listed hereunder:
Via Metro: Adventure Island is only a few hundred metres from the Rithala Metro Station, which is the nearest metro station from this theme park. Rithala is serviced by Delhi Metro's Red Line, and happens to be the last stop. Using the extensive metro network of the capital city and NCR (Northern Capital Region), you can get here from almost anywhere in Delhi through a few line switches at the junction of any two metro lines.
City Buses: Buses are rarely preferred to get to Rohini, but there are some routes that take you to Rithala Metro Station, from where Adventure Park is only some minutes' walk away. 990A and ML-15 cover most areas in Delhi and take you to Rohini.
Arriving from the Airport: Indira Gandhi International Airport about 30 odd kilometres from this amusement park, and it takes at least an hour to cover this stretch. You can either arrive through the Mahatma Gandhi Marg or take the Outer Ring Road. The roads in Delhi are among the finest in the country, so drives are comfortable. You can also book a private cab from top car rental companies in Delhi to reach here.
Adventure Island is hardly a few minutes' drive away from the National Highway which connects Delhi to Panipat, Chandigarh and other cities in the North. Even the Haryana border is only a short distance away.
---
We at Delhi Tourism, a division of Holidays DNA offer all-inclusive Delhi tour packages to have a perfect time while exploring the tourist attractions of Delhi. Please feel free to reach us by filling the Contact Us form to know more about the packages.
Location Map for Adventure Island Delhi