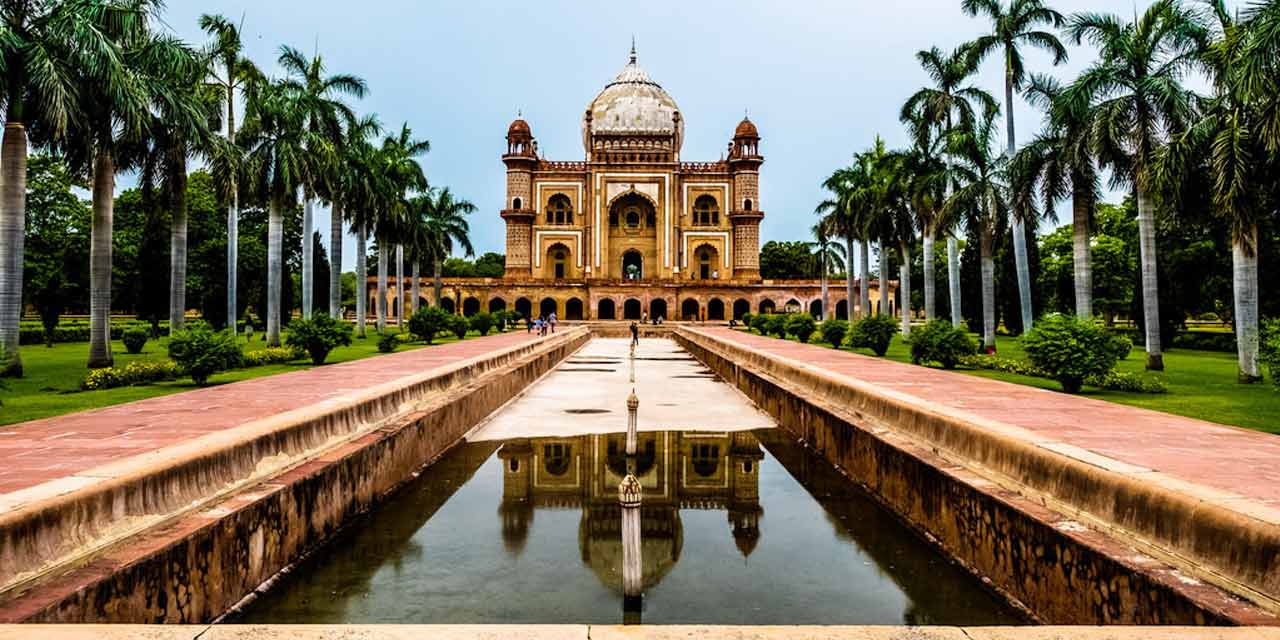 Safdarjung's Tomb Delhi Entry Fee
15 per person for Indians

200 per person for Foreign Tourists

0 per person for Still camera

25 per person for Video camera

---
Safdarjung's Tomb Delhi Phone
---
Quick Facts about Safdarjung's Tomb Delhi
Safdarjung's Tomb Delhi Timings
| Day | Timing |
| --- | --- |
| Monday | 7:00 am – 5:00 pm |
| Tuesday | 7:00 am – 5:00 pm |
| Wedesday | 7:00 am – 5:00 pm |
| Thursday | 7:00 am – 5:00 pm |
| Friday | 7:00 am – 5:00 pm |
| Saturday | 7:00 am – 5:00 pm |
| Sunday | 7:00 am – 5:00 pm |
Rating:

| 4 stars, of total 51 reviews
Safdarjung's Tomb Delhi Address: Airforce Golf Course, Delhi Race Club, New Delhi, Delhi, 110021, India
---
Safdarjung Tomb, located in Delhi's Jor Bagh area, is one of the grandest monuments of the city and yet one that is not crowded or overly popular. While a large number of travellers from all across the world ensure to make their way to places like Jama Masjid and Humayun's Tomb, Safdarjung Tomb is one that is often missed and perhaps, saves itself for those special ones who take a few extra steps to reach here.
It has had an unquestionably essential role in shaping the history of the city and being an architectural marvel, it reflects the splendour of the Mughal era. Also known as 'Safdarjung ka Maqbara,' the tomb is surrounded by lush green gardens and is made of marble and sandstone. It was built in the late eighteenth century and reflects the cultural influences of the time.
The tomb is the burial chamber of Safdarjung, a political leader who was the Prime Minister or Wazir ul-Hindustan of the Indian subcontinent during the rule of Ahmad Shah Bahadur. It was built by his son, Nawab Shujaud Daula and stays as the last garden tomb to reflect the architecture of the Mughal era.
With its well-maintained lawns, fountains, a water canal and an aesthetic structure, it is loved by people of all age groups. Some come here to enjoy the winter sun in the lawns while some come equipped with cameras to capture the play of lines, light and shadows.
The tomb also has some incredible detail on its walls and high, carved ceilings that have been inscribed with Arabic sayings and phrases, the meaning of which are both complex and beautifully simple at the same time.The empty tomb halls, the sound of pigeons, the soft sunlight passing through the windows will stay with you long after you leave.
History of Safdarjung Tomb
Mirza Muqim Abul Mansur Khan, otherwise known as Safadarjung, presided over Awadh as an autonomous leader at the position of the viceroy of Muhammad Shah. After the demise of Emperor Muhammad Shah, Safdarjung shifted to Delhi. And as Mohammed Shah Ahmed Shah conjured the domination of Mughal Rule in Delhi in 1748, Safdarjung gained the position of the Prime Minister of the kingdom with the title of Wazir ul-Hindustan. During this era, the realm was deteriorating in its function and influence as their territorial rule covered only the Northern part of India.
Safdarjung was a dominant figure in the political scene and as the Prime Minister, he took control of all the important powers, leaving the king as a mere figurehead with no real decision making power. But his control became so overbearing that the Marathas were called to drive Safdarjung out of Delhi in 1753 and soon after that, he passed away in 1754.
After his death, his son Shujaud Daula requested the Mughal Emperor to let him build a tomb for his father. On the southern end of the tomb is the historically significant site where the 1386 battle was fought between Timur of Mangol and Mohammed Tughlaq.
It is interesting to note that a lot of materials used to build the Safdarjung Tomb were sneakily taken from the tomb of Abdur Rahim Khan-i-Khana which is situated in the present-day area of Nizammudin, near Humayun's Tomb.
The material, that is sandstone and marble, added glory to the Safdarjung Tomb but also marks its authenticity. This is also one of the reasons it strikes a close resemblance to Humayun's Tomb and is labelled by many as its cousin monument.
If you take a closer look, you'll realise that the tombstone is made up of stone that is light brown in colour and the marble is patched and yellow. This hints at the socio-economic conditions of the era when the empire was declining financially, and both wealth and workers were harder to obtain.
Many historians have even questioned the existence of grand tomb of a wazir like Safdarjung when so many emperors were forgotten. It is believed that his power and influence were so strong that he surpassed even emperors in honour. This certainly seems to be true and can be justified by the presence of the modern day hospital, flyover and even some residential colonies by his name.
The tomb of Safdarjung brings forth some important events in history that are probably not much talked about in history books. It also emerged as an important centre of literature, art, architecture and music.
Image Gallery of Safdarjung's Tomb Delhi
Architecture of Safdarjung Tomb
Safdarjung Tomb is the last garden tomb of the Mughals and thus, it gains another significant role in Mughal history.It was designed by an Ethiopian architect who built the tomb in a similar style to that of Humayun's Tomb.
The tomb is surrounded by a massive square garden where you will find birds of all kinds, people sprawled in the sun and children enjoying nature. Inside the compound is a mosque with three domes and while not many come here to worship, it has a serenity to it which immediately inspires you to slow down.
The huge central dome of the tomb will immediately attract your attention but look closer and you will discover some interesting details on the walls. The tomb is constructed out of brownish yellow and red sandstone, synchronising it in looks with several other Mughal monuments across the city. If you stand at the entry gate, you will have a picturesque view of the monument.
Look for an Arabic inscription that has a very interesting meaning: "When the hero of plain bravery departs from the transitory, may he become a resident of god's paradise".
The square central chamber has a cenotaph at the centre and is divided into eight partitions. The four towers around the main tomb are of an impressive height and one can imagine the prestige they must have lent to the monument at the time of its creation. The towers have faded marble panels and on the arches, you can still see the careful work of the artists.
The graves of Safdarjung as well as his wife are in the underground chamber of the mausoleum which is not accessible. The ceiling of the mosque is especially beautiful as the plaster has been painted and decorated.
When you see the monument for the first time, you will immediately be struck by its resemblance to the Taj Mahal but an interesting fact is that it lacks the symmetry of Taj Mahal and thus has a slightly askew appearance. The four minarets are also a part of the mausoleum unlike those in Taj Mahal which are constructed separately.
The architecture of the monument holds a contradiction within it when it is both admired and looked down upon. While there is a certain beauty in its understated construction, the lopsided proportion and use of lower quality material do take away from what its impact could have been. But, if it had not been so, it would have given a false narrative of the true state of affairs during this period of the Mughal empire.
Things to Do at Safdarjung Tomb
At a monument as magnificent as Safdarjung Tomb, there is little to do, except for exploring the history, myths, and tracing the culture of a bygone era that peeks through. So the first thing we suggest you do is to find a quiet, comfortable corner in the compound and just be there, experiencing the place for the pure, sacrosanct place it was supposed to be.
The flawlessly manicured gardens are a pleasure to laze around and if you manage to go at any time when the sun isn't too harsh, you will surely savour this little piece of natural beauty in the middle of the polluted city.
Whether you enjoy photography or not, you will definitely be tempted to click a few shots after looking at its unparalleled architecture. It is especially beautiful with a backdrop of the pink and purple sky and the setting sun so try to visit at this particular time.
If you are a history buff or someone who aspires to expand their knowledge, we would suggest hiring a local guide as they will give you detailed information about the history, architecture, and stories of the monument along with introducing its various elements to you.
The Archeological Survey of India has also recently placed 213 lights on the tomb and every evening from 7:30 to 11 pm, the tomb is completely lit up.. It is unfortunate that visitors are not allowed inside during this time but even if you are just passing by at night, do stop to admire it and we promise you'll be spellbound.
Entry Timings and Fee of Safdarjung's Tomb
It is open on all days of the week from 7:00 a.m. to 5:00 p.m.
Tickets: Indian: Rs 15
Foreign travellers: Rs 200
Photography: No fee
Videography: An extra Rs 25
Tips for visiting Safdarjung's Tomb
Carry a bottle of water and a cotton scarf to cover your head as there is little shade, hence it can get uncomfortable during the summer.
Wear comfortable walking shoes and avoid heels because the ground is slightly uneven.
Places to Visit Near Safdarjung Tomb
1. Lodhi Garden
Distance: 1.9 km
Lodhi Garden is perhaps one of the most loved places of Delhi as it is much more than a garden and a monument. At any given point of the day, you can find fitness enthusiasts, groups of young people, photographers, history buffs, art lovers and writers sprawled around the huge area.
2. Lodhi Art District
Distance: 2.4 km
Not too far away from Lodhi Gardens is the Lodhi Art District, one of the picturesque spots of Delhi. If you have been researching about Delhi, you must have seen photos of the graffitied walls floating around the internet; the art on the walls and the installations are much more amazing if viewed in real time.
3. Khan Market
Distance: 2.4 km
One of the oldest and most exclusive markets of Delhi, Khan Market is home to some legendary eateries and shops. Drop by for shopping apparel, silver jewellery and books and have lunch at one of the many concept restaurants.
Distance: 2.5 km
Gandhi's journey and philosophy are presented through various aspects of his story and different art forms along with some of his most important personal belongings.
Distance: 3.2 km
Nehru Planetarium is a great place to go to if you are travelling with kids because they will thoroughly enjoy the show on the solar system and galaxy. It also has the Teen Murti Bhawan along with some interesting monuments like the Kushk Mahal where not many people make their way to.
How to Reach Safdarjung Tomb
It is situated at the intersection between Safdarjung Road and Aurobindo Road and is at a comfortable distance from all other central locations of Delhi. It is also accessible by both public and private transport. It remains one of the most unique monuments of the capital.
By Road: The best way to reach Safdarjung Tomb by road would be to hire a taxi in Delhi as it will ensure you reach the tomb faster and conveniently.
By Metro: The nearest metro station to Safdarjung tomb is Jor Bagh metro station on the Yellow line. You can either take an auto from there or walk for approximately 500 metres.
By Bus: If you are travelling by bus, you can easily catch a bus to the Jor Bagh or Safdarjung Madarsa stop. It is at a walking distance from the same.
Distance from New Delhi Railway Station: 10.km
Distance from Indira Gandhi International Airport Terminal 1: 12.4 km
Distance from Connaught Place: 8.6 km
Either way, it is well connected by public and private transport and you will have no trouble reaching other locations from Safdarjung either. However, if you wish to travel in a hassle free manner during your trip, you can book a private cab from top car rental companies in Delhi and visit all the popular sightseeing places of Delhi leisurely.
---
Safdarjung Tomb, although not recognised as so, is one of the most authentic markers of an important phase in Indian history. And unlike grand monuments whose significance has been marred by commercialisation and romanticism, this monument stands true with its historical and cultural context intact.
It reflects a great era that was and also shows the beginning of the fall of that era. In its classic architecture and thought-out detailing, it closes a memorable chapter, paving the way for the beginning of a new age.
Delhi Tourism, a division of Holidays DNA makes your trip to this lively city all the more enjoyable through the various Delhi Tour Packages it offers at pocket friendly prices. Choose the package that suits you best and embark on a beautiful journey to this happening city. Please fill the Contact Us form for further details and we will get back to you.
Location Map for Safdarjung's Tomb Delhi