Qutub Minar Entry Fee
30 per person for Indians

0 per child (below 15 Years)

500 per person for Foreign Tourists

25 for Still Camera (non-commercial use)

25 for Video Camera (non-commercial use)

---
Qutub Minar Phone
---
Quick Qutub Minar Facts
Type: Monument
Status: UNESCO world heritage site
Qutub Minar Height: 72.5 meters
Qutub Minar diameter at the base: 14.32 meters (47 feet)
Qutub Minar diameter at the top: 2.75 meters (9 feet)
Qutub Minar floors: 5 storeys
Location: Kalka Das Marg, Mahrauli
Nearest Metro station to Qutub Minar: Qutub Minar Metro Station
Qutub Minar Built by: Qutub-ud-din Aibak while the additions were made by his successors Iltutmish and Firoz Shah Tughlaq
Qutub Minar Timings
| Day | Timing |
| --- | --- |
| Monday | 7:00 am – 5:00 pm |
| Tuesday | 7:00 am – 5:00 pm |
| Wedesday | 7:00 am – 5:00 pm |
| Thursday | 7:00 am – 5:00 pm |
| Friday | 7:00 am – 5:00 pm |
| Saturday | 7:00 am – 5:00 pm |
| Sunday | 7:00 am – 5:00 pm |
Rating:

| 5 stars, of total 97 reviews
Qutub Minar Address: Mehrauli, New Delhi, Delhi, 110030, India
---
About Qutub Minar, Delhi
---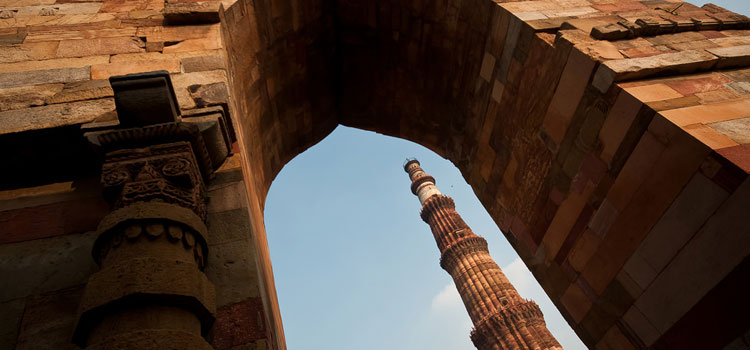 One of the most popular places to see in Delhi, Qutub Minar (Hindi: क़ुतुब मीनार, Urdu: قطب مینار) is a UNESCO World Heritage Site, presenting a glimpse into the grandeur of the past. Owing to its worldwide popularity Qutub Minar has become an integral part of every Delhi Tour.
Delhi Qutub Minar boasts of being one of the tallest minarets in the world as the height of Qutub Minar is 72.5 meters. Built in 1192 by Qutab-ud-din Aibak, it is considered to be first building, marking the arrival of Muslim rulers in the country. Although there are also a few contradicting theories on the same.
Surrounded by an appealing garden, Qutub Minar creates a sight worth remembering. Tourists also come to relax here at the garden and admiring the imposing figure of the minaret. Most of them can be seen taking photos of this stunning architecture, to remember the experience through Qutub Minar images.
Qutub Minar History
---
There are many stories about Qutub Minar construction. As per some, this minaret was built as symbol of victory and to mark the start of Islamic invasion, while according to some it was built for the purpose of praying. According to the widely accepted history of this minaret, it was Qutub-ud-din Aibak the first Muslim conqueror of Delhi who built Qutub Minar in in 1192.
As per the Qutub Minar history, although the construction was stated by him, only the basement of the minaret could be completed during his reign. The main mosque was also built in 1197. Later, three more storeys were added to the minar during the rule of his successor Iltutmish around 1230. After that again in 1368, the last storey of the Qutub Minar was added by Firoz Shah Tughlak.
The inscriptions of the minaret are in Arabic; these inscriptions providing detailed information on Qutub Minar. As per these inscriptions on the minaret, it was also restored by the Sikandar Lodi during 1489-1517. Later in 1829, it was again repaired by the Major R. Smith.
One could access the top of the Qutub Minar before the year of 1974. Through a path via a narrow staircase, tourists could reach the top and enjoy the mesmerising view of the surrounding areas. Later due to an unfortunate accident in 1981, the entry was prohibited.
In the month of December, 1981, there were around 300-400 tourists inside the minar when an electricity failure occurred; this led to complete darkness inside the staircase. This in turn led to stampede. Around 45 people died in that incident. This resulted in banning entry to the inside of tower. However, the architecture of Qutub Minar is equally captivating from outside, making this place worth visiting.
Qutub Minar Architecture
---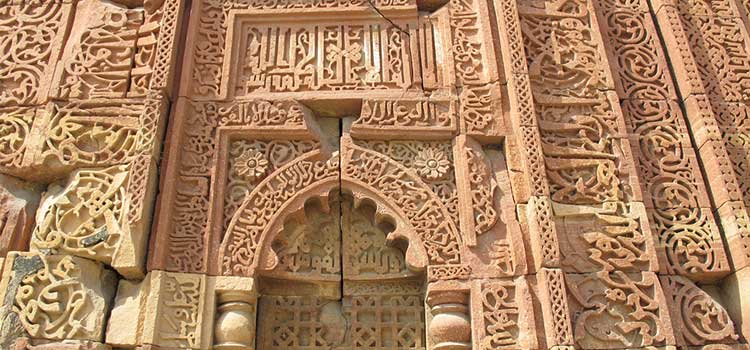 Built in the style of Indo-Islamic Afghan architecture, Qutub Minar is built with red sandstone. Presenting a perfect example of architectural excellence, it stands at a majestically. The Qutub Minar height is 72.5 meters and there are 379 steps to reach its top. The minaret is around 47 feet wide at the base while at the top it is around 9 feet. It is consisted of 5 towers, with each tower showcasing a different design. The difference in architectural style is mainly because of the changing in the rulers over the course of its construction.
Not only the style, even the materials used for building various storeys of Qutub Minar Delhi also vary from the Qutab-ud-din Aibak to the time of Firoz Shah Tughlak.
Built with red sandstone, its storeys have intricate carvings and inscriptions from Holy Quran, while balconies have been ornamented and supported by exquisitely decorated brackets. The base of storeys differs from each other. For instance, the base of first storey is angular and circular grooves while the base of second storey is round in shape and on third storey you will see angular fluting.
Qutub Minar also boasts of being taller than many popular buildings in the world such as Tower of Pisa, Great Pagoda in China, etc.
Places to see near Qutub Minar
---
The Qutub complex is also consisted of the mosque Quwwat u'l-Islam (Light of Islam), which is considered to be the oldest mosques in the Northern India. It has been built using the materials from around 27 temples, traces of which can be seen in the Hindu style ornamentation of the building. The architectural beauty of this mosque attracts many admirers. It is also said that Hindu artisans also helped in building this mosque. To the western side of the mosque, tomb of Iltutmish is located.
Iron Pillar is also located nearby, which is another popular tourist attraction in Delhi. Iron Pillar was constructed in the honour of Chandragupta II in the 4th century during the Gupta reign. With a height of 7.2 meters, this pillar has been built with 98 percent of iron yet it hasn't rusted and still stand in robust condition. On the top of the pillar an image of God Garuda can be seen.
Another notable structure here is the Alai-Darwaza Gate which was built in 1311 in the Indo Islamic style of architecture.
Qutub Minar is also proud to be the first monument in India where the facility of e-ticket was introduced. In addition to this, picture of Qutub Minar on the travel cards that are issued by the Delhi Metro Rail Corporation also indicate the historical and architectural significance of this minaret.
Image Gallery Qutub Minar, Delhi
---
Qutub Minar Timings and Entry Fee
---
Qutub Minar timings are from 7 AM to 5 PM. The opening time of Qutub Minar is 7 AM and it is best to visit the monument during early morning hours to avoid the crowd. The closing time of Qutub Minar is 5 PM. It is open all days of the week.
The entry fee of Qutub Minar is Rs.30 per person for Indian residents, while for the foreign tourists, the ticket charges are Rs.500 per person.
Although one can visit Qutub Minar anytime during the day, the best time to visit is during the Indian classical music festival which usually happens during the month of November or December. While visiting, you can leave your bags in the cloakroom and explore this ancient monument comfortably.
Where is Qutub Minar in Delhi & How to reach?
---
Qutub Minar is located around 30-40 minutes away from the central New Delhi. From Delhi airport, it will take around 20 to 25 minutes to reach the Qutub Minar.
There are many buses that run at regular intervals to Qutub Minar. Tourists can also hire a taxi or travel in auto rickshaws. If you are wondering where is Qutub Minar then you need worry, as it is a popular attraction of the city, finding the route wouldn't be a difficult task.
One of the best ways to reach Qutub Minar Delhi is via the metro rail. Qutub Minar has its own metro station that falls on the yellow line connecting Samaypur Badli to HUDA City Centre. There are other three metro stations located close to the Qutub Minar namely Saket Metro Station, Chattarpur Metro Station and Hauz Khas Metro Station, all falling on the Yellow line. These are at a distance of 1.8 km, 3 km and 3.7 km respectively from the monument.
Qutub minar station is located at a distance of 1.6 kilometres to the southeastern side of the monument. Tourists can take a metro train till Qutub Minar station and then hire a local auto rickshaw to the monument. It takes around 4-6 minutes to reach Qutub Minar from the metro station exit by an auto. One can also walk to cover the distance and it takes around 20 minutes to reach the monument.
Qutub Minar Facts & information about qutub minar
---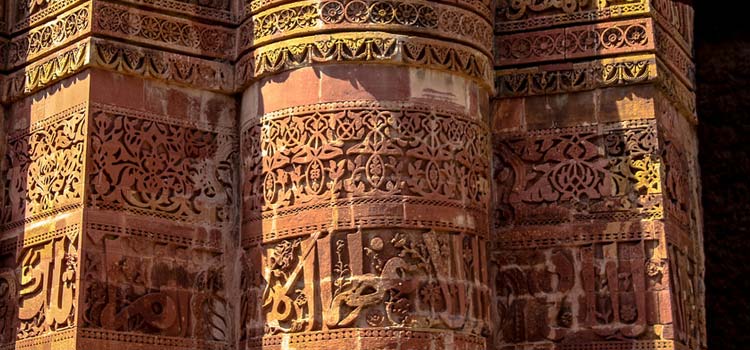 How many Floors / Storeys are there in Qutub Minar?
There are five distinct floors in Qutub Minar.
---
How tall is Qutub Minar?
The height of Qutub Minar is 72.5 meters.
---
Is there any Sound & Light Show at Qutub Minar?
There is a light and sound show at Qutub Minar. The timings for light and sound show is 7 PM – 9 PM.
---
What are different materials used to build Qutub Minar?
The materials used in construction of Qutub Minar vary with storeys it was built over a span of many decades and reigns. The material used for building first three storeys of Qutub Minar is red sandstone while the remaining storeys are made up of marble and sandstone.
---
What are the various monuments in Qutub Minar Complex?
Qutub Minar complex is consisted of various sightseeing places. Some of these are Iron Pillar, Alai-Darwaza, Tomb of Iltutmish, Alai Minar, Imam Zamin's Tomb, Ala-ud-Din Madarsa and Quwwat-ul-Islam Mosque.
---
What is Qutub Minar Address?
The address of Qutub Minar is Kalka Das Marg, Mehrauli, New Delhi - 110030. The Qutub Minar metro station is just a few minutes away from it.
---
What is the Height / Length of Qutub Minar?
The height or the length of Qutub Minar is 72.5 meters which is 237.8 Feet.
---
What is the Importance of Iron Pillar at Qutub Minar?
Iron Pillar at Qutub Minar complex, built in the honour of Chandragupta II during Gupta reign in 4th century, is a fine example of ancient India metallurgy. In spite of being made with iron, this pillar has not rusted. More than 2000 years old, Iron pillar is still standing strong. It is said that the iron used in building this pillar is of exceptionally pure quality, although scientists are still not sure how the metal was obtained or what technology was used.
---
What's inside Qutub Minar?
Before the accident of 1981, tourist were allowed inside the Qutub Minar. One could reach the top of the minaret via a narrow staircase of 397 steps. However, now it is not possible for tourists to enter the minaret and to explore the inside of Qutub Minar. There are a few pictures of Qutub Minar that show the inside of this tower.
---
When was Qutub Minar Built?
Qutub Minar was built in the year of 1192 while many floors were added subsequently.
---
Where is Qutub Minar?
Qutub Minar is situated in the Mehrauli area of Delhi. It is just a few minutes away from Qutub Minar metro station and is at 30 to 40 minutes of distance from central New Delhi.
---
Who Built Qutub Minar?
Qutub Minar was built by Qutub-ud-din Aibak, who was the founder of Turkic rule in India and the first Sultan of Delhi. He ruled from 1150 to 1210 and was succeeded by Iltutmish who added three more storeys to Qutub Minar during his reign. After top floor was struck by a lightning, two more floors were added by Firoz Shah Tughlaq, who ruled from 1351 to 1388.
---
Who built the first storey of Qutub Minar?
The first storey of Qutub Minar was built by Qutub-ud-din Aibak.
---
Who completed Qutub Minar?
The construction of Qutub Minar was completed by Firoz Shah Tughlaq who added the last two floors to the minaret during the period of 1352 to 1388. Later the structure underwent various renovations over many decades. In 1503, Sultan Sikander Lodi repaired Qutub Minar when it was again struck by lightning. Afterwards in 1823, changes were again made by Major R. Smith and then by Governor General, Lord Hardinge in 1848.
---
Why was Qutub Minar Built?
There are different opinions on why Qutub Minar was built. As per some, it was built an emblem of victory and to mark the onset of Islamic rule in India. According to some, this is associated with Mosque, as from here, Muezzin would call prayers to Allah.
Location Map for Qutub Minar Delhi