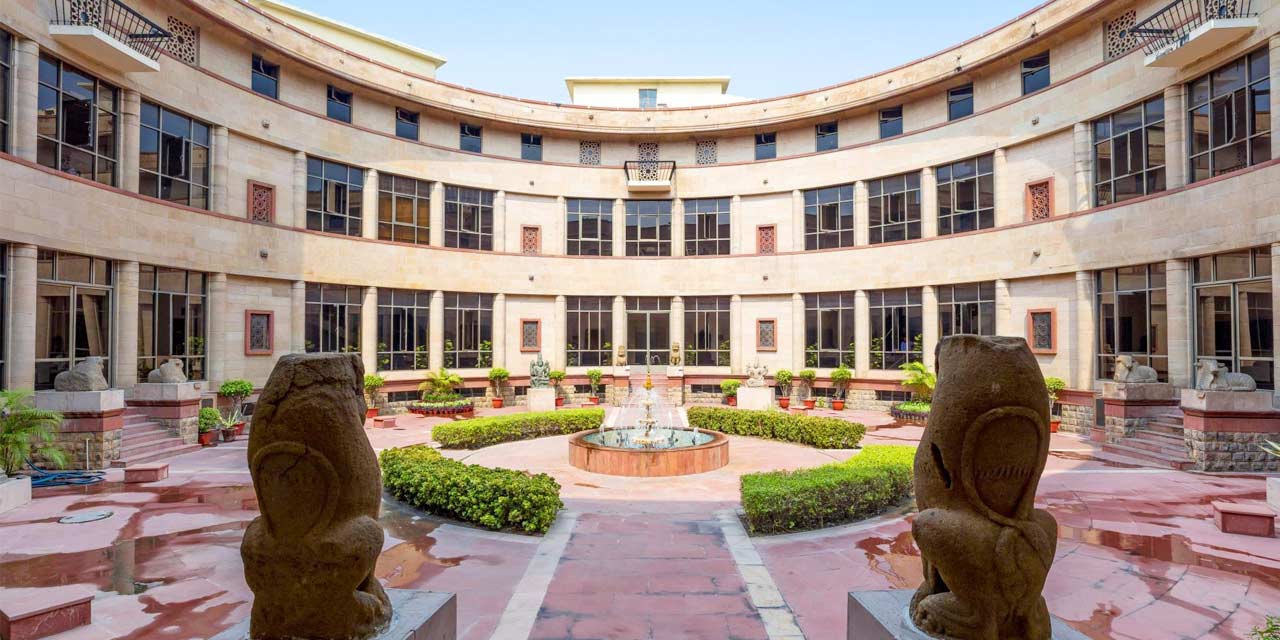 National Museum of India Delhi Entry Fee
20 per person for Adults

650 per person for Foreign Tourists (including Audio Guide)

0 Free entry for Students upto class 12th (with I-cards)

0 per person for Still camera

Videography is not allowed inside the museum
Handheld camera photography is allowed but for using photos permission has to be taken
---
National Museum of India Delhi Phone
---
Quick Facts about National Museum of India Delhi
National Museum of India Delhi Timings
| Day | Timing |
| --- | --- |
| Monday | Closed / Holiday |
| Tuesday | 10:00 am – 6:00 pm |
| Wedesday | 10:00 am – 6:00 pm |
| Thursday | 10:00 am – 6:00 pm |
| Friday | 10:00 am – 6:00 pm |
| Saturday | 10:00 am – 6:00 pm |
| Sunday | 10:00 am – 6:00 pm |
Rating:

| 4 stars, of total 41 reviews
National Museum of India Delhi Address: Rajpath Area, Central Secretariat, New Delhi, Delhi, 110001, India
---
One of the largest museums in India, located in Delhi, is the National Museum of India, established in the year 1949. The museum is a paradise for people who are enthusiasts for history, archaeology and heritage. Being one of the largest museums in the country, the National Museum of India houses around 2 lakh artefacts and works from the prehistoric era and modern works of art and cover a horizon of around 5000 years. The museum is governed and funded by the Ministry of Culture and Ministry of Tourism, Government of India.
History of the National Museum of India
The National Museum of India is located on the outer circle of Connaught Place, between Janpath and Maulana Azad Road. The Gwyer Committee laid the blue-print of the National Museum of India in the year 1946. The museum is an outcome of a successful exhibition held at the Royal Academy in London and later at Rashtrapati Bhawan which was held in the year 1949.
The then Governor-General of India, Shri Chakravarti Rajagopalachari, inaugurated the museum and Pt. Jawaharlal Nehru laid the cornerstone of the museum on May 12th, 1955. On the 18th of December, 1960 the building was made open to the public.
Institute in the National Museum of India
The museum also beholds an in-house university which is National Museum Institute Of History Of Art, Conservation and Museology which was established in the year 1983. This university now functions as a deemed university since the year 1989. Various Doctoral and Masters courses are running in the university on History Of Art, Conservation and Museology.
Departments at the National Museum of India
There are 16 departments at the National Museum of India which preserve strong heritage from the past. The departments are:
Prehistoric Archaeology
Archaeology
Manuscripts
Numismatics and Epigraphy
Paintings
Arms and armour
Decorative arts
Central Asian antiquities
Pre-Columbian art
Jewelry
Anthropology
Education
Public relations
Publication
Conservation
Display
These departments are based on and cover almost all types of artefacts and collections at the museum.
Collection Galleries at the National Museum of India
Apart from the departments, there are 21 collection galleries at the museum where exhibits, paintings and collectibles from different ages and times are preserved. These galleries include:
1. Harappan Gallery
Also known as Indus Valley Civilization and Indo-Saraswati Civilization, various artefacts from the Harappan Civilization are preserved in this section. There are idols and works of art made from Terracotta, Bronze, Ivory, Semi-precious stones, and Bone objects. Apart from this, there is pottery and Jewellery.
2. Maurya, Shunga and Satvahana Arts Gallery
The objects under this gallery include objects from as old as the 4th Century BC to 1st Century BC. As the name suggests, the three dynasties rule this gallery- Mauryas, Shungas and Satvahanas. The objects under this gallery include objects depicting Buddha's life.
3. Kushana Gallery
1st to 3rd century CE was the Kushana Dynasty rule. The famous Gandhara School of art and the Mathura School of Art were prevalent during this time. Greek Iconography had a huge influence on the Kushana Gallery. Kushana dynasty is most famous for depicting Buddha in physical form.
4. Gupta Gallery
Under this dynasty, the art work and scriptures from the Gupta Dynasty ruling from 4th to 6th Century CE are exhibited. The most famous sculptures are from Mahabharata and Ramayana.
5. Medieval Arts Gallery
The gallery is divided into two sections: Early Medieval and Late Medieval. The gallery contains a combination of arts from different dynasties like Vardhanas, Pratiharas, Maitrakas, Palas, Pallavas, Cholas and Chalukyas in the early period and Parmaras, Chandelas, Hoysalas, Nayalas, Gajapatis, Senas and Chauhans in the later period. Post the decline of the Gupta Dynasty, the future of the Indian subcontinent and Art work suffered badly.
6. Decorative Arts Gallery
This gallery is also divided into two sections: Section 1 and Section 2. Section 1 comprises of objects made from Jade, Ceramics and Ivory. Section 2 contains objects made of metal and wood.
7. Miniature Paintings Gallery
There are more than 17000 miniature paintings. The paintings are categorized according to different schools of art and contain paintings from various periods like Deccani, Mughal, Rajasthani, Pahari etc.
8. Buddhist Artefacts Gallery
Preserved from the Sidharth Nagar in state Uttar Pradesh, are relics from Buddha period of 5th and 4th Century BC. The artefacts predominantly comprise of Terracotta, Bronze, Stone, Stucco and wood. The three principal Buddhist forms- Hinayana, Mahayana and Vajrayana. Humanity serves as the basic theme of these artefacts.
9. Evolution Of Indian Scripts And Coins Gallery
The gallery depicts the evolution of Indian Coin system and Scripts. There are specimens from different periods which are displayed in huge showcases.
10. Bronze Gallery
Idols made from Bronze depicting Natraja, Parsvnath, Chubisi, etc.are exhibited in this gallery.
11. Manuscripts Gallery
Various scripts and manuscripts in different languages from different periods are preserved under this section. The manuscripts are written on different materials like a palm leaf, birch bark, metals, paper and parchment.
12. Coins Gallery
This gallery is a perfect example of traditional and modern ways. The gallery depicts the evolution of coin system starting right from cowries and goes till credit/debit cards.
13. Central Asian Gallery
Sir Aurel Stein discovered these artefacts during one of his expeditions along the silk route from years 1900 to 1916. There are various wall paintings, silk banners, wooden and terracotta sculptures, pottery and porcelain objects and objects made from grass, leather, fiber, gold and silver.
14. Maritime Heritage Gallery
Exhibits from maritime and Maratha naval tactics are depicted under this gallery
15. Tanjore And Mysore Paintings Gallery
Mysore and Tanjore are the two famous schools of southern India from which various objects are depicted. The artefacts are under themes of Indian Mythology, Gods, Goddesses, Epics, etc.
16. Textiles Gallery
Textiles from the Mughal period are depicted under this section. The featured textiles are Silk, cotton, Woollen, prints, dye, embroidery etc.
17. Pre-Columbian And Western Art Gallery
Objects under this gallery are donated by Mrs. And Mr. Nasli Heeramaneck of New York. The objects are revived from different countries like Inca. Mexico, Maya, Salvador, Panama, Peru etc.
18. The Tribal Lifestyle Of North East India Gallery
Established as a dedication to the eastern style of living in India, the gallery comprises of artefacts from the eight eastern states, commonly known as the seven sisters and a brother (Sikkim).
19. Sharan Rani Backliwal Musical Instruments Gallery
Indian Sarod Maestro Padmashree (Late) Mrs. Sharan Rani Backliwal donated the collection of this gallery. Comprising of musical instruments which are folk, tribal, and classical, this gallery is eye-candy for music lovers.
20. Wood Carving Gallery
As the name suggests, this gallery comprises of wooden artefacts depicting carving art from India, Nepal and Tibet.
21. Arms And Armour Gallery
Right from the Stone Age to Modern Age, this gallery depicts arms and armours under different periods and ages. The collections comprise the arms and armours majorly from the Mughal period including Rajput, Sikh and Maratha arms as well.
Entry Fee and Timings of National Museum of India
The entry fee for visiting the National Museum of India is Rs. 20 for Indian Adults, Rs. 650 for Foreigners. There is no fee for students carrying ID cards from class 1 to 12.
Handheld camera photography is allowed in the museum but for using photos permission needs to be taken. There is no extra camera fee.
Videography is not allowed inside the museum.
The visiting hours for the museum are from 10:00 am to 6:00 pm on all days of the week, except for Monday.
How to Reach the National Museum of India
The National Museum of India is located on the outer circle of Connaught place which makes it quite easy to access.
By Metroline- If you are in Delhi, the most convenient mode of transportation to reach the National Museum of India is by metro. Udyog Bhawan is the nearest metro station just 900 meters away from the museum.
By Road- If you are traveling by road, Delhi is well connected by most cities in India, being the National Capital. All buses come till ISBT Kashmiri Gate from where you can take the DTDC line 40 to reach Udyog Bhawan which is just 900 meters away from the National Museum of India. Private taxis are also available at the ISBT.
By Railways- If you are traveling by train from any part of the country, get down at the New Delhi Railway Station. You can hire a taxi cab from the railway station to the National Museum of India or travel by metro from NDLS to Udyog Bhawan, ride the yellow line and get down at the gate number 1 on Udyog Bhawan metro station.
By Airways- If you are traveling by air, Indira Gandhi International Airport is the nearest one. You can hire a private taxi from the airport to reach the National Museum of India. Alternatively, you can opt for a private cab from top car rental companies in Delhi, for a hassle-free commutation during your stay in Delhi.
Image Gallery of National Museum of India Delh
---
We at Delhi Tourism, a division of Holidays DNA offer all-inclusive Delhi tour packages to have a perfect time while exploring the tourist attractions of Delhi. Please feel free to reach us by filling the Contact Us form to know more about the packages.
Location Map for National Museum of India Delhi