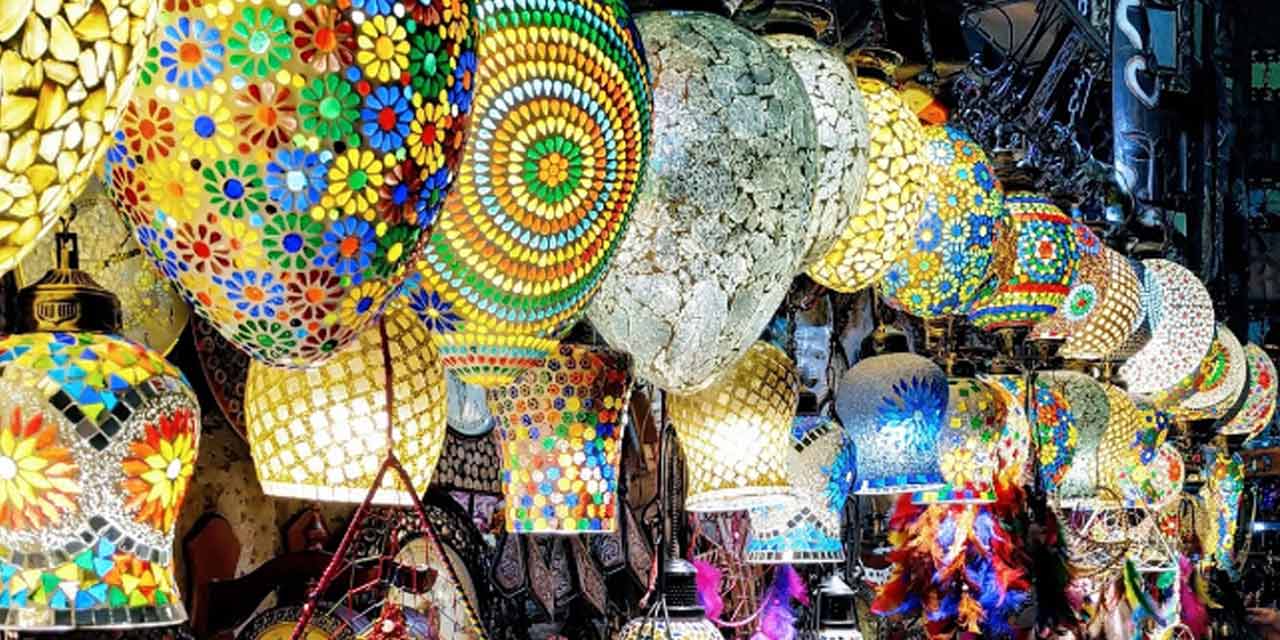 Sarojini Nagar Market Delhi Entry Fee
---
Sarojini Nagar Market Delhi Phone
---
Quick Facts about Sarojini Nagar Market Delhi
Sarojini Nagar Market Delhi Timings
| Day | Timing |
| --- | --- |
| Monday | Closed / Holiday |
| Tuesday | 10:00 am – 9:00 pm |
| Wedesday | 10:00 am – 9:00 pm |
| Thursday | 10:00 am – 9:00 pm |
| Friday | 10:00 am – 9:00 pm |
| Saturday | 10:00 am – 9:00 pm |
| Sunday | 10:00 am – 9:00 pm |
Rating:

| 4 stars, of total 52 reviews
Sarojini Nagar Market Delhi Address: Sarojini Nagar, New Delhi, Delhi, 110023, India
---
A trip to Delhi is incomplete without a shopping spree to the immensely popular Sarojini Nagar Market. Named after the Nightingale of India, Sarojini Naidu, Sarojini Nagar Market is a street market which is famous for shopping clothes at throw-away prices.
Items here are mostly export surplus or items that have been rejected by brands because of minor defects. They could also be replicas of brands, but they are as good as their original counterparts.
Styles, designs and brands that have not even reached India would find its way to the narrow lanes of Sarojini Nagar (also popularly known as SN Market). In fact, it wouldn't be wrong to say that many fashion bloggers find their inspiration from these lanes at Sarojini Nagar Market.
If you are visiting it for the first time, you may get overwhelmed or even scared because it gets extremely crowded, especially on weekends.
Recommended Time: 3 Hours
What to Buy in Sarojini Nagar Market?
1. Apparel: Sarojini Nagar Market is immensely famous for trendy clothes. Tops, Crop Tops, Camisoles, Maxi Dresses, Jumpsuits, Denims, Trousers, Jeggings, Sweaters, Coats, Blazers, Jackets, Sports Wear and even swimming costumes. You name it, they have it. The prices start at just Rs.50.
One can find clothes from brands like H&M, Marks & Spencer, Primark, Only, Vero Moda, American Eagle, Tommy, Stalk Buy Love, Forever New, Zara, Biba, Westside and a lot more.
However, do not go by the sizing mentioned on the tag or by what the shopkeeper is saying. Instead, use an inch tape to measure the size of the cloth and find suitable garments as per your body measurements. There are of course no trial rooms but you could over-try them in certain shops, which totally depends on the mood of the shopkeeper.
You will also be amazed to know that shopkeepers also exchange the items in case they don't fit you. You can give it back the next time you are visiting (within 2 -3 weeks) and take home something else.
Sarojini has clothes for all sizes. From a size 2 to a Size 20, you will find clothes for all body types.
Sometimes clothes might have slight wear and tear so cross-check the clothing before purchasing it.
2. Accessories: Not just apparel, Sarojini is also a haven for somebody who loves to hoard accessories. Earrings start here at just Rs.10 and can go up to Rs.200-300. You will be amazed by the mammoth collection Sarojini has to offer when it comes to neckpieces that start at only Rs.30.
Other items like scarves, rings, nose rings, hair clips, bandanas, bangles and everything else that you can think of, is readily available at Sarojini Nagar Market.
Sarojini Nagar also has the widest range of sunglasses which start at just Rs.150. The ones with a slightly superior quality would cost approximately Rs.250-300.
3. Footwear: Sarojini isn't going to disappoint you when it comes to their range of Footwears. From flats starting at Rs. 150 to Sneakers starting at Rs.250, this market is a dream come true for somebody who likes to shop endlessly and wear the item just once or twice.
The quality is good enough for you to wear them a dozen times at least. Heels, Ballerinas, Stilettos, Boots are also readily available.
4. Bags: Sarojini Nagar is quite updated when it comes to the things that are trending in the industry. One can easily find the bag of their choice in different sizes, shapes and colours. Laptop Bags, slings, totes, fanny bags, waist pouches, laptop sleeves, etc.are also available at Sarojini Nagar Market. You just need to have an eye for the product.
Shop No.115 in Sarojini is where you can find a Bohemian collection of Bags and Pouches starting at just Rs.100. There is a shop by the name of Old Tree which has Leather & Suede Bags available at affordable prices.
5. Home Decor: If you are planning to give your house a makeover or if you simply want to add a certain character to a corner of your house and don't want to splurge, you can head to Sarojini Nagar Market without any further delay. Sarojini has home decor items like vases, lamps, frames, showpieces, idols of gods & goddesses, key chain holders, makeup boxes and many more.
You can even expect some of the most artistic decor items that you have seen. Shop No. 197 has some really funky and festive cushion covers that can add the much-needed glam that your couch needs. You can even buy home essentials like bed sheets, curtains, blankets and a lot more here.
6. Crockery: From Ceramic Plates, mason jars, planters, dining set to quirky mugs, you can get all your kitchen needs from this market. The prices start at Rs.50. One of the best shops for this is from P.S Crockery (Shop No. 143). The good thing is they would deliver it to your place in case you are within a radius of 5 km.
7. Men's Wear: Even though Sarojini Nagar Market is mostly seen as a Women's Paradise but unlike popular opinion, there are a couple of good shops selling Men's wear too.
They have trousers, shirts, denim, boxers, tees, tanks, shoes, belts and a lot more for men too. Popular shops are 170, 174, lane adjacent to ICICI Bank, Anvit Garments & Hasho.
Some other items one can find here are Phone covers, pop sockets, blackboards, rugs, kid's clothes and the list doesn't seem to end. One cannot list down all the items available at SN Market but it will be safe to conclude that one can shop for anything that one's looking for.
Tips For Shopping At Sarojini Nagar Market
1. Carry a big tote bag since carrying too many poly bags can get difficult. This makes it both convenient and environment-friendly.
2. This also ensures Carry Cash. There is a lack of ATMs and it's most likely that you will find a long queue wherever there is one. Shops don't have swiping machines nor do they accept online payments.
3. Always carry a bottle of water. Whether it's shopping in summers or winters, it will get exhausting. Having a bottle of water keeps you hydrated and on your toes for longer.
4. At least bargain for one third the price that's been quoted and stay adamant. If the shopkeeper doesn't agree, try and come to a middle ground. Do not bargain where it's written 'FIXED PRICE', because most often they won't reduce the price and would rather get angry.
5. Never show your excitement while shopping. Your chance at bargaining reduces drastically since the shopkeeper gets a good idea that you would take the product no matter what.
6. Do not dress up in fancy clothes. Shopkeepers tend to overcharge when they see someone dressed up and think they can pay a larger sum.
7. If you missed your chance of buying an item in a previous shop, do not worry, chances are you will find the same item in another shop.
8. Try and go early in the morning so that the streets are less crowded and the shopkeepers are excited to sell their first item.
9. If you can, try and take a local along with who will know his/her way through the streets and would have hands-on knowledge at bargaining.
Timings For Sarojini Nagar Market
The Sarojini Nagar Market opens at 10 am and closes by 9.00 pm. The market is closed on Mondays.
There is no entry fee.
Where To Eat in Sarojini Nagar Market
DLF South Square Mall in the market has plenty of eateries including Haldirams, CCD, McDonald's, Sagar Ratna and many more. Additionally, there are local restaurants in the streets like Amar Jyoti, Kwik Bite etc. You can also find street vendors selling corn, chaat, chai, coffee, lemonade etc. which you can eat during your shopping binge.
Places to Visit Nearby Sarojini Nagar Market
More places to visit near Sarojini Nagar Market are:
1. Pottery Market: Located close to the Sarojini Nagar Bus Depot on AK Roy Marg is the Pottery/Matka Market where you can get a plethora of home decor items made from clay such as earthen pots, wind chimes, showpieces, lamps, pots, idols etc. Items start at only Rs.10 and you will by default be tempted to buy something or the other from here.
If not, you can still watch these artistic items arranged symmetrically, which in itself is very pleasurable. The quality of the product is excellent and you can even find some unique stuff if you look carefully.
2. Dilli Haat, INA: If you want to shop for quality handicraft items from any of the states of the country, you can visit Dilli Haat. From beautiful Banarasi Dupattas to Wooden Handicraft items and even ethnic jewellery and organic food, you can find it all.
You could also enjoy a quick meal from the various food counters, each dedicated to one of the Indian states.
This is one place in Delhi which unites India as one. If you are lucky, you will also be able to catch a nukkad natak or any other street performances. Often there are other events also happening like Mango Festival, Bihar Festival, Comic-Con etc.
3. Nehru Park: When in Delhi, one must visit one of the biggest and cleanest parks in the city. It is located at a distance of less than 2 km from the market. Nehru Park is spread over 80 acres of land and is perfect for one to take an evening walk, have a picnic or go for a good run.
The park is also popular amongst locals for hosting some exciting fests such as Maggie Fest, ArtFest etc.
4. Safdarjung Tomb: Located at a distance of 4.5 km from Sarojini Nagar Market is one of the most offbeat monuments of Delhi which can leave one spellbound by its ornate architecture and intricate details. It is the mausoleum of Nawab Safdarjung of the Mughal Empire and was built in the year 1754. It strikes a close resemblance to Humayun's Tomb and is often considered as its cousin monument.
Its five face facade makes it look opulent. It has a hidden stairway which makes a great spot for photography. At the entrance, there is an Arabic inscription which talks of bravery, surrounding the tomb are four square-shaped gardens.
Image Gallery of Sarojini Nagar Market
How To Reach Sarojini Nagar Market
Sarojini Nagar Market is located in the South Delhi District & is well connected by both road and metro.
The nearest metro station is Sarojini Nagar which is on the Pink Line and opens at the market.
If you are coming via the yellow line, you can either change at INA and hop on to the Pink Line or get down at INA metro station and take a shared tuk-tuk (E-Rikshaw) for Rs.10 or a private auto for Rs.30
You can also find autos & cabs that can easily take you to the market.
Distance From New Delhi Railway Station: 10 km
Distance From Indira Gandhi International Airport Terminal 3: 14 km
Distance From Kashmiri Gate Bus Stand: 16 km
Distance from INA Metro Station: 2.5 km
Do not miss out on this opportunity to shop at Sarojini Nagar. The many reasons listed above is why it by default happens to be one of the top ten things to do in Delhi.
To explore the various streets of Delhi, you can book a private cab from top car rental companies in Delhi and visit all the famous sightseeing places of Delhi and other places of your interest in a hassle free manner.
---
If you wish to visit Delhi in a relaxed manner without the effort of planning your trip, we at Delhi Tourism, a division of Holidays DNA offer all-inclusive Delhi Tour packages at affordable prices. You can also customise the package according to your preferences. Please fill the Contact Us for further details.
Location Map for Sarojini Nagar Market Delhi