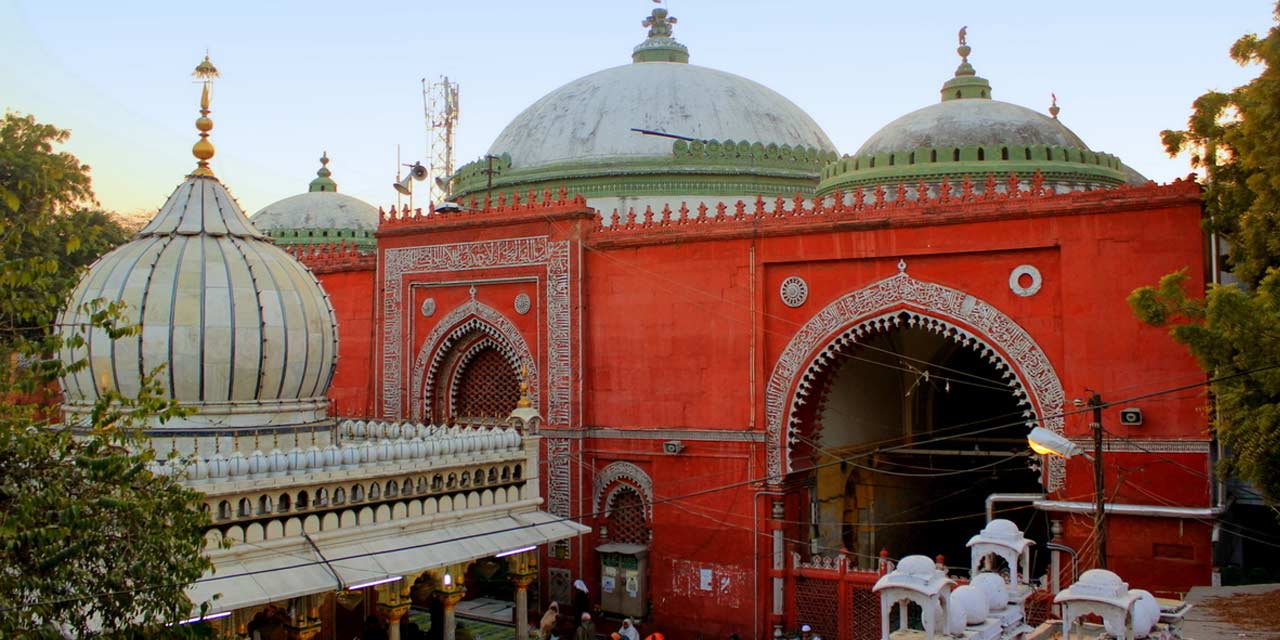 Nizamuddin Dargah Delhi Entry Fee
---
Nizamuddin Dargah Delhi Phone
---
Quick Facts about Nizamuddin Dargah Delhi
Type: Dargah of Sufi Saint Hazrat Nizamuddin
Nizamuddin Dargah Location: On the eastern end of Lodhi Road in Delhi
Nearest Metro Station : Indraprastha Metro Station & Pragati Maidan
Other Attractions: Jamat Khana Masjid, Tombs of Jahanara, Mohammed Shah and Mirza Jahangir, Baoli, Chini-ka-Burj and Bai-Kodaldai's Tomb, Tomb of Amir Khusrau
Nizamuddin Dargah Address: Boali Gate Rd, Opp The Lodhi, New Delhi, Delhi 110013
Nearest Metro Station to Nizamuddin Dargah: Pragati Maidan and Indraprastha
Nizamuddin Dargah Delhi Timings
| Day | Timing |
| --- | --- |
| Monday | 5:00 am – 10:30 pm |
| Tuesday | 5:00 am – 10:30 pm |
| Wedesday | 5:00 am – 10:30 pm |
| Thursday | 5:00 am – 10:30 pm |
| Friday | 5:00 am – 10:30 pm |
| Saturday | 5:00 am – 10:30 pm |
| Sunday | 5:00 am – 10:30 pm |
Rating:

| 4 stars, of total 52 reviews
Nizamuddin Dargah Delhi Address: Nizamuddin, Nizammudin West Slum, Nizamuddin West, New Delhi, Delhi, 110013, India
---
About Nizamuddin Dargah, Delhi
---
No matter what faith you follow, if you have a wish, it will be granted at Hazrat Nizamuddin Dargah, New Delhi. That's the belief for the Mausoleum of one of popular Sufi Saints Hazrat Nizamuddin Auliya. Situated in the Nizamuddin West area of Delhi, this place has devotees and pilgrims of all religions visiting it all the year round.
Nizamudding Auliya, a Sufi saint of the Chishti order, is one of the most popular Sufi saints ever. He lived from 1238-1325 CE. He always stressed on love being the only way of realising God. His vision and mission of spreading humanity is being carried forward by his descendants and his Dargah stands a proof to it. People of all religion bow their heads in Nizamuddin Dargah, making it one of the most crowded places of the city.
Besides the dargah of Saint Nizamuddin Auliya, one can find the tombs of poet Amir Khusro, Mughal princess Inayat Khan and Jehan Ara Begum as well.
If you have watched the Bollywood film Rockstar, you must have seen actor Ranbir Kapoor singing in a Dargah. That was Nizamuddin Auliya Dargah, which was beautifully featured giving its true sense. Besides, a whole of Bollywood celebs and sports personalities keep visiting the dargah to offer prayers. In fact, Oscar winning music composer A R Rehman is a regular visitor to the place.
The place has its own aura. Every evening, Nizamuddin Dargah witnesses playing of Qawwali devotional music sessions. These music sessions are seen as a bridge between the human soul and the almighty. The melodies played in the honour of saints and their doings are soulful, enriching and mentally relaxing.
The kind of purity that they add to the environment is beyond expression of words. So, the next time you plan a visit to Delhi, do ensure that you offer prayers at Nizamuddin Dargah, particularly on Thursday evenings. Do try and keep some time in hand to enjoy the feeling the place offers in these soulful evenings.
While the dargah is open everyday to offer prayers, the best time to visit the place is during Urs, which is celebrated twice a year, to commemorate the death anniversaries of Hazrat Nizamuddin Auliya and Amir Khusro. The place is decorated and is adorned by beautiful lights during this time of the year. The sight of illuminated dargah, alongwith qawwals singing while playing Harmonium and Tabla is something that you will not forget for a lifetime.
Nizamuddin Dargah History:
---
Hazrat Nizamuddin Auliya was born in in 1238 in a small place called Badayun in Uttar Pradesh. He had travelled to Delhi to propagate and preach the order of Chisti. He settled in Ghiyaspur and taught people the lesson of love, peace and humanity.
Nizamuddin Auliya always propagated that people of all faiths should be bound together irrespective of their caste, creed or religion. During his lifetime, a lot of people including the likes of Hazrat Nasiruddin Mahmud Chiragh Dehlavi and Amir Khusro became his followers.
Nizamuddin Auliya left for heavenly abode on 3rd April, 1325, after which Muhammad Bin Tughlaq of the Tughlaq Dynasty constructed his Dargah. Muhammad Bin Tughlaq was also an avid follower of Hazrat Nizamuddin Sahab. The descendants of Hazrat Nizamuddin take care of the Dargah even today.
Inside the Dargah:
---
If you like the old world charm of Delhi, you will get to see a lot of it in the Nizamuddin area, close to the Dargah. From the crowded street bustling with shops to polychrome clocks to a host of street vendors, you will find it all in Hazrat Nizamuddin Dargah.
If you visit the Dargah towards the evening, you will find devotees singing qawwalis in the inlaid marble pavillion. These qawwalis are sung in the honor of the great Sufi saint Hazrat Nizamuddin Auliya and Amir Khusro.
According to Nizamuddin Dargah rules, women devotees are not allowed to go beyond the verandah, but they can peak through the marble jaali (a lattice screen of stone) to see the grave of Hazrat Nizamuddin, that lies in a dark chamber wrapped in chadar and flowers.
Locals claim that tying a thread on the jali reminds the saint of your wishes. So the next time you go, do take a thread and ask for what you wish to. Apart from the main shrine, you also also get to see tomb of the followers of Hazrat Nizamuddin called Jahen Ara Begum and Amir Khusro.
Within the premise of the dargah, one can also see the Jama't Khana Mosque. It was built in 1325 AD. Another attraction in the place is the dargah of famous Urdu poet Mirza Ghalib. Some other important sight worth-a-visit that you will find in the Nizamuddin area include the Lal-Mahal, Chini Ka Burj, Kalan-Masjid, Ataga Khan's Tomb, Khan-I-Jahan Tilangani's Tomb, Barapula, Chaunsath Khamba, and Khan-I-Khanan's Tomb.
Hazrat Nizamuddin Dargah Timings
---
Nizamuddin Dargah Visit timings are from 5:00 AM in the morning till 10:30 PM in the night.
Nizamuddin Dargah qawwali timing is from 6:00 PM to 7.30 PM and 9:00 PM to 10.30 PM on Thursdays.
There is no entry fee to visit the Dargah.
Instructions to visit Hazrat Nizamuddin Dargah:
---
There is no entry fees to visit the Dargah.
The Nizamuddin Dargah is open for devotees on all days. Thursdays are a special attraction because of the qawwalis being sung between 6-7.30 PM and 9-10.30 PM in the open courtyard within the Dargah.
This place is not included in the Ho Ho bus service route.
There is mostly non-veg food available in the eateries situated in the lanes that lead to Dargah.
It is expected that one enters the Dargah with his head covered. So do carry a stole, dupatta or a piece of cloth which can be used to cover head while you offer prayers.
Image Gallery of Nizamuddin Dargah Delhi
How to reach Nizamuddin Dargah:
---
Bus: DTC buses number 970B, 410CL, 408CL, 181A, 166, 894CL, 429CL, 429, 411, 410 can be used to travel to the dargah.
Metro: Nearest Metro Stations to Nizamuddin dargah are Pragati Maidan Metro Station and Indraprastha Metro Station on the Blue line, at a distance of 6km and 5km respectively. One can take an auto, taxi or a bus to reach the Dargah.
Auto-Rickshaw and Taxi: Delhi is well connected when it comes to taxis and auto-rickshaws. You can hire one on the road or book via apps like Ola, Uber, Jugnoo, et al. The service is frequent and reasonable.
Location Map for Nizamuddin Dargah Delhi