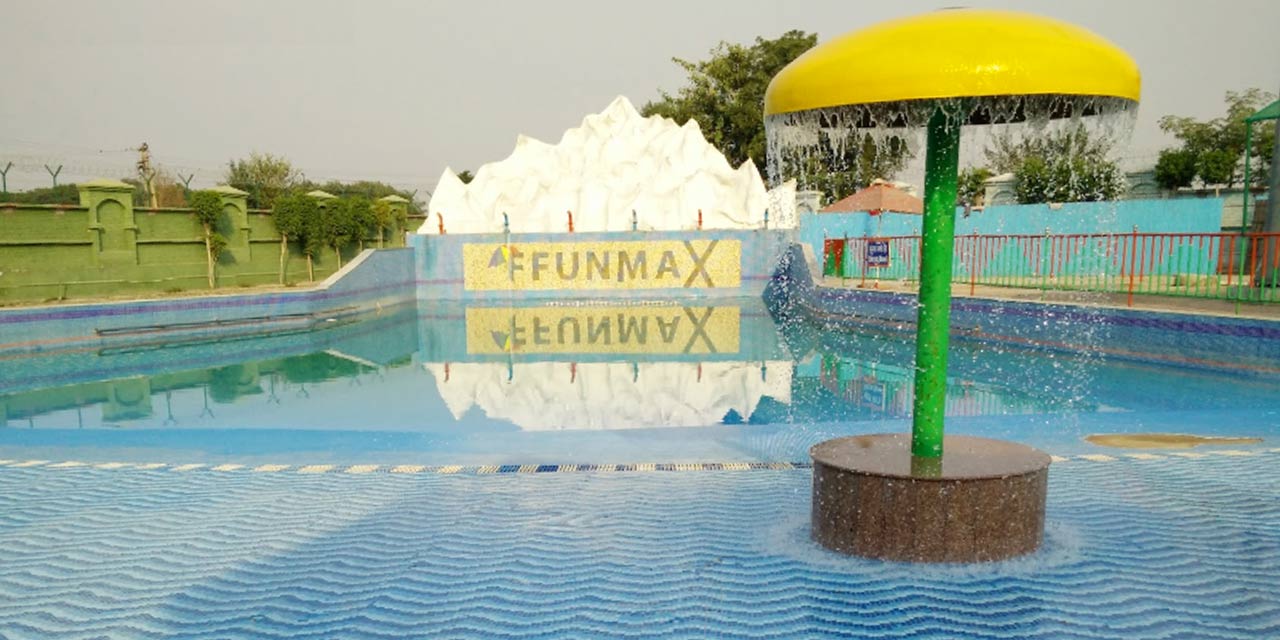 FFUNMAX Amusement Park and Water Park Faridabad Phone
---
Rating:

| 4 stars, of total 58 reviews
Quick Facts about FFUNMAX Amusement Park and Water Park Faridabad
FFUNMAX Amusement Park and Water Park Faridabad Timings
| Day | Timing |
| --- | --- |
| Monday | 10:00 am – 7:00 pm |
| Tuesday | 10:00 am – 7:00 pm |
| Wedesday | 10:00 am – 7:00 pm |
| Thursday | 10:00 am – 7:00 pm |
| Friday | 10:00 am – 7:00 pm |
| Saturday | 10:00 am – 7:00 pm |
| Sunday | 10:00 am – 7:00 pm |
FFUNMAX Amusement Park and Water Park Faridabad Address: 42 Km Stone Main Mathura Road Behind Royal Villa Village Sikri, Faridabad Haryana, 121004, India
FFUNMAX Amusement Park and Water Park Entry Tickets Price
| Category | Weekdays Entry Tickets | Weekends Entry Tickets |
| --- | --- | --- |
| Adult (above 4Ft) | 600 | 650 |
| Senior Citizens / Children (Ht. 4ft / 120 cms) | 500 | 550 |
| Stag Entry (Gents / Boys) - Single Entry (Male) | 700 | 800 |
---
Wondering where to go to spend some amazing time with your family on a hot summer day? Well, if you like to play with water, then nothing could be better than visiting the FFUNMAX Amusement Park and Water Park where people of all ages can fill their daily chronicle of life with unlimited fun, laughter, and luxury, and entertain themselves to the fullest.
One of the most entertaining attractions in the Faridabad NCR region, the FFUNMAX Park invites adventure junkies to get indulged in lots of activities and enjoy an unparalleled experience that is hard to get anywhere else. It is an ideal destination for all those who want to do something new and different than just sitting at home on weekends and definitely a perfect location for a half/full-day excursion.
Things to do at FFUNMAX Amusement Park and Water Park, Faridabad
Synonym to fun and excitement, the FFUNMAX Amusement Park and Water Park boasts a wide variety of rides and slides along with several other recreational activities that let you have the best time of your life here.
Rides at FFUNMAX Amusement Park and Water Park
You can try your hand at different slides to bring out the best of adventure in you. Catering to all ages, the entertainment park has enough challenging rides for everyone, which includes:
Cyclone Ride: Get ready to feel an adrenaline rush in your body and enjoy the ups and downs as you start spinning. It's a kind of ride that is preferred by both adults and children.
Twister Slide: Set your heartbeat racing while you prepare yourself for a Twister Slide. The Twister Slide is a long-closed tunnel that drops you down in the pool with unexpected twists and turns.
Multilane Slide: Maximize the fun with your family or a group of friends on this exciting slide that allows you to race down side by side together in different slides.
In addition to them, Multi Racer Slide and Family slides are also available at the park for your enjoyment. You just need to get in the action to experience an exciting adventure you've always dreamt of.
Water Fun at FFUNMAX Amusement Park and Water Park
Your visit to the FFUNMAX would be incomplete if you don't have fun at the water park. This unspoiled site attracts people from every corner of the world and has something to offer for everyone.
Swimming Pool: If you wish to beat the harsh heat of the tropical sun, then consider heading to the swimming pool. It's a great place to take a refreshing dip in the water and rejuvenate your senses after an exhilarating time at the water slides. The pool is shallow, so you don't have to worry even if you are a non-swimmer.
Wave Pool: For a calmer and more relaxing experience, you can turn towards the wave pool that recreates the artificial sea waves to make you feel like you're unwinding on a real beach.
Rain Dance: What's better than dancing to let yourself loose and forget everything about everyday life? Yes, here you can enjoy dancing in the rain with a live DJ that sets the overall mood by playing the music of your choice.
Kids Area at FFUNMAX Amusement Park and Water Park
Keep your little ones engaged throughout the time at the Kids Pool. Meant for children from 1 to 5 years of age, the Kids Pool comes with a Frog Slide and several different toys that allow your kids to have fun and enjoy with others of their own age. The slides here are designed keeping all the safety standards in mind and are always supervised by a trained team of lifeguards.
Image Gallery of FFUNMAX Amusement Park and Water Park Faridabad
Entry Fee of FFUNMAX Amusement Park and Water Park, Faridabad
The entry fee to visit FFUNMAX Amusement Park and Water Park varies for people of all ages on weekdays and weekends.
On weekdays i.e., from Monday to Friday, it charges INR 600 per person for adults, INR 700 per person for Stag/Single Entry of Males, and INR 500 per person for senior citizens above 60 years and children with a height of 120 cm.
On weekends, the cost of the ticket is INR 650 per person for adults, INR 800 per person for stags, and INR 550 per person for others.
Please note that the amusement park doesn't charge anything to children who are 3 ft/90 cm in height and they can enjoy a free entry with their parents.
Timings of FFUNMAX Amusement Park and Water Park, Faridabad
FFUNMAX Amusement Park and Water Park welcomes its visitors from 10:00 AM in the morning until 7:00 PM in the evening. Also, it is open on all days of the week, even on government holidays.
Travel Tips for FFUNMAX Amusement Park and Water Park, Faridabad
Knowing the travel tips in advance can help you plan your visit to this amusement and water park accordingly. A few of them include:
Do not wear any kind of jewelry during your visit to the pool or at the time of slides and other attractions.
Always keep your children under your eyes whenever they're in the waterpark. Although lifeguards are there, they cannot watch everyone.
Make sure to carry an extra pair of clothes in your bag. Since you'll be going to the water park, you might need them to change in after having all the fun and enjoyment.
Apply enough sunscreen lotion to protect your sensitive skin from sunburns during the daytime.
There are certain rides that have age restrictions. Please take them seriously. In case you don't, you'll be responsible for whatever happens afterward.
Take a shower before splashing around in the pool to remove all the germs from your skin. Also, it will help the park authorities to maintain the cleanliness and high standards of the water you always crave for.
Note: It is not allowed to use the cameras and go-pro devices in the pool or on the slides. However, if you want to click a few of the pictures, you need to take prior permission from the waterpark supervisors.
Facilities at FFUNMAX Amusement Park and Water Park, Faridabad
Leverage the benefits of a diverse range of facilities available at the FFUNMAX Amusement and Water Park to cherish your visit for a lifetime. These include separate changing rooms for both males and females, lockers to keep your belongings safe, and a fully equipped first aid room where you can take the help of trained and qualified staff in case there is an injury.
Other than that, the entertainment park also boasts a great range of catering outlets for your ultimate convenience. Located next to the kids' zone, the Snack Shack outlet serves fresh sandwiches along with several snacks, which you can have in between the rides or after an exhilarating time at the recreational activities.
How to Reach FFUNMAX Amusement Park and Water Park, Faridabad?
Reaching the FFUNMAX Amusement Park and Water Park in Faridabad is easy. Since it is located on Mathura Road, it can be easily accessed from all parts of Delhi. From the Indira Gandhi International Airport, the park is only 48.6 km away and from Delhi Railway Station, the total distance is 46.2 km. And here are the different ways to commute to FFUNMAX Amusement and Water Park:
By Taxi: Look for Ola or Uber for a shared cab or you can simply choose to hire a private taxi from the list of top car rental companies in Delhi to enjoy a hassle-free experience to your destination.
By Bus: For your convenience, there is a facility of public buses available that run from Kashmiri Gate to Faridabad. From the Faridabad bus stop, you can enjoy an auto-rickshaw ride to the park.
---
Book a Delhi tour package with us to explore the capital city of India and its popular sightseeing attractions in the best possible way. We at, Delhi Tourism, a division of Holidays DNA, design various all-inclusive Delhi tour packages keeping everyone's holiday budget and other requirements in mind. However, if you need a tailor-made package that helps you cover all the tourist attractions in Delhi, you can reach our team of experts for assistance. To know more, please fill the Contact Us form.
Location Map for FFUNMAX Amusement Park and Water Park Faridabad