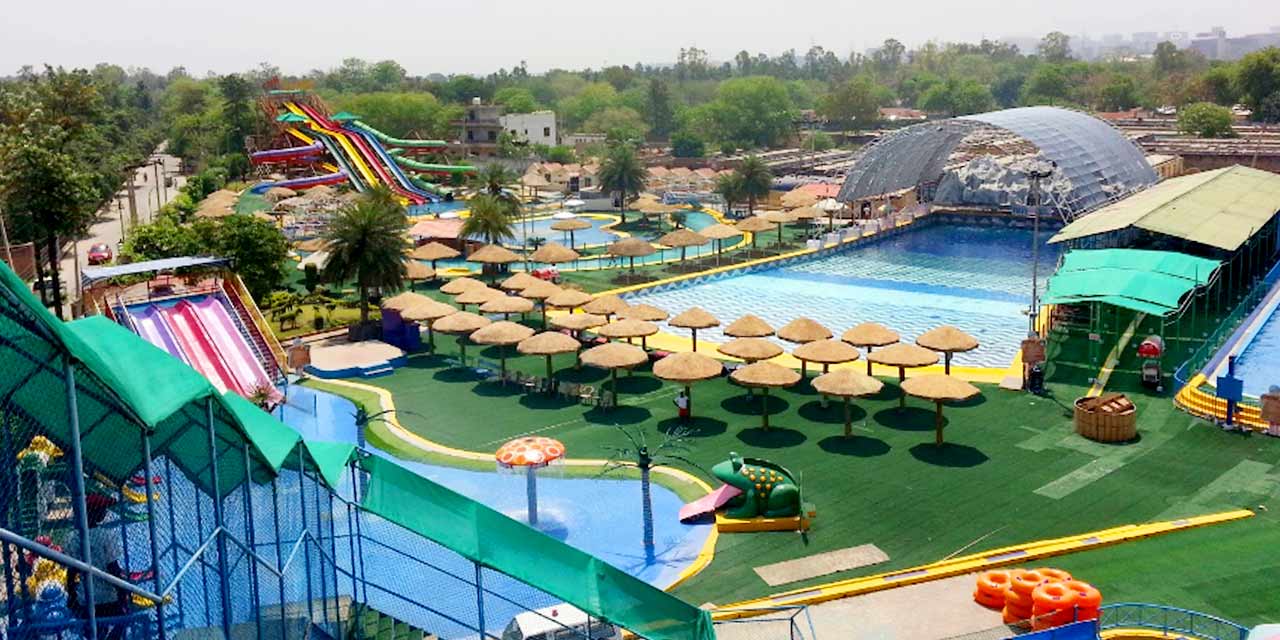 Fun N Food Village Delhi Entry Fee
2000 + GST per Couple

1000 + GST per Stag (Female)

500 + GST per Child (Height 3'3" to 4'6")

Note: Free entry for Children below the height of 3'3"
---
Fun N Food Village Delhi Phone
---
Quick Facts about Fun N Food Village Delhi
Fun N Food Village Delhi Timings
| Day | Timing |
| --- | --- |
| Monday | 10:00 am – 6:00 pm |
| Tuesday | 10:00 am – 6:00 pm |
| Wedesday | 10:00 am – 6:00 pm |
| Thursday | 10:00 am – 6:00 pm |
| Friday | 10:00 am – 6:00 pm |
| Saturday | 10:00 am – 6:00 pm |
| Sunday | 10:00 am – 7:00 pm |
Rating:

| 4 stars, of total 96 reviews
Fun N Food Village Delhi Address: Fun N Food Village, Old Delhi Gurgaon Road, Kapshera, New Delhi, Delhi, 110097, India
---
Delhi is not only the capital of the country but is the fun destination as well. Delhi is a canopy of cultural beauty that withholds great amusement parks and fun places. A city that has been restored from ruins over and over again, Delhi has also retained its cultural significance. It's chaotic asymmetric beauty with River Yamuna on one side and Aravalli range on the other is a treat to behold.
Fun N Food Village is one of the Delhi's oldest amusement and water park. Situated on the old Delhi Gurgaon road, Fun N Food is still one of the most visited spots by locals and tourists alike. If you are looking for a day away from the havoc of the city, you have your pick.
Architecture of Fun N Food Village Delhi
Fun N Food Village is divided into two sections which are highly in contrast to each other pertaining to the fact that one section is for the Fun N Food Village water park and the other is Fun N Food Village Amusement park. What makes it more special is the food court, explicitly designed for children.
History of Fun N Food Village Delhi
Fun N Food Village Gurgaon was inaugurated by one of the former Presidents of India, Late Shri Giani Zail Singh in 1993. This amusement park offers a variety of water slides, rides, games and amazing food. It is suitable for people from all age groups. This park is run and maintained by Polo Amusement Park Ltd., which is a leading outlet of the polo group of companies.
Image Gallery of Fun N Food Village Delhi
Things to do at Fun N Food Village Delhi
1. There are over 21 rides in the amusement park. These rides range from Rock and roll, Polo trooper, Magic Carpet, Water Merry, Tora Tora, Eagle ride and many more. You can have fun with friends or family. Let the adventure sink in. And this is all just in one location to enhance your experience.
2. The Village has more than 22 water slides. If you love water rides or just playing in water, you got yourself a great deal. Summers are one of the best times of the year to enjoy the perks that Fun N Food has to offer. These water rides are further segregated according to age groups and the authorities make sure it's child friendly.
3. The amusement park is filled with special rides for kids. One of the most popular rides is the magic carpet and kids seem to love it the most. Give your kids a heart filling experience and fun moment.
4. You can play with snow balls or make your own snow man at the snow park. Fun N Food has the largest snow park in India. Well, who wouldn't like a snow park in the middle of a city popular for heat during summers? Why deprive yourself off of the fun? Let the fun prevail.
5. Rain dance for kids is fun and for couples is a romantic bliss. Summers are a great time to indulge in that and drench your summer soul. Take your beloved or your family for an experience they will cherish.
6. The best part of the park is supervised special water play zone for kids. You can just leave your kids here and take a much needed break from the monotony of everyday life.
7. The water park is also popular for the longest water channel which is almost 400 ft. and is known as the 'Lazy River'. This channel is one of the most talked about attractions of Fun N Food. You can't miss out on a trip down that channel, can you?
8. You want to experiment with the longest water slide in India and the fastest in Asia? Fun N Food is your desired destination. Ever since it's advent, no other park has been able to beat it.
9. If you are looking for rejuvenation, F N F is where you go. It has facilities like; Sauna, Spa, steam bath and herbal massages for you to choose from and relax. In the fast paced life, one does need a lot of relaxation in order to go through the mundane cycle again.
10. There is an array of food options to choose from in the food court. To name a few; Continental, Chinese and Indians are the most sought after.
11. One of the best attractions is the time-to-time cultural and social events that the Fun N Food Village hosts. You can enjoy these shows as a part of your trip to the Village.
12. You can also buy souvenirs from the shopping complex. So, collect some souvenirs for your loved ones while you are at it.
Entry Fees and Entry Timings of Fun N Food Village Delhi
The entry tickets to Fun N Food Village are priced at Rs. 2,000 + Tax for couples, Rs. 1000 + Tax for Stag (female) and Rs. 500 + Tax for children between the height range of 3'3" to 4'6".
*Rates are subject to change
The park also offers school package, college/institution package and corporate event/package at discounted rates. Senior citizens above 65 years of age are allowed free entry. Children below the height 33 inches are also allowed free entry when accompanied by an adult.
If you really want to have a fun-filled day and spend some quality moments with your family, make a point to visit Fun n Food village in Delhi. Have fun with your friends, family and dear ones at this adventure park.
It is open 364 days a year, except on Diwali.
Water Park is open from 10:00 am to 6:00 pm from Monday to Saturday, and from 10:00 am to 7:00 pm on Sundays.
Amusement Park is open from 4:00 pm to 7:00 pm on all days of the week.
*Timings are subject to change
How to Reach Fun N Food Village Delhi
While you can easily reach the location by car or by bus, you can also opt for the metro. Nearest Metro Stations are Dwarka Sector 21(Blue Line) and Guru Dronacharya (Yellow Line). Alternatively, you can choose to opt for a cab from top car rental companies in Delhi and visit all the must see places to visit in Delhi in the comfort of a private cab.
---
Delhi has a lot of tourist attractions and to help you plan your Delhi tour in a better way, we at Delhi Tourism, a division of Holidays DNA offer all-inclusive Delhi Tour packages at affordable rates. You can also ask our experts to customise your package according to your needs and preferences. So, what are you waiting for? Please fill the Contact Us form and embark on a fun filled experience at the capital city of India.
Location Map for Fun N Food Village Delhi