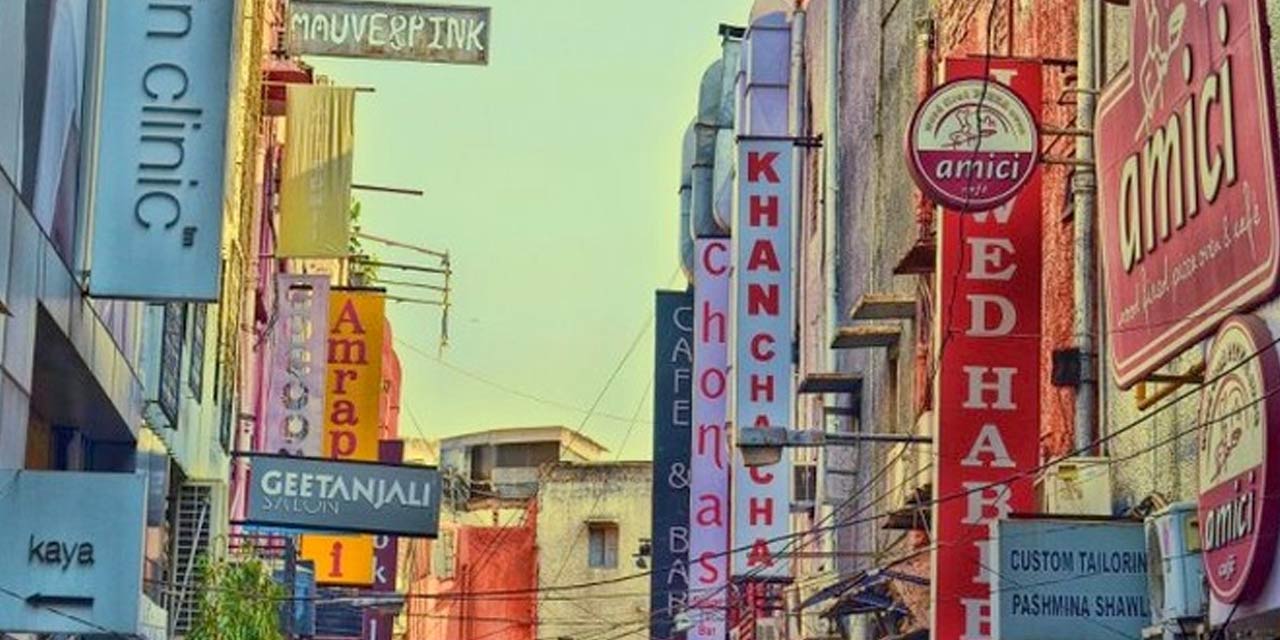 Khan market Delhi Entry Fee
---
Khan market Delhi Phone
N/A
---
Quick Facts about Khan market Delhi
Khan market Delhi Timings
| Day | Timing |
| --- | --- |
| Monday | 10:00 am – 11:00 pm |
| Tuesday | 10:00 am – 11:00 pm |
| Wedesday | 10:00 am – 11:00 pm |
| Thursday | 10:00 am – 11:00 pm |
| Friday | 10:00 am – 11:00 pm |
| Saturday | 10:00 am – 11:00 pm |
| Sunday | Closed / Holiday |
Rating:

| 4 stars, of total 65 reviews
Khan market Delhi Address: Rabindra Nagar, New Delhi, Delhi, 110003, India
---
In the list of posh, up-class and elite shopping areas in Delhi, Khan Market nears the top. Loaded with showrooms offering a variety of stuff, Khan Market is a vivid belvedere for shoppers and visitors. Khan Market is a shopper's paradise offering a range of boutiques, bookstores, home decor showrooms and outstanding eateries. Look out for seasonal collection by Ranna Gill, a renowned celebrity designer.
The streets of this chic market are loaded with heavenly candles and artefacts depicting the class this place belongs to. Khan Market has been the favorite go-to place of most diplomats and expats for all the above reasons and many more that you must explore.
History of Khan Market
The market area was originally allocated as seed land to migrants from the North-West Frontier Province post-partition but eventually ended up being the shopping destination of the then elites to the following generations till date. The place is named after famous freedom fighter Khan Abdul Jaffar Khan who was the brother of Freedom fighter Khan Abdul Gaffar Khan.
The early occupants from the North-West Frontier named this place after him as a token of respect for helping them migrate. Khan Market tops the list of most expensive retail places in the country and is amongst the costliest high-end streets in the world.
The market was established in 1951 and originally had a layout of 154 shops and 74 flats for the residing shop keepers. As of now, only a few flats are left as residing complexes and most of them have been converted into commercial places like showrooms, restaurants, salons etc.
Khan Market is a U-Shaped market with two parallel U's and few extensions to the marketplace. There is also a designated parking lot to manage the footfall at this very busy high-class shoppery.
Image Gallery of Khan market Delhi
Most Famous stores and Things at Khan Market
Khan Market is famous for a lot of things. This list starts with Khan Chacha which is the go-to place for kebabs and rolls. Khan Chacha also serves as a landmark to Khan Market since it is one of the oldest shops here. Ranna Gill is another famous landmark of Khan Market. Ranna Gill is a celebrity designer who does a summer and winter exhibition every year.
Raghavendra Rathore is another famous men's designer dealing in luxury menswear.
There are a lot of restaurants, bakeries, cakeries and street-food stalls at Khan Market. Eat-outs like SodaBottleOpenerwala, BigChill Café, Ten-Second Takeaway, Perch Wine & Coffee Bar, Café Turtle etc. L'Opera is another famous patisserie along with Big Chill Cakery, The Artful Baker.
If you are looking forward to shopping at Khan Market, some of the most popular places are Good Earth for home and living, Kama Ayurveda and Forest Essentials for skincare, bath care products, Amrapali for Gold and Silver jewellery (look out for their beautiful turquoise door), a flagship store of Royal Enfield for bikers, Illuminati for exceptionally beautiful candles and lighting, Play Clan for accessories and other tini-minies.
Do not forget to visit the Fragrance People store if you have a nose for the most ordinary fragrances and eyes for most designer candles.
Innisfree is another famous skincare brand with few outlets one being in Khan Market. Innisfree is most famous for its Green Tea range of products.
For bookaholics, Faqir chand Book Store is another go-to place. You can find both new and used books here. Bahrisons is another bookstore you would want to visit. Now if you are thinking of a bookstore with a café then Full Circle Bookstore & Café is your place.
Things to do around Khan Market
Khan Market is in the southern heart of Delhi with so many things and places to go around.
1. India International Centre: India International Centre is a paradise for culture enthusiasts. This place is just a few steps away from Khan Market and is a perfect blend of Indo-Western culture. Established in the year 1962, the India International Centre has a variety of museums, exhibitions and various cultural programs, running all the time and performed by artists from India and Abroad. Just like a tri-river confluence, Triveni, the center, also has three facets.
2. Lodhi Gardens: Lodhi Gardens are the next most beautiful place to visit around Khan Market. The lush green lawns are the favorite destination of people who wish to enjoy some peace and serenity away from fast-paced Delhi life. There are several cafes and restaurants around Lodhi Garden which offer exceptional breakfast.
3. Rashtrapati Bhawan and Rajpath: Alongside is the Rashtrapati Bhawan and Rajpath which offer a beautiful view of the well-kept national property. As the name suggests it is the President's house, well-guarded and well-maintained. This place is a sight on the 26th of January and the 15th of August.
4. India Habitat Centre: India Habitat Centre is also a cultural destination with plays and events running round the clock. This place has an exceptional canteen with finger-licking good food. The All American Diner is a must-visit place. There is a library and national museum within the India Habitat Centre holding various archaeological specimens.
5. Purana Qila: Built by Sher Shah Suri is the oldest structures in Delhi, Purana Qila or the Old Fort. The place is about 10 minutes away from Khan Market and is believed to be the site of Mahabharata. A light and sound show is conducted every evening at the Purana Qila. There is a lake along the walls of the Qila which offers boat rides as well to the visitors.
Entry Fee and Timings to visit Khan Market
There is no entry fee to this commercial complex. The shops open at 10:00 am and close by 11:00 pm. The market is closed on Sundays.
Best Time to visit Khan Market
The market is at its classy-best during all times of the year. It is semi-covered so visiting in summers is also not problematic. Khan Market remains closed on Sundays.
How to Reach Khan Market
By Metro- Reaching khan Market is quite easy as it is a well-known place among Delhiites. Metro is the most convenient way to reach here. You have to get on to the Violet line from your respective location and get down at Khan Market metro station.
By Road- Road travel is quite easy and convenient in Delhi as all the areas are well connected. All buses come till ISBT Kashmiri Gate from where you can take the DTDC bus line number 166 to reach Khan Market which is just 14.8 km away. Private taxis are also available at the ISBT.
By Train- The nearest railway station to Khan Market is the New Delhi Railway Station. You can hire a taxi cab from the railway station to the Khan Market which is just 7.4 km away or travel by metro from NDLS to Khan Market, ride the yellow line switch at Central Secretariat to Violet line. Then get down at the Khan Market Metro Station.
By Air- If you are traveling by air, Indira Gandhi International Airport is the nearest one 13.2 km away. Private taxis are also available at the airport to reach Khan Market. Top car rental companies in Delhi also provide for hassle-free rental service to the tourists.
---
Delhi Tourism, a division of Holidays DNA helps in planning your perfect vacation to Delhi with its all-inclusive Delhi tour packages. Fill the Contact Us form to reach us and know further.
Location Map for Khan market Delhi