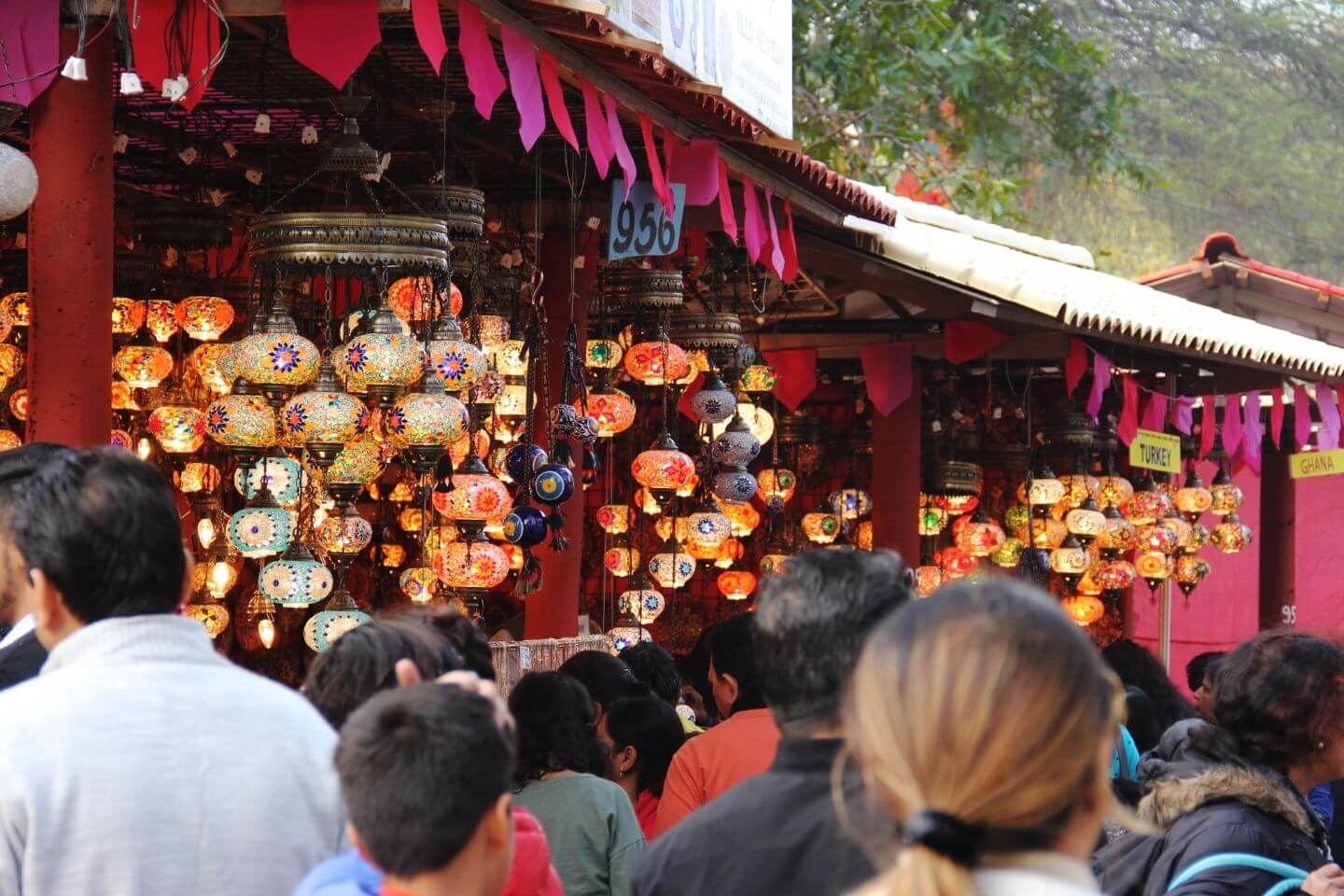 Surajkund Mela Delhi Entry Fee
120 per person during Weekdays

180 per person dueing Weekends
---
Surajkund Mela Delhi Phone
---
Quick Facts about Surajkund Mela Delhi
Surajkund Mela Delhi Timings
| Day | Timing |
| --- | --- |
| Monday | 10:00 am – 8:30 pm |
| Tuesday | 10:00 am – 8:30 pm |
| Wedesday | 10:00 am – 8:30 pm |
| Thursday | 10:00 am – 8:30 pm |
| Friday | 10:00 am – 8:30 pm |
| Saturday | 10:00 am – 8:30 pm |
| Sunday | 10:00 am – 8:30 pm |
Rating:

|
4
stars, out of
5
stars
Based on total
52

reviews
Surajkund Mela Delhi Address: Unnamed Road, Lakewood city, Surajkund, Faridabad, Haryana, 121010, India
---
Surajkund Mela is the Annual International Craft Festival where artists from all over the world gather together under a roof to portray their talent and showcase the folk traditions and cultural heritage of India. It happens in Surajkund, Faridabad over an area of 40 acres with about 1010 work huts.
Every year thousands of people from all over the country attend this amazing fair. This International Fair is arranged by the 'Surajkund Mela Authority' & 'Haryana Tourism' in alliance with 'Union Ministries of Tourism, Textiles, Culture and External Affairs'.
History of Surajkund Mela
Surajkund Mela was first set up in the year 1987 and since then its importance has hiked to become the largest International Crafts Fair in the world. A drapery of India's rich artistic and cultural history, there is no wonder why it holds a firm place in the list of many international tourists every year.
It was also promoted as International Levels in 2013 and named as the '28th Surajkund International Crafts Mela'. In the succeeding year, more than 15 SAARC countries and some from Europe and Africa also participated in the Mela.
An intricate amalgamation of cultures, this Mela never leaves to astonish everyone and offers every visitor a unique view of its diversity with the captivating cultural and artistic heritage of countries across the continents.
Every year the Surajkund Mela works around a different theme based on a state of India promoting its tourism, craft, cuisine and other industries. The theme state then determines the overall ambiance, architecture, decoration and effects of the fair.
Whether you are into home decor, love trying out different cuisines or love shopping in general, then this Mela is for you. All in all, this fair is for everyone and offers some greatness to every visitor.
Image Gallery of Surajkund Mela
What to Shop at Surajkund Mela
There is a huge range of things to shop from. You'll get short of space in your bag but the list will not end anytime sooner. From real pashmina stalls to handicrafts, there is a lot.
Few major attraction stalls are-
Antiques: Here you will find a varied collection of antiques such as wooden, silver, brass, Sand-mitti, and much more.
Jewellery: If you are a junk jewellery hoarder, you are in for a treat as you'll find numerous jewelry stalls which will have items such as earrings, necklace, bangles, rings, Mangtika, anklets, etc.
Apparels: There is a huge collection of sarees in different stalls covering designs from different states such as silk, cotton, banarasi, and many other fabrics. You can also stock up on suits and kurtis if you love traditional outfits. They will vary from silk to cotton, chikan work, Banjara, Bandhani, Bunni, Phulkari, mix fabric and a lot more.
Condiments: If you have a thing for pickles and chutneys then this is the right spot. Here, you'll find pickles from different states of different tastes. There are pickles of karela, amala, nimbu, keri and even raw ingredients you could have never even have thought of. You'll find shops of good quality Organic and Ayurvedic food items.
Sweets: If you have a sweet tooth, then you must try sweets with a twist unlike the regular ones. You'll find sweets such as Unripe Papaya ladoos, besan ladoo, Jaleba, etc.
Home Decor: From lamps to photo frames, vases, rugs, cane sofa sets and stools, it has so much for you to re-do little corners of your house. It also has stalls of different items made from wood, ivory, stonework, lacquerware, cane and grass. They also have Sandalwood and rosewood carving from South India.
Ceramic Crockery: If you are somebody who wants to skip the ordinary steel or glass plates and cups, and would rather go for something artistic for your kitchen, Surajkund Mela has an array of ceramic crockery items. From cups to salad bowls and even old-school style containers for your pickles, they have it all.
Bath and Body Care: There are stalls having homemade cosmetics and body care products such as shampoo, soaps, face scrubs, sandalwood, herbal oil etc.
Others: They have Paintings (Madhubani from Bihar), Puppets and Spices (of Rajasthan), woodcrafts ('Chikri' from Kashmir), Cane Craft and Kantha (From West Bengal), Lace and crochet (from Goa) and Tibetan bells and clothes (from North East).
Some of the international Crafts items are: From Thailand - Brass ornaments, mulberry paper stationery, and celadon ware
From Egypt - Carpets, pottery, mosaic, and glass lanterns
From Japan - Traditional folding fans, porcelain, and Lacquerware
From China- Jade figurines and Chinese silk
From Sri Lanka- Tea, Batik fabric, and gems
What to Eat at Surajkund Mela
The Surajkund international crafts mela is the happy tummy place for all foodies as well. If you are into experimenting with your taste buds then you must hop on here. Also, after seeing so much of the mela you must be tired and hungry as well. So, go rush towards the food section and enjoy the variety of food items over there.
From Punjabi style food comprising butter chicken and rajma chawal to Mumbai Street food like vada pav, it has different food from different parts of the country to offer to every person's rising demands.
Some of the most recommended food items are Chole kulche, Kachori with green and meethi chutney, Chole bhature, Bombay Sandwiches, Kulfis of various flavors (mango, paan, chocolate, matka kulfi and other) and various kinds of sweets.
And, the most important and different food item is Jaleba (a huge Jalebi). One must try this one but only if you are here with a group as you cannot gulp it down on your own. Also, this fair has many nostalgic snacks and sweets such as candy floss and khatti meethi candys which were a treat in our childhood.
Other Activities at Surajkund Mela
Apart from shopping, eating and passing time casually there are various other activities here which can be done.
1. Cultural performances: Folk dances and skits of the 'Theme State' can be seen anywhere on your way in the Festival. Just keep on following the crowd and music, you will discover many lively dances and acts.
You can even head towards 'Natyashala' which is an Amphitheatre kind of area allocated for such performances inside the mela such as cultural gigs like folk dance performances, musical evenings, 'Kavi Sammelans', skits and street plays, stunt shows. The numerous activities of this place will surely hold you on for a pretty long duration of time.
2. Helicopter Ride: Rule the skies with this wonderful and happening helicopter ride over Surajkund. The Surajkund authorities are allowing visitors to engage in this rare chance at the mela so that they can get the bird eye's view of this whole place and that too at a nominal price.
Helicopter ride ticket: INR 2,500/- per person (free for children aged 2 and below)
Altitude: 100 to 500 feet above the ground
Duration of flight: 6 to 10 minutes
3. Amusement Zone: You can also visit the amusement zone where you'll find lots of rides to have fun. It has varied rides like merry-go-round, Dragon boats, Ferris wheel, Bungee Jumping, video games and many others.
Location of Surajkund Mela
The Surajkund Mela is celebrated in Surajkund, Faridabad (Haryana). It is held on 40 acres of land in the bounds of Surajkund.
Probable dates of Surajkund Mela
Surajkund Mela is celebrated during the first two weeks of February every year.
Entry Fee and Timings of Surajkund Mela
The tickets for Surajkund Mela will be available from 9 am to 8 pm every day at Gate No 1, 2 and 3. The gate entry will be available from 10 am to 8.30 pm. They can also be purchased online from certain websites such as bookmyshow.com
Surajkund Mela entry fee varies according to the demand. The ticket price during weekdays is Rs. 120 and the entry fee is Rs. 180 during weekends.
Also, there is a 50% discount for senior citizens, which accommodate serving soldiers, disabled or handicapped people. Students are also eligible for this discount; they just have to show their ID cards at the ticket counter.
How to Reach Surajkund Mela
Surajkund(Faridabad) is around 18 km away from South Delhi and is well connected to other neighbouring states and cities via a great network of roadway.
Sometimes finding cabs back home once you have reached there is difficult and since it's on the outskirts. So it is preferred to take a day cab from top car rental companies in Delhi. Also, it will save up on the time spent in finding a parking spot as the driver can take care of the same.
---
All in all, if you are in Delhi NCR, during the month of February, you must definitely make it a point to visit the magnificent Surajkund Mela. By buying works and devoting time watching the local artisans perform; one can promote their culture and provide artists a stage to stand on.
Book a Delhi Tour package from Delhi Tourism, a division of Holidays DNA and visit all the popular sightseeing places in Delhi.We offer a variety of packages that cater to different kinds of travellers suiting their budget. Fill the Contact Us form to know more.
Location Map for Surajkund Mela Delhi