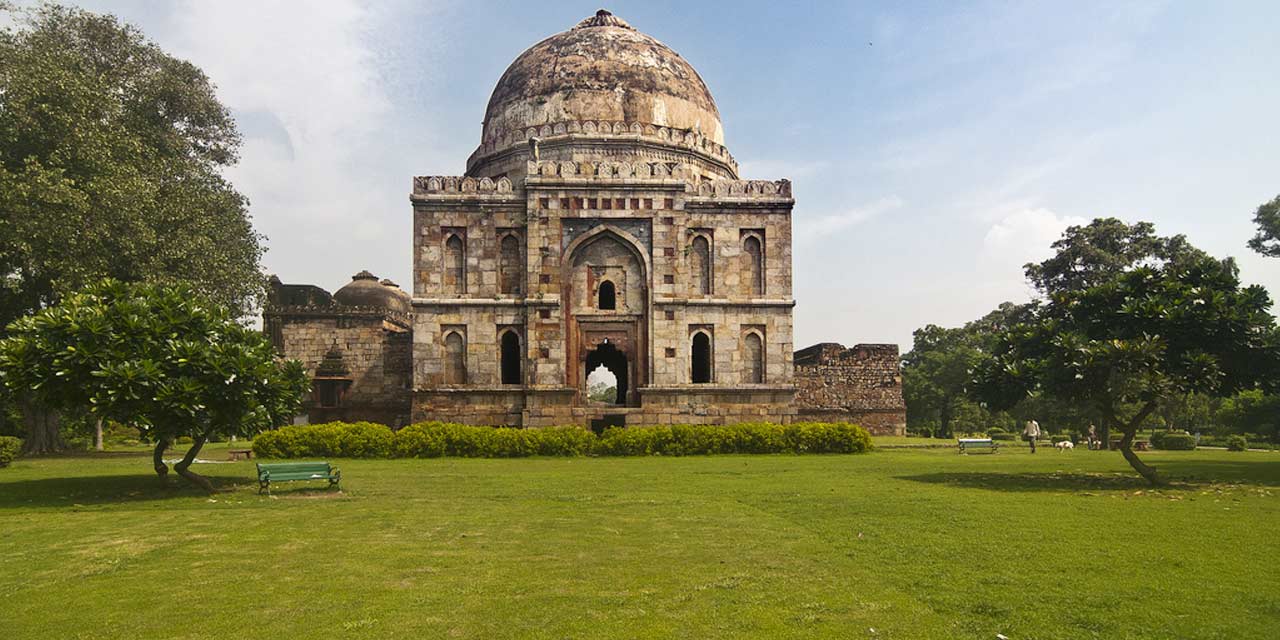 Lodhi Gardens Delhi Entry Fee
---
Lodi Gardens Delhi Phone
---
Quick Facts about Lodhi Gardens Delhi
Type: Public park
Status: Open year round
Lodi Gardens Area: 90 acres (360,000 m2)
Nearest Metro station to Lodhi Gardens: Jorbagh metro station and JLN metro station
Lodhi Gardens Location: On the main Lodi Road which lies between Khan Market and Safdarjung Tomb
Lodhi Gardens Delhi Timings
Day
Timing
Monday
5:00 am – 8:00 pm (April-Sep)
6:00 am – 8:00 pm (Oct-March)
Tuesday
5:00 am – 8:00 pm (April-Sep)
6:00 am – 8:00 pm (Oct-March)
Wedesday
5:00 am – 8:00 pm (April-Sep)
6:00 am – 8:00 pm (Oct-March)
Thursday
5:00 am – 8:00 pm (April-Sep)
6:00 am – 8:00 pm (Oct-March)
Friday
5:00 am – 8:00 pm (April-Sep)
6:00 am – 8:00 pm (Oct-March)
Saturday
5:00 am – 8:00 pm (April-Sep)
6:00 am – 8:00 pm (Oct-March)
Sunday
5:00 am – 8:00 pm (April-Sep)
6:00 am – 8:00 pm (Oct-March)
Rating:

| 4 stars, of total 72 reviews
Lodhi Gardens Delhi Address: Lodhi Rd, Lodhi Gardens, Lodhi Estate, New Delhi, Delhi, 110003, India
---
Earlier known as Lady Willingdon Park, Lodhi Gardens is a captivating park, located in the New Delhi. It lies between the Khan Market and the Safdarjung Tomb. Lodi Gardens present an impressive blend of lush greenery and majestic architectures which belong to 15th and 16th century.
Lodhi Gardens offer an ideal setting for family outings as well as a perfect spot for those seeking some peaceful time amid the refreshing nature. Sunset is especially breathtaking at the Lodhi Gardens. Adding to natural greenery are the impressive structures of tombs and mosques.
Monuments at Lodhi Gardens Delhi
Mohammed Shah Tomb at Lodhi Gardens
Built by Ala-ud-din Alam Shah as a tribute to Mohammed Shah, third emperor of the Sayyid dynasty, this is the earliest of the tombs here. It was built in 1444. Located in the southwestern part of Lodhi Gardens, this tomb can be seen from the road as well. This octagonal shaped tomb has a chamber in the middle which is surrounded by verandah. It has three arched openings. The carvings on the domes along with crowning lotus are worth noticing. It has eight graves while the one in the center is said to be of Muhammad Shah.
Sikandar Lodi Tomb at Lodhi Gardens
Built by Ibrahim Lodi in 1517, the last ruler of Lodhi Dynasty, tomb of Sikander Lodi is located on northwestern corner of Lodhi Gardens, on the north of Sheesh Gumbad. It has some similarities with the tomb of Mohammed Shah and Mubarak Shah, although this tomb doesn't have chhatris. It is surrounded by a square shaped garden.
Bara Gumbad at Lodhi Gardens
Built in 1490 during the reign of Sultan Sikander Lodhi, Bara Gumbad is one of the biggest tombs here and is believed to the gateway for other nearby mosque by some of the historians. It is square shaped tomb with a massive dome. It is located northeastern side of Muhammad Shah's tomb. The interior of the tomb consists of stucco work and beautiful paintings. Even though there is no grave inside this tomb, it is still believed that someone of high rank, who is still unidentified, must have be buried here. The Bara Gumbad Masjid is located just next to the tomb.
Sheesh Gumbad at Lodhi Gardens
Located a few meters away from Bara Gumbad, Sheesh Gumbad presents a mix of Hindu and Islamic architecture. Also known as the glazed dome, owing to its blue tinted ornamentation, this tomb is quite similar to Bara Gumbad in its structure. The dome of the tomb was originally decorated with blue titles while the interior is adorned with floral motifs and inscriptions from Quran.
Athpula at Lodhi Gardens
Located on the eastern side of Sikander Lodi's tomb is the Athpula. It is said to be built during the reign Mughal emperor Akbar. It is a stone bridge consisting of arches and pillars over a small waterway in the garden.
Flora and fauna at Lodhi Gardens Delhi
Lodhi Gardens consists of a rose garden, a lake and a Greenhouse which is in addition to the wide variety of trees and plants. A rich avian fauna can also be spotted here such as babblers, parakeets, mynahs, kites, owls, kingfishers and Hornbills.
Image Gallery of Lodhi Gardens, Delhi
Timings of Lodhi Gardens, Delhi
Lodi Gardens timings are from 5:00 AM to 8:00 PM from April to September. From October to March, the garden is open from 6:00 AM to 8:00 PM. It is open on all days of the week. There is no entry fee and it is open to everyone.
How to reach Lodhi Garden Delhi
Lodhi Gardens can be easily reached by road as well as metro rail. The nearest metro station to Lodhi Gardens is Jorbagh metro station on the yellow line that starts from Samaypur badli station to Huda City Centre Metro Station. This station is just 1.1 km away from the Gardens.
Another nearby station to Lodhi Gardens is the JLN metro station on the violet line that connects Raja Nahar Singh To Kashmere Gate Metro Station. From there, Lodhi Gardens is located at a distance of 1.4 km. Tourists can also reach here by local city buses, auto-rickshaws and taxis.
Location Map for Lodhi Gardens Delhi