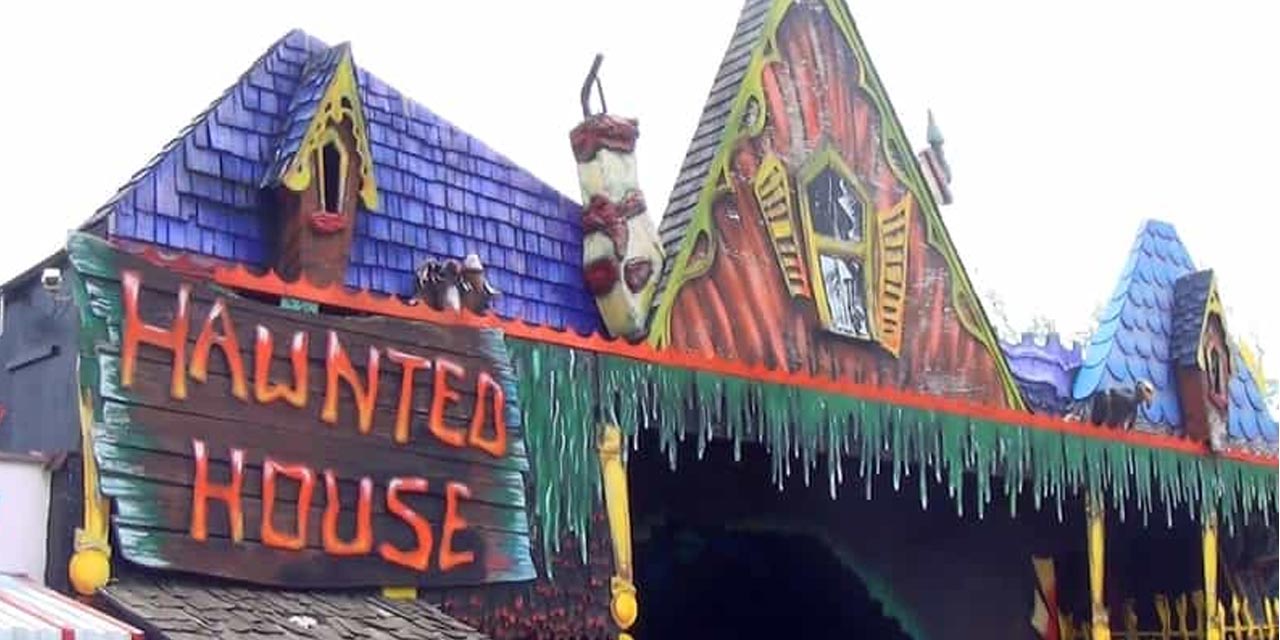 Scary House Delhi Entry Fee
Starts from 120 Per Person
---
Scary House Delhi Phone
N/A
---
Quick Facts about Scary House Delhi
Scary House Delhi Timings
| Day | Timing |
| --- | --- |
| Monday | 10:00 am – 9:00 pm |
| Tuesday | 10:00 am – 9:00 pm |
| Wedesday | 10:00 am – 9:00 pm |
| Thursday | 10:00 am – 9:00 pm |
| Friday | 10:00 am – 9:00 pm |
| Saturday | 10:00 am – 9:00 pm |
| Sunday | 10:00 am – 9:00 pm |
Rating:

| 4 stars, of total 67 reviews
Scary House Delhi Address: Mahatma Gandhi Marg, Nehru Nagar, Shivaji Place, Vishal Enclave, Rajouri Garden, New Delhi Delhi, 110018, India
---
Delhi has a bunch of frightful entertainment venues for adventurous souls. And the Haunted House is the best Scary House in Delhi malls.
Here, you'll experience the chill running down your spine as you enter the ghoulish place. And you'll get goosebumps as you get on the ride. Creepy props, fancy lighting and eerie sounds, combined with state-of-the-art technology, will surely get some screams out of you.
The spooky environment and scary setups of the place can be terrifying at times. But, mostly, people come here to share some laughter with friends and family and have loads of fun.
Where is Scary House in Delhi?
This Scary Haunted House is an indoor adventure venue in Rajouri Garden, New Delhi. It is situated in West Gate Mall. And it's a fun place to be. The dim lighting and dreary props give frightening surprises to the visitors.
Things to do at Scary House
1. Enjoying a ride through the jungle – The Haunted House offers a fun and thrilling ride through a jungle set in the darkness. Skeletons and creepy half-dead figures pop up as you move along. Other scary robotic props, backed by spooky screams, will make your heart race as the ride goes through twisted paths and tunnels. It can be an entertaining ride for the entire family.
2. Watching the 7D show – Apart from the terrific ride, this Scary House in Delhi offers the X-Rider 7D adventure movie. It's a 7D show which you can enjoy with family and friends.
3. Walking through the maze – A horror maze is also a part of this Scary House. Alarming sounds keep playing and terrifying props pop up as you walk through the dark alley, trying to find your way out.
4. Snacking in the food court – This Scary House is within West Gate Mall Rajouri Garden, and you can spend time tasting the snacks available in the food court. You'll find different restaurants and refreshment parlours serving a variety of cuisine. Outlets of renowned food chains are also present in the mall. And you can even spend time in pubs and lounges there.
5. Having a relaxing movie time – The mall also has a movie theatre, where you can enjoy a movie with your group.
Scary House Timings and Entry Fees
This Scary House of West Gate Mall is open every day from 10 AM to 9 PM. And you can enjoy the thrilling ride, walk through the horror maze or watch the 7D show with your family and friends.
The entry to Haunted House starts from ₹120 per person. Group discounts are available here.
Then, a combo ticket for Haunted House and X-Rider 7D adventure movie is available at ₹170 per person. And the combo ticket for Haunted House, Horror Maze and X-Rider 7D show costs ₹250 per person.
Best Time to visit Scary House Delhi
Scary House Delhi is an indoor entertainment arena, and you can visit it anytime you wish. However, Delhi is best visited between March and April, or October and November. So, plan your trip accordingly.
Also, it would be better to visit Scary House during the weekdays to avoid the crowd or waiting time for the ride.
Places to visit near Scary House
1. Birla Mandir – Also known as Laxminarayan Temple, Birla Mandir is one of the biggest Hindu temples in Delhi. It is dedicated to Lord Vishnu and Goddess Laxmi, and its grandeur during Janmashtami and Diwali festivals increases manifold. This temple is a major tourist attraction too. It comprises many fountains, shrines and sculptures of religious importance. Birla Mandir is a three-storeyed building, built with Kota stone, in the Nagara style of temple architecture. It is about 10 km away from the Scary House.
2. Gurudwara Bangla Sahib – Gurudwara Bangla Sahib is a revered religious place among the Sikhs, 2 km away from Birla Mandir. And it is also known for its architectural and cultural significance. The building is built in a classic Sikh style, and it has influences of Mughal and Rajput architectural styles. The gurudwara is also popular because of its langar (free food to the community). And people of various cultures, nationalities and races visit it for food.
3. Chandni Chowk – Chandni Chowk, about 12 km from Scary House, is the oldest and busiest market of Delhi. And it is a paradise for shoppers and foodies. The narrow lanes might feel unnerving in the first instance, but shopping in Chandni Chowk is fun. It has something to offer to everyone. Whether you're looking for a few accessories or need them in bulk, you'll get them at reasonable prices. The market is known for its street food too.
4. Jama Masjid – Jama Masjid is a religious shrine for Muslims, situated within Chandni Chowk area. It is among the largest mosques in India, which is also popular for its impressive architecture. The building is built with red sandstone and marble. And the mosque complex also has three majestic gates, four towers and two minarets. In the centre of the courtyard, you have a water tank for washing hands and feet before the prayer. You'll also find inscriptions with details about the mosque's history.
5. Red Fort – Red Fort is another place of historical importance near Jama Masjid. It is built with red sandstone, and it is popular for its architecture. The fort complex has many buildings with intricate carvings, floral motifs and elaborate architecture. Light and sound shows are also organised in the evening, in which you can learn about the history of Red Fort and Mughal rule in India.
How to reach Scary House in Delhi?
The Scary House is located within the building of West Gate Mall in Rajouri Garden. And it has easy accessibility from all parts of the city. It is about 11 km away from both the New Delhi railway station and the international airport.
And here are the various options you have, to reach Scary House Rajouri Garden –
By metro – Rajouri Garden metro station is only about a few hundred metres away from Haunted House. It is the interchange station for Delhi Metro Blue line and Pink line, and it has connectivity from multiple places in Delhi. From the station, you can walk the distance or take an auto or e-rickshaw to this entertainment venue.
By bus – Public buses are also available for Rajouri Garden. You can walk the distance from the bus stop to the Scary House or take an auto or e-rickshaw.
By taxi/auto – You can also get a taxi or an auto to reach West Gate Mall and Haunted House directly. They are available all over the city. From the railway station or the airport, it takes less than an hour to reach this Scary House.
You can also book a private cab from top car rental companies in Delhi to take you to the Haunted House and all other tourist places of Delhi.
---
Explore Delhi like never before by booking a Delhi tour package with us. At Delhi Tourism, a division of Holidays DNA we make sure you have the best holiday trip you ever had at pocket friendly prices. To know more, please fill the Contact Us form.
Location Map for Scary House Delhi