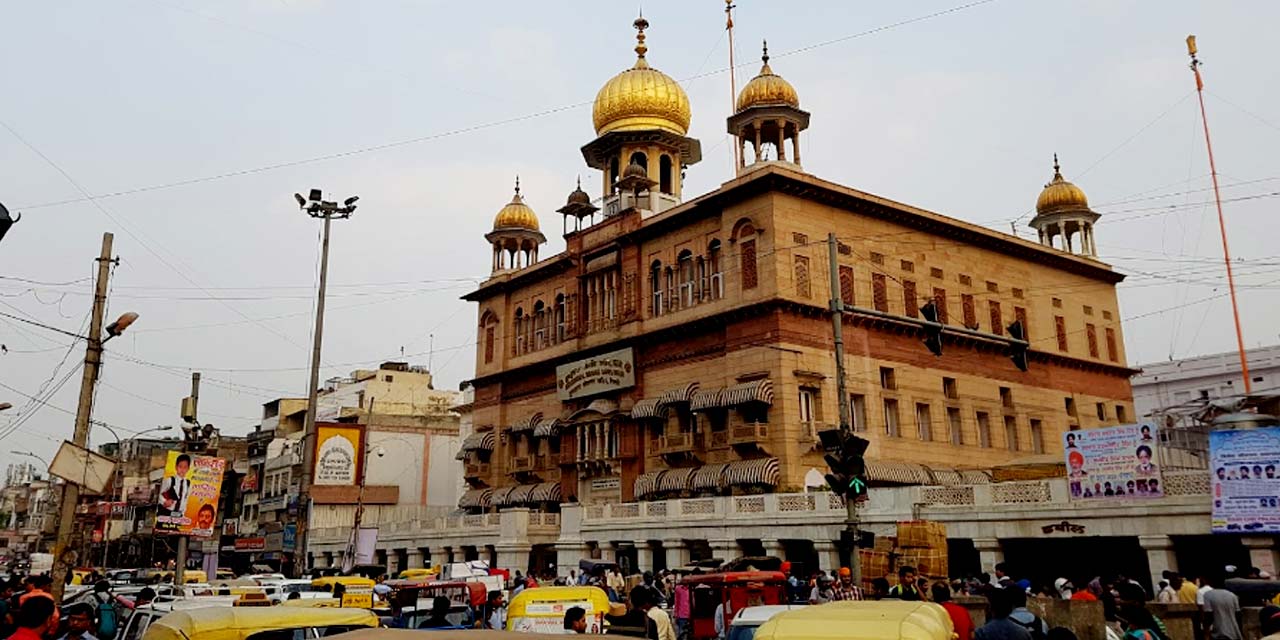 Chandni Chowk Delhi Entry Fee
---
Chandni Chowk Delhi Phone
N/A
---
Quick Facts about Chandni Chowk Delhi
Chandni Chowk Delhi Timings
| Day | Timing |
| --- | --- |
| Monday | 9:30 am – 8:00 pm |
| Tuesday | 9:30 am – 8:00 pm |
| Wedesday | 9:30 am – 8:00 pm |
| Thursday | 9:30 am – 8:00 pm |
| Friday | 9:30 am – 8:00 pm |
| Saturday | 9:30 am – 8:00 pm |
| Sunday | Closed / Holiday |
Rating:

| 4 stars, of total 51 reviews
Chandni Chowk Delhi Address: Chandni Chowk, New Delhi, Delhi, 110006, India
---
About Chandni Chowk (market), Delhi
---
If you have a quintessential shopper and a foodie in you, you must have heard about Chandni Chowk. Delhi's oldest and busiest market is a delight for someone who knows the art of shopping. You want to buy a saree or a piece of crockery, you want to buy the authentic Indian spices or some exclusive dry fruits, Chandni Chowk has to be your go-to place if you are in town.
Only because Chandni Chowk has something to offer to everyone, it is a chaotic place. There are days when you may not even find place to walk on the bustling streets of Chandni Chowk. BUT, the charm that Chandni Chowk carries is like no other place.
This old market has retained its charm and historic value over the year. It was built in the 17th century by the Mughal ruler Shah Jahan, opposite Lal Quila and close to Fatehpuri Mosque. There is a rather interesting story scribbled in the history on how the place got its name. There was a pool at the centre of place, that reflected the moon. Hence, it was named as Chandni Chowk or Moonlight Square.
Chandni Chowk is a shoppers paradise in true sense. The narrow streets of Chandni Chowk have shops that are struggling for space. However, shopping at Chandni Chowk is different level of fun. The kind of variety you get there is unmatchable and that too, at the most reasonable prices. The market is divided into several narrow streets where one can get variety of clothes, jewellry, candles, perfumes, lifestyle items, et al.
One gets the greatest deals in the Chandni Chowk market because besides being one of the largest retail markets, it is a wholesale market as well. Traders from across the country flock here for sourcing various lifestyle related goods. If you are tired by the Chandni Chowk shopping spree, you have a lot of eateries waiting for you. Chandni Chowk is extremely famous for its street food, which is majorly Indian cuisine.
Chandni Chowk (market) History
---
Chandni Chowk's history dates back to the 17th century. It was established by Mughal emperor Shah Jahan's favorite daughter Jahan Ara Begum in 1650 CE. The market originally had 1560 shops and was spread over an area which was 40 yards wide and 1520 yards long.
A pool was created to render elegance at the centre of this square shaped market. The pool's shimmering in the moonlight was a sight to watch out for. This is exactly where the place got its name. The shops originally were built in a half moon shaped pattern, which doesn't exists any more after centuries. The Chandni Chowk bazaar was famous for the silver merchants who used to trade in the market.
The pool at the centre of the market was replaced by a clock tower, also known as Ghanta Ghar, by the 1950s. Ghantaghar is now officially referred to as the centre of the market. It was one of the grandest market of the country. The Mughal Imperial processions used to pass through this market until 1903, when the Delhi Durbar was organised. Chandni Chowk is spread between the Red Fort and Lahori gate of Fatehpuri Mosque. In the old times, a canal ran through the middle of the street connecting the two places. The bazaar was divided into three sections: Urdu Bazaar, Johari Bazaar and Fatehpuri Bazaar.
Urdu Bazaar: The area between Lahori gate to Chowk Kotwali near Gurudwara Shish Ganj was called the Urdu Bazaar. Infact, Mirza Ghalib named the language after being inspired by this bazaar itself.
Johari Bazaar: From Chowk Kotwali to Chandni Chowk was the area of Johari Bazaar. Here Chandni Chowk refers to the square where the reflecting pool was created.
Fatehpuri Bazaar: The area between Chandni Chowk to Fatehpuri Masjid was termed as Fatehpuri Bazaar.
Inside the Chandni Chowk
---
If you are planning to visit and experience Chandni Chowk, you need at least a day's time of your travel schedule. And you will find the place totally worth it. Besides being a huge market, it has places of religious and historical significance too. Here are some of the religious places that attract devotees all the year round:
Jama Masjid: Delhi's most famous Jama Masjid is of extreme importance for the followers of Islam faith. It was built in 1650 in the vicinity of Chandni Chowk.
Shri Digambar jain Lal Mandir: As the name suggests, the temple was built for the followers of Jainism in the year 1656. A bird hospital was built along with the temple in 1929.
Gurudwara Sis Ganj Sahib: This Gurudwara depicts the victory of good over evil. Guru Teg Bahadur, the 9th Sikh Guru and some of his followers including Bhai Mati Das, Bhai Dyal Das and Bhai Sati Das were executed by the Mughals in the year 1675. After capturing Delhi, which was the Mughal capital then, the Khalsa built the Gurudwara as a memorial in 1783.
Sunehri Masjid: Sunehri Masjid was built in 1721 in the reign of Muhammad Shah. It is believed that nadar Shah, the persian invader had spent several hours on top of the mosque to watch the execution of mass killing that he had ordered. As many as 30,000 people were killed in that katl-e-aam.
Fatehpuri Masjid: This mosque in Chandni Chowk was built by Fatehpuri begum, one of the queens of Shah Jahan.
Havelis:
---
As much as Chandni Chowk is famous for its shops, eateries and religious and historical monuments, it is popular for its havelis too. Begum Shamru's palace built in 1806 is now known as Bhagirath palace. Some of the prominent havelis of Chandni Chowk include Khazanchi Haveli, haveli of Mirza Ghalib, Chunnamal Haveli, Haveli Naharwali, Haveli Dharmpura and Haveli Banarasi Bhavan.
Shops:
---
If Chandni Chowk was a person, its shops would have been its soul. Chandni Chowk houses shops of all kinds. People fond of traditional Indian dresses must travel through the lanes and by-lanes of Chandni Chowk. The cloth market supplies men, women and kids wear along with home furnishings, which are ready-made as well as design services.
There are hundreds of shops selling sarees, suits and lehengas, and the beauty is that each shop has its uniqueness in terms of the collection and the customer it attracts. Arun Vastra Bhandar is one of the most popular shops of Chandni Chowk. It is a multi-storeyed shop that has hundreds of customers crowding the place almost throughout the day. You will find all kinds of sarees, suits and Lehengas in the shop, at a relatively affordable price.
On the other hand, Nai Sarak has a whole lot of shops of books, stationery items, paper and decorative items. There is a wholesale market of hardware and hotel kitchen equipment at Lal Kuan. It is situated adjacent to the chemical market at Tilak Nagar. If you move towards the western end of Chandni Chowk, you will find Khari Baoli, which is famous for its spices and dry fruits, herbs and nuts. Willing to buys silver or gold jewelry? Head towards Dariba as you will find a host of variety there. Dariba also has a whole lot of shops that offer mementos, shields, trophies, and other related items.
Eateries:
---
If you come to Chandni Chowk and don't try the eateries here, your experience is incomplete. It is a home to some of the very popular restaurants and confectionaries. The Ghantewala halwai, that was established in 1790 is still there, serving to its loyal customers. Natraj's Dahi Bhalle, established in 1940 still entice the taste buds of visitors. The jalebi wala serves the best jalebis in town, while the chaatwala, that was established in 1923, is still famous for its fruit chaat. The Rasmalai of Bikaner Sweet Shop and the Rabri Falooda of Gianiji Ka Falooda are still world class, even after decades.
The variety of parathas, that the Parathe waali gali offers is huge. From Aam ka paratha to bhindi ka paratha, you may end up hearing names that you may never have imagined. Although Parathe Waali Gali is a narrow lane of Chandni Chowk, it remains crowded almost throughout the day.
The Ghee Patisa of Chainaram Halwai, established in 1948, is still unmatchable. People flock during winters for this delicacy around the shop. The Kulhad Waale Chole Chawal of Gol Hatti are famous right from the year 1954, when the shop was established.
Image Gallery of Chandni Chowk (market) Delhi
Chandni Chowk and Bollywood:
---
Chandni Chowk shares a very special relation with Bollywood. While celebs like Akshay Kumar still have their mouth watering on the parathas of Parathe Waali Gali, some of the directors of Bollywood have actually lived in Chandni Chowk to shoot films on the area. Remember Delhi 6 starring Abhishek Bachchan and Sonam Kapoor? A true Blue Chandni Chowk movie it was, where the emphasis was paid to showcase the unique culture of the place. Popular film Kabhi Khushi Kabhi Gham gives a fairly decent view of what Chandni Chowk's beauty is all about. The leading lady Anjali (played by Kajol) and her sister Pooja (played by Kareena Kapoor) live in Chandni Chowk and boast about it in the movie too.
Chandni Chowk To China, the Akshay Kumar and Deepika Padukone starrer movie that released in 2009 was largely based on this part of the old city of Delhi.
Do you need more reasons to visit Chandni Chowk? Well, if not, lets see how you can reach the place…
How to reach Chandni Chowk:
---
Metro: Chandni Chowk market is situated pretty close by to the Chandni Chowk Metro Station on the Yellow line. If you want to go any deeper into the market after getting down from the metro station, walk down or take an electric rickshaw or a cycle rickshaw.
Auto/taxi service: Like all the other parts of the Delhi city, Chandni Chowk is also well connected with the auto rickshaw and taxi network. Try services like Ola, Uber or Jugnoo, if you don't know how the local transport works.
Bus: DTC buses number 138, 442, ML-96, ML-11, 567, 861A, 753 and 159 ply to and from Chandni Chowk to different parts of Delhi city.
Things to follow while you visit Chandni Chowk:
---
While you are having the time of your life in Chandni Chowk, be cautious. It is a crowded place. So, be close to your loved ones to avoid being left behind.
Try and visit Chandni Chowk on weekdays rather than weekends. While on weekdays the place is crowded, on weekends, it is maddening.
Although the market is well connected by electric rickshaws and cycle rickshaws internally, you may have to walk to reach some interior parts. So try and carry less of baggage while you are in Chandni Chowk.
The place has a lot many attractions to be covered in a few hours. So do keep at least a day to spare to enjoy the spirit of Chandni Chowk.
Location Map for Chandni Chowk Delhi