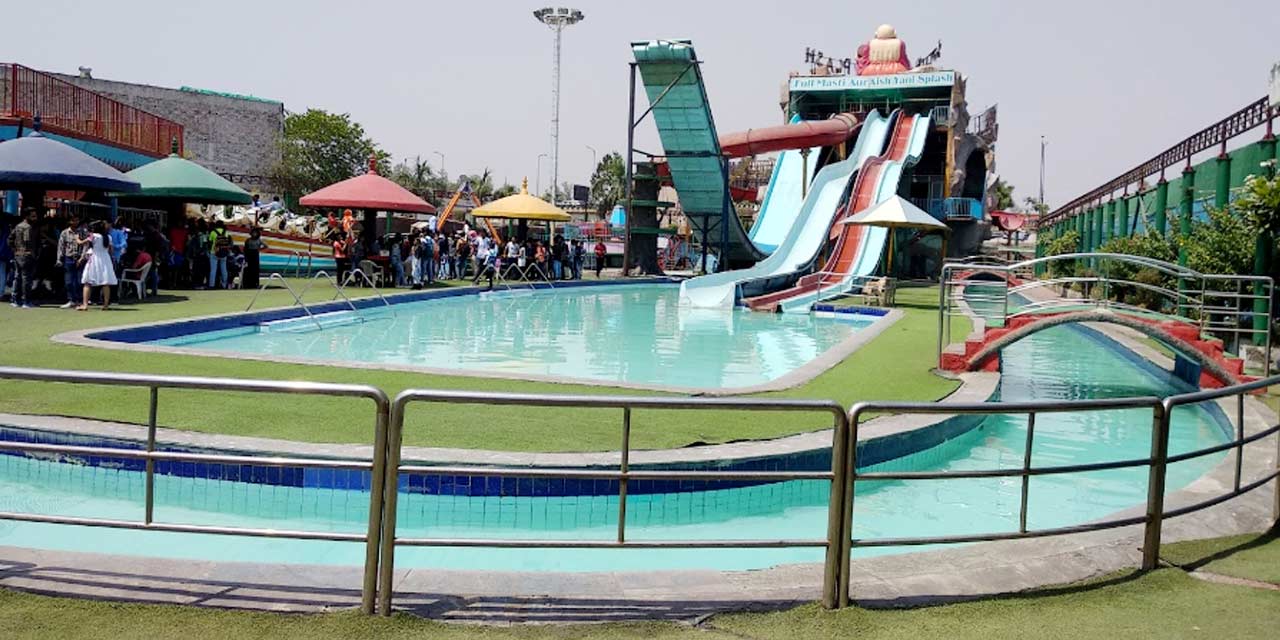 Splash The Water Park Delhi Entry Fee
400 Weekdays for Child (Height between 2.9 ft & 4.6 ft)
500 Weekends for Child (Height between 2.9 ft & 4.6 ft)
700 Weekdays for Adults
800 Weekends for Adults
1000 Couple
240 School Package [Water Park+Amusement Rides+Welcome Drink+Return Gift (Without Food])
400 Institute Package [Water Park+Joy Rides+Welcome Drink+Return Gift (Without Food)]
999 Privilege Card [Bonus and deals on coupons]
---
Splash The Water Park Delhi Phone
---
Quick Facts about Splash The Water Park Delhi
Splash The Water Park Delhi Timings
| Day | Timing |
| --- | --- |
| Monday | 10:00 am – 7:00 pm |
| Tuesday | 10:00 am – 7:00 pm |
| Wedesday | 10:00 am – 7:00 pm |
| Thursday | 10:00 am – 7:00 pm |
| Friday | 10:00 am – 7:00 pm |
| Saturday | 10:00 am – 7:00 pm |
| Sunday | 10:00 am – 7:00 pm |
Note: Splash The Water Park Delhi Water Rides Timings - 10:00 am to 5:00 pm and Amusement Rides Timings 5:00 pm to 7:00 pm
Rating:

| 4 stars, of total 80 reviews
Splash The Water Park Delhi Address: Main GT Karnal Road, Near Palla Moad, Alipur, New Delhi, Delhi, 110036, India
---
Splash Water Park is located in Alipur, Delhi at main GT Karnal Road. It is the ideal weekend getaway to escape the bustle of Delhi. Equipped with adrenaline-pumping rides and slides, this amusement park lures visitors not only from Delhi but the neighboring areas of Gurugram, Sonipat, Panipat, Murthal, and Noida.
The main attractions of the park are thrilling slides like the Body slide, Turning Point slide, Mushroom slide, and Family slide. You can laze at the Wave pool, click Insta-worthy pictures on Waterfall and Lazy river.
The amusement rides such as SkyTrain, Mini Columbus, and Carousel Revolving Tower add a fun element to the park. The refreshing vibe of the water park and fun splash pools are great for spending a relaxing day with family and friends.
Built over an area of 5 acres, Splash- The Water Park is surrounded by lush gardens offering a tranquil experience. Artificial waterfalls add to the beauty of the spot and offer a great backdrop for amazing pictures.
The well-maintained park has around 10+ thrilling rides and 7+ water slides. The park meets and maintains International standards of water quality and hygiene so that you can splash around carefree. Appropriate safety arrangements have been made by the authorities for kids and non-swimmers to avoid any accidents.
History of Splash Water Park
Splash-The Water Park has been set up and operated by Sagu Dreamland Private Limited. The amusement park was opened to offer respite from the scorching heat of Delhi. Locals and tourists unwind at the park, away from Delhi's busy city life.
Things to do at Splash- The Water Park
Splash Water Park has a wide variety of fun rides for all age groups and a horde of activities to keep you engaged throughout the day.
You can:
Shoot down thrilling water slides.
Scream your heart out on the adrenaline-pumping rides.
Relax in the lazy river.
Splash at the wave pool.
Play at the waterfalls.
Rain dance to peppy music.
Enjoy swings with your kids.
Try yummy food.
The most popular activities at Splash Water Park are enjoying the fun rides and splash in the swimming pool, but you can also enjoy the Pendulum ride which is the longest water slide in the park.
You can also click great family pictures in the picturesque setup. Stunning waterfalls add to the beauty of the park and are also great for splashing around for those who do not want to get into the swimming pool.
Image Gallery of Splash The Water Park Delhi
Rides at Splash- The Water Park
Splash Water Park has an array of fun rides including dry and wet ones. Keeping in mind the different needs of all visitors, there are rides suitable for thrill-seekers, children, and family members of all ages. All rides comply with safety standards of an International level to offer the best possible enthralling experience.
1. High thrill rides at Splash Water Park
Get your adrenaline gushing as you enjoy the thrill rides at Splash Water Park. Designed to keep you soaking in excitement, these rides offer the best experience of the amusement park. These rides include:
H2O Slide: Offering a big splash landing, this slide thrills you through the take-off to the final landing in the pool.
Tornado Slide: Plunge into a massive funnel of excitement at high speed accompanied by your loved ones. Adding to the adventure are the moments of zero gravity and intense drops. This heart-thumping slide isn't recommended for kids and those with high blood pressure or heart ailments.
Turning Point Slide: This exhilarating ride takes you along unexpected twists and turns to make your way to the splash pool.
Multi Lane Slide: This exciting slide allows you to feel the thrill with your gang as all of you go down together safely in different lanes.
Hara Kari Slide: Hara Kari is a Japanese term that translates to 'ritual suicide'. As the name suggests it is not for the timid ones. This adrenaline-inducing slide has multiple loops. These consecutive loops throw you off balance and keep you entertained at the same time.
Carousel Revolving Tower: A ride that sets your heart pumping and adds fun to your visit to Splash water park. In this ride, seats are attached to spokes connected to a central tower and they are moved upwards and downwards as the pillar spins. It is not advisable for the faint-hearted, and high blood pressure or heart patients must completely avoid it.
Pendulum Ride: The enthralling combination of gondola connected by an arm to an axle keeps you swinging in the air as you scream your heart out.
2. Family Rides at Splash Water Park
Maximize the fun as you enjoy with your family at the Splash Water Park. Soak under the Mushroom Fall and Buddha Fall, sway away as you ride the Mini Columbus together, enjoy riding the mind-boggling Break Dance, and swish through the park in the Sky Train.
3. Water Fun at Splash Water Park
Splash around in the water and rejuvenate your senses as you try out the water rides and activities at Splash Water Park. Beyond the adventurous water slides and rides, you can enjoy Rain Dance, drench at the Wave Pools, douse along the Lazy River, and immerse in the fun at the picturesque waterfalls.
4. Kids Area at Splash Water Park
Keep your little ones engaged and safe at the waddling pool and multiple rides dedicated to kids like Mini Columbus, Toy Train, Ball Pool, and Kiddies Wheel. These joy rides have been designed keeping the safety of kids in mind and are supervised by trained lifeguards at all times.
Entry Fee and Timings of Splash Water Park
The Entry Fee to visit Splash Water Park is Rs. 700 for adults and Rs. 400 for children (in the height range of 2`9`` to 4`6``) on weekdays. During weekends, the entry fee is Rs. 800 for adults and Rs. 500 for children.
You can visit Splash Water Park on all days of the week. The Timings for Water rides are from 10 AM to 5 PM while the Amusement Park is open from 5 PM to 7 PM.
Places to visit near Splash- The Water Park
1. Majnu ka Tilla: It is a beautiful Gurdwara built on the banks of River Yamuna by Sikh military leader Baghel Singh Dhaliwal. It is the oldest Sikh shrine in Delhi and is visited by devotees from across the country as it is believed Guru Nanak Dev Ji had rested at the place in 1783.
The Tibetan Refugee Colony is also located in the area, which has a Buddhist temple exuding a calm vibe. Soak in the serene atmosphere as you roll the holy barrels and listen to mantras. You can shop at the cutesy shops for Tibetan handicrafts, chic clothing, funky jewelry, tribal collectibles, and Thangka paintings here. Yummy Tibetan delicacies like Thukpa, Tingmo, Butter tea, Momos, and Lapping are a must-try.
2. University of Delhi: The renowned Delhi University Campus is located near the water park. Shop for swanky clothes, footwear, and accessories at throwaway prices at Kamla Nagar. You can enjoy yummy Delhi street food like Chhole Bhature, Momos, and Chaat in this area.
3. Gurudwara Nanak Piao Sahib: It is a beautiful Gurudwara built to mark the place where Nanak Dev Ji stayed in 1505. Seek blessings at the shrine and eat the sacred langar at the free kitchen.
4. Metro Walk Mall: It is among the chicest malls in Delhi offering a great shopping and entertainment experience. The mall houses the best-branded stores and an amusement park called 'Adventure Island'.
Interesting facts about Splash Water Park
There is a separate play area for kids with shallow water and smaller slides in accordance with international safety regulations.
The water park also houses a hotel named Retreat to provide accommodation for tourists and visitors on its premises.
It is a popular spot for school excursions and special offers are available for such fun trips.
Family gatherings, birthday parties, corporate events, and pool parties are also organized by the management upon request.
Things to keep in mind while visiting Splash Water Park
Splash Water Park is an outdoor water park so remember to carry an ample amount of sunscreen lotion and a hat. Stay hydrated to avoid any health complications.
Carry your swimwear (synthetic or lycra), towels, a spare set of clothes, and waterproof footwear. Swimwear is available for rent at the premises.
Sunglasses or swimming goggles are advisable.
Avoid carrying too much cash and valuables to the park. Though lockers are available at a nominal rent, taking care of your belongings is your own responsibility.
Wear a life vest and carry floating gear for kids.
Take a shower before and after your dip to remove any bacteria or chemicals from your skin.
How to reach Splash- The Water Park
Splash Water Park is located on the outskirts of Delhi and is easily accessible by local transport. It is 30 kilometers away from Indira Gandhi International Airport (Delhi Airport). Hire a cab from top car rental companies in Delhi to reach the amusement park conveniently via Mahatma Gandhi Marg/Ring Road in around 45 minutes.
You can also take a local bus or hire an auto-rickshaw from any point across Delhi to reach the water park. Vidhan Sabha Metro station is the nearest point where you can get down to take an auto-rickshaw or cab to reach Splash Water Park.
---
Have a splendid holiday experience exploring the popular places to visit in Delhi during your Delhi tour by booking a Delhi Tour Package with us. We at Delhi Tourism, a division of Holidays DNA offer great deals and plenty of packages to suit your budget and preferences. You can also ask for customisation of packages and enjoy your tour in a hassle free way. To know more, please fill the Contact Us form.
Location Map for Splash The Water Park Delhi