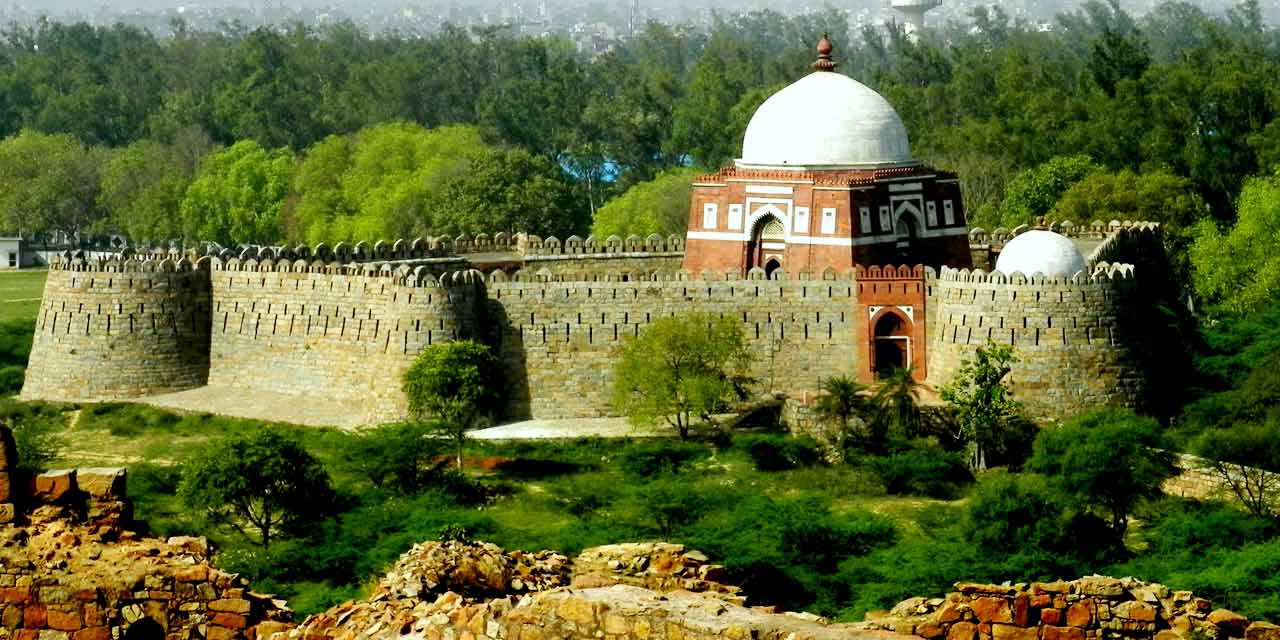 Tomb of Balban Delhi Entry Fee
---
Tomb of Balban Delhi Phone
N/A
---
Quick Facts about Tomb of Balban Delhi
Tomb of Balban Delhi Timings
| Day | Timing |
| --- | --- |
| Monday | 6:00 am – 6:00 pm |
| Tuesday | 6:00 am – 6:00 pm |
| Wedesday | 6:00 am – 6:00 pm |
| Thursday | 6:00 am – 6:00 pm |
| Friday | 6:00 am – 6:00 pm |
| Saturday | 6:00 am – 6:00 pm |
| Sunday | 6:00 am – 6:00 pm |
Rating:

| 4 stars, of total 52 reviews
Tomb of Balban Delhi Address: Ladha Sarai, Mehrauli, Christian Colony, Mehrauli, New Delhi, Delhi, 110030, India
---
Dedicated to the last emperor of the Slave Dynasty, Ghiyas-ud-din Balban is the Tomb of Balban situated in the Mehrauli area of our National capital, Delhi. Ghiyas-ud-din was the last and ninth ruler of the slave dynasty who himself was captured as a slave by the Mongols. He had an extremely humbling start to his life as a water carrier boy and was sold as a slave in Afghanistan's Bazaars of Ghazni.
History of Ghiyas-ud-din Balban
The tomb was erected in the 13th Century AD and is a Mausoleum of Ghiyas-ud-din who was buried in the year 1287 AD. The Slave Dynasty, also referred to as the Mamluk Dynasty, was prominent between 1266 AD to 1287 AD. After being captured as a slave, Ghiyas-ud-din was sold to Ghazni Khwaja Jamal-ud-din Basri, a Baghdadi merchant. The merchant further sold Ghiyas-ud-din to Iltutmish and was released from bondage as per Iltutmish's Emperor's order, Qutub-ud-din Aibak who then ruled the Delhi Sultanate.
Qutub-din-din Aibak was fond of Balban and took great care of him as if his own boy in a manner suitable to a prince. The Persian culture of 'Zaminbos' was introduced by Balban where people greeted the emperor by lying face down flat on the ground. Balban has served as a personal assistant and confidante of the emperor and the leader of 'Chalissa' which was a forty-membered Turkish Nobles group.
Upon Razia Sultan's demise, Balban conquered many neighboring areas and was later appointed as the Prime Minister by the ruler Sultan Nasir-ud-din Mahmud. Balban got married to Sultan's Daughter and was announced as the ruler after Sultan Mahmud's demise. He was 60 years old when he took up the throne as a ruler and was known to be a ruler with an Iron Fist.
Ghiyas-ud-din Balban was a fair and just ruler who enforced law and order in the area. The system of 'Chihalgani' was demolished by Balban who were the military and administrative elite of a tribal clan called Ilbari. He also introduced the concept of outposts to curb crime, especially in high crime areas. These areas were supervised by the people of his utmost trust and helped establish peace and harmony in the area. He also introduced the concept of surveillance in the area wherein people of his trust and loyalty were deployed in various areas and were supposed to bring him the news on a daily basis.
Upon Balban's death, the throne was succeeded by his grandson, Muiz-ud-din Qaiqabad. Qaiqabad ruled only for three years from 1287 AD to 1290 AD and was later killed by Jalal-ud-din Firuz Khilji in 1290 AD due to his incompetence and disinterest in ruling and inclination towards women and alcohol.
Balban had two sons, Mahmud was the elder one and got killed when he was posted in Multan region while protecting the sultanate from Mongols. Balban could not bear the news and was on his death bed within a few months. His younger son, being frightened of the attacks by Khilji, never came to see his father who was then on his deathbed. Balban had to then announce his grandson as the successor.
Balban was buried with great honor and royalty in the year 1287 AD at what today is known as Archaeological Survey Park at Mehrauli in South Delhi. Due to its late discovery and further negligence, the tomb is now just ruins of what once used to be a symbol of splendor. The grave of Balban is now just a squared stone left open to the sky to witness all the changes that this world is going through.
Image Gallery of Tomb of Balban Delhi
Architecture of Balban's Tomb
Balban's tomb is the first monument to be built in Indo-Islamic architectural style in the country and was discovered in the mid-20th century. Before its discovery, Alai Darwaza in the Qutub Minar complex was considered to be the first one of such style built in the year 1311 AD. Close to Balban's tomb is his son Khan Shahid or Mahmud's tomb who died in 1285 AD while fighting against Mongols. Mahmud's tomb is inscribed with beautiful Persian calligraphy.
Balban's tomb was the first one to be built with total arch. Earlier, Indian architects knew only Corbelled arch wherein the stones are laid horizontally and the upper layer extends the lower one. The side extensions are curved into an arch. Such kind of true arch which is made from the circular arrangement of stones was then new to the Indian Architecture.
Just a few steps away from the Balban's grave is the square gateway to this tomb complex. Although the tomb, the surrounding walls and other structures have surrendered to the harsh climate and negligence, the square gateway still stands tall and proud as the witness of once glorious days of Slave dynasty of 1266 AD to 1287 AD.
Entry Fee and Timings to visit Balban's Tomb
There is no entry fee to visit the Balban's tomb. It is open to tourists on all days of the week from 6:00 am to 6:00 pm.
Best Time to visit Balban's Tomb
You can visit the Balban's tomb during all seasons. Delhi is the national capital and welcomes its tourists with open arms. Most regions of this city are well-connected by Delhi metro and DTC bus service.
How to Reach Balban's Tomb
The exact address of Balban's tomb is 1287, Archeological Park, Ladha Sarai, Mehrauli, Christian Colony, 110030, South Delhi, India.
Tomb of Balban is located in the Mehrauli region of south Delhi. If you are traveling within Delhi, you can reach the tomb by taking DTC bus line number 505.
If you are traveling by road, Delhi is well connected by most cities in India, being the National Capital. All buses come till ISBT Kashmiri Gate from where you can take the DTDC line 505 to reach Mehrauli. Private taxis are also available at the ISBT.
You can also travel by Delhi Metro to reach Mehrauli. From Kashmiri gate to Hauz Khas Village, ride the yellow line and switch to Blue line from Hauz Khas to Chhatarpur, Mehrauli. Balban's tomb is just 2.1 km away from the nearest metro station, Chhatarpur.
If you are traveling by train from any part of the country, get down at the New Delhi Railway Station. You can hire a taxi cab from the railway station to Balban's tomb or travel by metro from NDLS to Hauz Khas Village, ride the yellow line and switch to Blue line from Hauz Khas to Chhatarpur, Mehrauli. Balban's tomb is just 2.1 km away from the nearest metro station, Chhatarpur.
If you are travelling by air, Indira Gandhi International Airport is the nearest one. You can hire private taxi from the airport to reach Balban's Tomb. Alternatively you can opt for a private cab from top car rental companies in Delhi, for a hassle-free commutation during your stay in Delhi.
---
We at Delhi Tourism, a division of Holidays DNA offer all-inclusive Delhi tour packages to have a perfect time while exploring the tourist attractions of Delhi. Please feel free to reach us by filling the Contact Us form to know more about the packages.
Location Map for Tomb of Balban Delhi