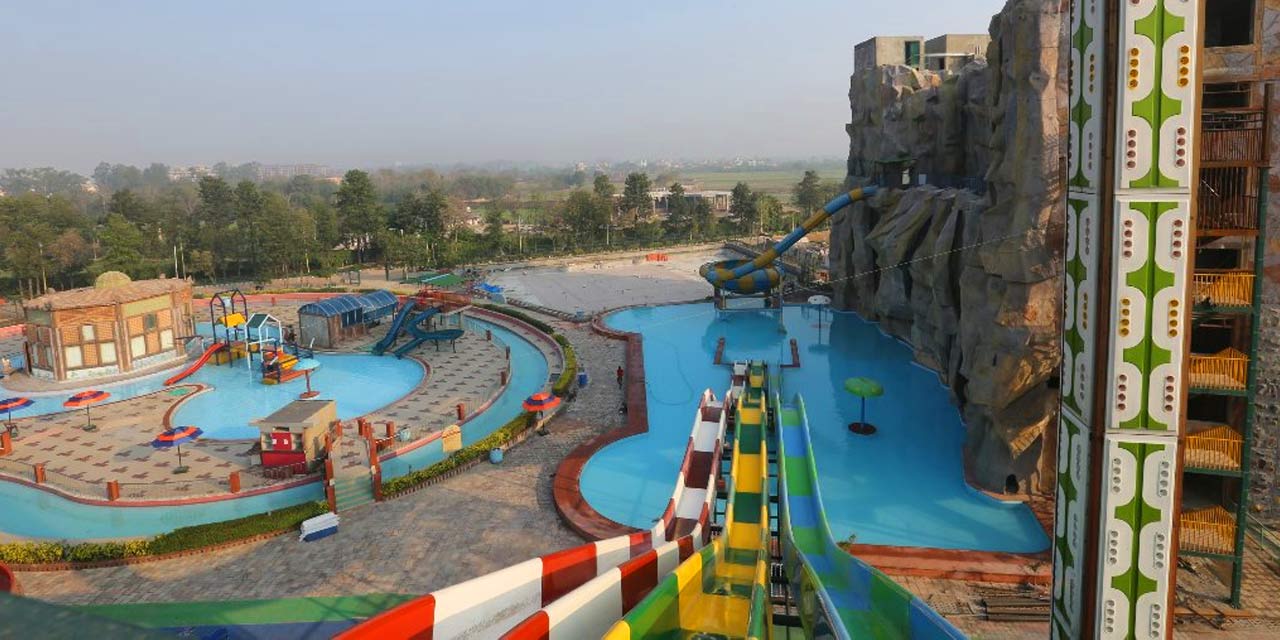 Jurassic Park Inn Sonipat Entry Fee
500 Weekdays for Child (Height Above 33 Inches)
750 Weekends for Child (Height Above 33 Inches)
750 Weekdays for Adults (Above 13)
1000 Weekends for Adults (Above 13)
500 Weekdays for Senior Citizen (Age 60+)
750 Weekends for Senior Citizen (Age 60+)
60 for Costume
100 for Locker
50 for Tube
100 per Ride for Fun Zone Activities i.e. Go Karting , Zip line , Horror House , Mountain Climbing , Video Game are Extra Chargeable
---
Jurassic Park Inn Sonipat Phone
---
Quick Facts about Jurassic Park Inn Sonipat
Jurassic Park Inn Sonipat Timings
| Day | Timing |
| --- | --- |
| Monday | 10:30 am – 6:30 pm |
| Tuesday | 10:30 am – 6:30 pm |
| Wedesday | 10:30 am – 6:30 pm |
| Thursday | 10:30 am – 6:30 pm |
| Friday | 10:30 am – 6:30 pm |
| Saturday | 10:30 am – 6:30 pm |
| Sunday | 10:30 am – 6:30 pm |
Rating:

| 4 stars, of total 92 reviews
Jurassic Park Inn Sonipat Address: NH 1, GT Karnal Rd, near Murthal, Sonipat, 131021, India
---
A quick getaway from the hustle and bustle of Delhi/NCR lies a quiet town of Sonipat. Replete with local Dhabas and sweet shops in Murthal on the Grand Trunk road, and small townships, it is perfect for a day out with your dear ones.
#Trivia: It forms the natural boundary between Haryana and Uttar Pradesh.
One of the most frequently visited places of this quiet town is Jurasik Park Inn in Sonipat. A complete destination for a day out with family and friends, Jurasik Park Inn provides you with a water park, amusement park and a great culinary experience. Spread over 21 acres, it is ideal to spend some quality time with your dear ones.
Welcoming you to the best amusement park in Delhi are 32 electronic dinosaurs in various forms, swaying and roaring, springing the life of the jungle world. While you have the Tyrannosaurus welcoming you at the gate, the Brachiosaurus is near the wave pool. A Maiasaura is playing near Dino Tower, a Chindesaurus having a bath, and three huge Dino eggs for the kids to play with during their time there.
Rides at Jurasik park Inn Sonipat
Water Park
Jurasik park Sonipat has seven large pools accommodating more than 5000 people every day. The rides include spin and whirl, wave pool, 70ft high waterfall, family pool, and for a difference, the lazy river rafting too.
One of the biggest attractions for visitors to the park is the wave pool, giving them a beach feel. The Droom Box and the Spin and Whirl gives the thrill of sliding down the waters at great speed.
The rides are fast, and before you realize what's happening, you go in circles, enter tunnels and come out in straights, and end with a splash in the pool. The water park offers you an escape from the tropical sun with a mix of joy and happiness. Don't forget to take your dry-fit clothing in Nylon or Lycra along for unlimited fun in the pool.
You should not miss out on the fun at Boogie Woogie at the water park in Delhi, NCR. It is a specially constructed dance floor where rain sprinkles make you dance while the DJ entertains you with the songs. Be sure you are on time since 1 p.m. and 4:30 p.m. shows are full of enthusiasts.
Amusement Park
You have access to seven rides for all age groups in the amusement park, including the frisbee, the roller coaster, and the swing chair. Distributed rides around the park provide you with an excellent way for exploration.
Stirring memories of childhood is the giant Ferris Wheel, which gives a magnificent view from the top. You can also enjoy moving in the 'bump-a-car' and the 'free fall' that multiplies the thrill and fun factor.
Easily the best amusement park in NCR, Jurasik Park is not the one to disappoint you, given the entertainment value it presents for all ages. Be it the sharp turns and incredible speeds of the roller coaster ride or the circular gondola swinging like a pendulum in frisbee, it is fun galore.
You can't think of missing the Free Fall, where you feel weightlessness when the gravity pulled free-fall ride occurs, an experience heightened by stretching your arms and legs. The amusement park isn't complete if kids can't have their fun-filled day, and you have plenty of options here with an Octopus ride, Merry-go-round, Mini Train, and Bull ride.
Adventure Park
There is enough surprise in Jurasik Park Inn's fun zone, which comes in all shapes and forms. There's the Go-Kart for the race fans and the Zip Line for the adventure enthusiasts.
The absolute thrill factor comes into play when you enter the Horror House. Chilling your bones with spooky skeletons is an unpredictable haunted place. Then you have the challenge to climb the 50ft Artificial Wall to test your mountain climbing skills.
The Gaming Zone is where you get to feel the video gadgets and let your fantasy take wings. The kids will simply love it for the latest technology at their hands to put their imagination to play.
You just can't lose out on having fun at the Burma Bridge, Swinging Blocks, and Hanging Tunnel. Don't forget to participate in exciting games like the Dart Throw, Rifle Shooting, Ball Throw, and Archery, testing your skills and kindle the teen in you.
Image Gallery of Jurassic Park Inn Sonipat
Food Court at Jurassic Park Inn Sonipat
Jurasik Park Inn has its own Dinosaur themed food court serving buffet lunches. You get the tasty Manchurian balls, paneer tikka, soya lumps, and roasted broccoli. You can also enjoy street food like paani puri, bhel puri, and aloo chaat, for your taste buds craving spicy food. You also get an assortment of food varieties like Chinese, Indian, Italian, and Continental.
Jurasik Park's highlight is 'Terminal C,' an aircraft themed fine-dining opportunity offering an entirely different ambiance. The dining experience on lounge chairs with full luxury is replete with a multi-culinary delight served by specially trained attendants. It is a great place to relax after a tiring day at the amusement park. The aircraft restaurant is also open for private parties upon booking.
Grab your grub on the way
Should you want to have your breakfast or lunch and then venture to have fun at Jurasik Park, there are plenty of local Dhabas offering sumptuous Indian food with both vegetarian and vegan options.
Highly rated Dhabas are Gulshan Dhaba, Pahalwan Veg Dhaba, Amrik Sukhdev, and Sagar Ratna, offering a good ambiance for a relaxed eating experience. Aloo, Gobi, and Paneer Parathas, Rotis, and Amritsari Kulcha served with creamy butter, curd, and pickle alongside chai seem to be travelers' popular choice.
Entry Fees and Timings of Jurasik Park Inn Sonipat
Jurasik Park ticket prices are ₹750 on weekdays and ₹1000 on weekends for adults. For children above 33 inches of height and for senior citizens, the ticket is priced at ₹500 on weekdays and ₹750 on weekends. Once inside the park, your rides and joys are unlimited. You can have a splash in the water and enjoy the thrilling rides.
Jurasik Park in Murthal is open from 10:30 a.m. to 6:30 p.m. on all days, including weekends and holidays.
Summertimes are the best to have a splash in the water and get the heat out of the way. It is best to book in advance and avoid the rush by getting an early start to the amusement park in Sonipat, Delhi/NCR.
How to reach Jurasik Park Inn Sonipat?
It is located 45kms from New Delhi Railway Station and is a 2 hour drive. From New Delhi, you drive on the GT Karnal Road on the NH44, a short distance from Tau Devi Lal Park in Sonipat. You can also book a private cab from top car rental companies in Delhi to club Jurasik park with other popular places to visit in Delhi.
If you want to indulge in a quick getaway from Delhi/NCR, Jurasik Park is the place to be. Pack your day bags and enjoy the drive to a fun-filled entertainment zone today!
---
Delhi is famous for its amusement parks and heritage sites and visiting it gets more fun and fulfilling with Delhi Tour packages offered by us. At Delhi Tourism, a division of Holidays DNA, we have designed the packages keeping in mind everyone's needs and budget requirements. We ensure you have a relaxed and enjoyable holiday in the capital city of India with our well planned tour. Please fill the Contact Us form to know more.
Location Map for Jurassic Park Inn Sonipat