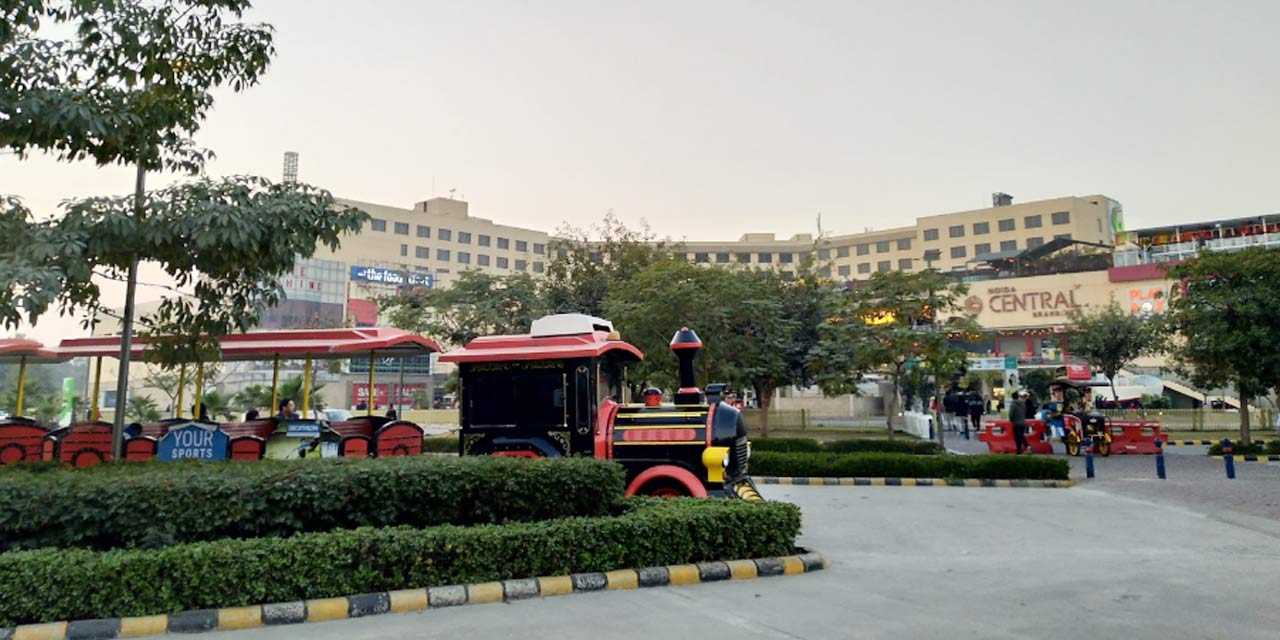 Entertainment City Noida Entry Fee
899 per adult (130 cm and above) for Amusement Park
599 per child (90 cm-129 cm) for Amusement Park
449 per senior citizen (60 years and above) for Amusement Park
1299 per adult (130 cm and above) for Water Park
999 per child (90cm-129 cm) for Water Park
749 per senior citizen (60 years and above) for Water Park
1000 per person (150 cm and above) for Go Karting (12 mins. session)
---
Entertainment City Noida Phone
---
Quick Facts about Entertainment City Noida
Entertainment City Noida Timings
| Day | Timing |
| --- | --- |
| Monday | 10:00 am – 9:00 pm |
| Tuesday | 10:00 am – 9:00 pm |
| Wedesday | 10:00 am – 9:00 pm |
| Thursday | 10:00 am – 9:00 pm |
| Friday | 10:00 am – 9:00 pm |
| Saturday | 10:00 am – 9:00 pm |
| Sunday | 10:00 am – 9:00 pm |
Rating:

| 4 stars, of total 92 reviews
Entertainment City Noida Address: Plot No. A-2, Admin Building 104, Sector 38A, Nodia, Uttar Pradesh, 201301, India
---
Entertainment City Noida is a vast 147 acres entertainment space. Built to be an all-in-one place for entertainment for your family, it comes with fascinating rides at the water park, the amusement park, and the go-kart track.
It has an out-and-out kids entertainment center, all of which are pointers to it being the best amusement park in Noida. You also have a shopping mall, movie hall, a bowling arena, pub lounge, and fine dining. If you are looking for one place to spend your weekend, you know where to go.
#Trivia: It is located in the 'Heart of Noida', very close to prominent markets namely Atta Market in Sector 18 and DLF Mall Of India. You get to make the most of your time in Noida by shopping and indulging in some entertainment.
History of Entertainment city Noida
The construction of Entertainment city was started in the year 2002 with "The Great India Place" mall being operational in 2007. Later, an amusement park was added to the Entertainment city in the year 2008. A man made lake and a water park were further added in 2013.
In 2015, a go-karting track and second mall in the Entertainment city named Gardens Galleria became operational. And, 2016 saw the inauguration of Kidzania for kids.
Currently, in phase 2, INOX theatre and a 5-star hotel would be added to the Entertainment City.
Image Gallery of Entertainment City Noida
Attractions at Entertainment city Noida
Some of the most prominent attractions of Entertainment City include-
Kidzania
If you want to take your kids for a day out, you don't have to look far. Kidzania in Noida has everything your kids can learn in a day and would be eager to come back for more. It is a fantastic place for kids of all age groups to engage creatively and learn new things in life.
The role-playing activities are suitable for kids in the age group of 4 to 16 with close to a 100 activities that the kids can select. They get to role-play real-life activities like archeological exploration, a court session, as a firefighter in a fire station, a doctor in a hospital, a jockey in a TV or Radio Station, a baker at Dominos, and much more.
Each activity is curated carefully, keeping in mind the safety of your kid. With professional trainers and guides, your kid is sure to take back a bag full of memories and a wallet full of Kidzania money.
Kidzania is open from 10:30 a.m. to 8 p.m. everyday with different slots during the day. Since kids need about 20-30 minutes for each activity, there is enough time for them to have fun in about 7 or 8 recreational pursuits.
Ticket costs vary from ₹350 to ₹600 depending upon whether it is a ticket for 3 hrs or 5 hrs. A full day pass of 8 hours can be purchased between ₹700 to ₹1250 per person. There are certain minute details that can be found out by visiting their website or speaking with the customer service executives at the venue.
#Trivia: Ticket prices vary depending on weekday, weekend, and public holidays. Ensure you select the right timeline before paying.
Worlds of Wonder
A wholesome family entertainment venue with thrills, chills, fun, and everything in between. This is the World of Wonders in Noida.
Here you can have a splash in the water and experience excitement with the adventurous rides while keeping you munching with your gastronomic favorites.
Water Park
Famed to be one of India's best water parks, the entertainment city Noida water park is a place for all water sports lovers. With over 20 thrilling water rides you are in for a day full of fun and excitement with friends and family. You get an unparalleled experience of adventure, recreation, and leisure all rolled in one.
Some water rides, like Turbo Tunnel, Rapid Racer, attract thousands of visitors. For those who love adventure, then Boomerango and Deep Sea Adventure is for you. Should you need to simply hang out, then you have the wave pool and the lazy river.
The slides with their twists, turns, and steep falls before you splash into the pool are breathtaking. Your sheer sense of enjoyment being inside the tunnel in Turbo Tunnel, or while taking turns and bumps sliding on Boomerango, heightens the action-packed day for you.
But you also would like to take time off to be at Lake WOW, which incidentally is the largest human-made lake in the Delhi NCR, and enjoy a session of boating there.
The tickets are reasonably priced between ₹600 to ₹1000 per person depending on the age group. We advise you to check their site while making a reservation. They also have group packages that make it economical and convenient for you.
Amusement Park
If you are looking for thrilling rides, complete with adrenaline rush and danger, World of Wonder Amusement Park in Noida is the place to be.
The park has two zones- one for the teenagers and one for the family and kids. This part of Worlds of Wonder takes you on a spin, makes your heart skip a beat, fly high in the air, and come down at incredible speeds.
For the teenagers and youth, Mega Disco, Rocking Roller, Downfall, and Big Beat, are some of the best rides in the amusement park, which are fast-paced and give you moments to remember.
For the kids, Hippity Hop, Space Shot, and Jumper are the most preferred ones. While the Road Show zone has nine rides catering to the teenagers and youth, the La Fiesta has 13 rides catering to families and specifically designed for relaxation.
Reserved for adults are Big beat and Rocking Rollers, while many other popular rides in the amusement park are for both adults and kids to have their moments of fun together, making Worlds of Wonder the top amusement park in Noida.
The ticket prices vary depending on the age group and range between ₹500 to ₹750 per person.
Go Karting
If you fancy speed, you are in the right place.
Giving you a taste of formula racing track is Wonder Speedway, the Go-Kart track at the Worlds of Wonder. One of India's largest Go-Kart circuits, the track invites you to have your thrills and spills while continually challenging you to maneuver the machine through the ride.
You get to race on a professionally designed and maintained track. You get to negotiate your way through with great satisfaction while doing it alone and with a lot of thrills to boot. You will be glad to choose different go-karts with the twin-engine model of 11BHP, dual-engine model of 6.5 BHP, and single-seater model of 5.5 BHP, making it all exciting. You get to choose your level of challenge.
There are instructors to help you hone your skills and all you need is your enthusiasm to give you company. If you are looking to escape from your weekday stress or feel the need to boost your self-confidence with some thrills, then your search ends here. It's an experience teaching you to stay in control, chart your course, and come out on top.
The thrill in Go Karting begins right at the moment you start the kart. For novices starting the vehicle itself is a thrill, yet for some, not crashing onto the track walls is challenging. But once you get the hang of it, your adrenaline pumps, giving you the guts to go for glory at top speed.
The ticket is priced at ₹400 per adult for a 3 minute session. Kids are not allowed to race on the track.
Food Court
With 12-14 eateries serving authentic food at WOW, you have a splendid choice on offer.
Madras Café serves up a menu of South Indian fast foods like Dosa and Idli going with Sambar, while Punjabi Da Dhaba comes up with flavors like Parathas and Kulchas going with Dal Makhni and Chole.
As for Continental foods, McDonald's serves Burgers and the Italian Corner Pizzas. Café WOW gives you a choice of noodles, masala fries, sandwiches, ice-creams and milk-shakes, and beverages.
The Great India Place (TGIP) Mall
Very popular with the residents of Noida and South Delhi is The Great India Place (TGIP) Mall in Noida, located close to Sector 18 Noida Metro Station. It is one of India's biggest shopping malls with nearly one million square foot retail space, with over 250 outlets for many big brands known in the Indian and Global retail space.
For shopaholics, offering excellent shopping experience are stores like Lifestyle, Shoppers Stop, Big Bazaar, Hometown, and Pantaloons. Global retailers like Zara, Marks & Spencer, H&M, Benetton also have the retail showroom here.
Adding to the retail offering are jewelry and accessory stores like Nakshatra, Cygnus, Feminine, and BG's. Look around, and you have the Spa and Salons and Mahindra's Mom & Me store for expectant moms.
Footwear giants like Nike, Adidas, and Woodland are present at this mall. You also have electronics and mobile stores like Reliance Digital, Sony Center, HP World, and Apple Store. As for Books, Gifts, and entertainment, you get a choice of stores like Planet M, Musicland, Hallmark, and Archies.
For the food enthusiasts craving for some great food, you have the eating joints here to serve Indian chaats, chole bhature, and sandwiches at the food court. Also served are pastries, cakes, and ice creams.
There is also a McDonald's outlet with its burgers to complete the experience the taste buds seek. Some fine dining outlets here are chains like Moti Mahal, TGI Friday, Mandarin Trail, Yo! China, Vaango, and Shree Ratnam. But what makes the day good are lounges helping you rest and relax your tired foot, like Dunkin Donuts, Costa Coffee, Barista, Coffee Café Day, as also The Coffee Bean and Tea Leaf.
For the moviegoers, the 7D theater provides an out of the world experience. You have the six-screen Multiplex Cinema to catch up on the latest movies and the kids' play area offering the kids some time out.
Flea Market outside TGIP Mall attracts a lot of visitors as well. It presents a variety of shopping alternatives from clothing to footwear, unique artifacts to costume jewelry; you have an option to select a range of stuff in every season to match your budget.
Gardens Galleria Mall
Gardens Galleria, the newest addition to the Entertainment City complex, stands out in over half a million square feet, being a destination with stores of best Indian and International brands, Pubs, Banquets, Fine Dining, and Shopping.
But what sets the Galleria Mall apart is its reputation as a great place to hang out. Often referred to as the party hub of Noida, it has a dozen or more pubs. You have Tito's, Imperfecto, Lord of the Drinks, Sutra, Bohemia, Wing Ding, The Smoke Factory, Dutyfree Courtyard, among others.
Lounges like Starbucks and Keventers are great to chill with friends over a great cup of coffee or milkshake.
Gardens Galleria has good restaurants, great shops, and recreation amenities. You can keep the kids busy with a few small gaming centers located within the premises of Gardens Galleria.
Entry Fee and Timings of Entertainment City Noida
Entertainment City in Noida is open between 10 a.m. to 9 p.m., with timings spread out between the water park and amusement park.
The number of rides and eateries at the Worlds of Wonder in Entertainment City will give you a fun-filled day, all at ₹900 to ₹1300 depending upon weekday or weekend.
How to reach Entertainment City Noida?
The Entertainment City Noida is located within 18kms away from New Delhi Railway Station and within 24 kms away from Ghaziabad Railway Station.
It takes less than an hour from both directions to reach this place. There is good connectivity by Metro, DTC buses and cabs too. You can even book a private cab from top car rental companies in Delhi to reach here.
Pack your bags and get ready to explore the excitement at Delhi/NCRs favorite Entertainment City today!
---
Delhi is filled with many tourist attractions to keep you engaged and entertained during your Delhi tour. Book a Delhi tour package with us to explore this exciting destination in a fun filled manner. We at Delhi Tourism, a division of Holidays DNA make sure you visit all the popular places to visit in Delhi at your own pace with your own private cab at disposal. To know more about our packages, please fill the Contact Us form.
Location Map for Entertainment City Noida