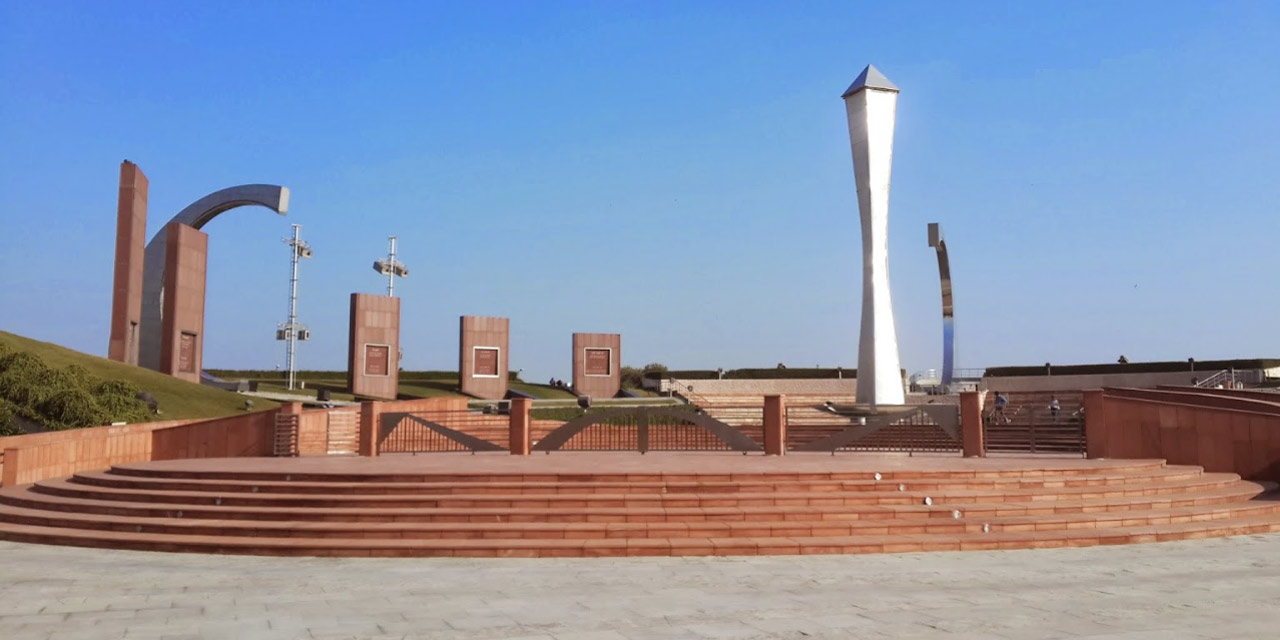 Guru Tegh Bahadur Memorial Delhi Entry Fee
10 per person for Adults

5 per person for Children (Below 12 yrs)

60 per person for Adults for Light & Sound show

30 per person for Children for Light & Sound show
---
Guru Tegh Bahadur Memorial Delhi Phone
---
Quick Facts about Guru Tegh Bahadur Memorial Delhi
Guru Tegh Bahadur Memorial Delhi Timings
Day
Timing
Monday
10:00 am – 6:00 pm (Mar-Oct)
8:00 am – 5:30 pm (Nov-Feb)
Tuesday
10:00 am – 6:00 pm (Mar-Oct)
8:00 am – 5:30 pm (Nov-Feb)
Wedesday
10:00 am – 6:00 pm (Mar-Oct)
8:00 am – 5:30 pm (Nov-Feb)
Thursday
10:00 am – 6:00 pm (Mar-Oct)
8:00 am – 5:30 pm (Nov-Feb)
Friday
10:00 am – 6:00 pm (Mar-Oct)
8:00 am – 5:30 pm (Nov-Feb)
Saturday
10:00 am – 6:00 pm (Mar-Oct)
8:00 am – 5:30 pm (Nov-Feb)
Sunday
10:00 am – 6:00 pm (Mar-Oct)
8:00 am – 5:30 pm (Nov-Feb)
Rating:

| 4 stars, of total 48 reviews
Guru Tegh Bahadur Memorial Delhi Address: Singhu, New Delhi, Delhi, 131028, India
---
Delhi is full of architectural glory and as you explore sightseeing places to visit in Delhi, you will come across many old monuments and modern structures. Guru Tegh Bahadur Memorial stands somewhere between old and new, as it immortalises Guru Tegh Bahadur's martyrdom for the Hindus in India. He is the ninth Guru of the Sikhs and the memorial lends a view into his vision, life and teachings.
The compound was inaugurated in 2011 and the lush green gardens immediately attracted visitors. In the noise and activity of this populated city, it is difficult to find a quiet spot. Thus, between all the hustle and bustle of other tourist spots, you will surely enjoy a quiet moment here. It is conveniently located on NH1 on the GT Karnal Road and can be easily reached if you hire a taxi in Delhi.
Architecture of Guru Tegh Bahadur Memorial
The memorial is celebrated for its architecture, unique design and superior lighting. Constructed in a green and well-maintained area of approximately 11 acres, it has an exemplary design with a unique message.
The central obelisk that is 24 metres high represents the ninth Guru and his prominence while the three arches represent his three closest followers. The monoliths stand for the ten Sikh gurus with their teachings engraved on them.
The quotations on these monoliths present the primary beliefs of Sikh religion: meditating God's name, earning righteously, sharing with others, worshipping the true God, following the teachings, respecting Khalsa's decisions, welfare of all, being the warrior saint, obeying God's will and equality of women. These major tenets of Sikhism are written in four languages of India that are, Hindi, Punjabi, Urdu and English.
The grand structure is immediately stunning and imposing, especially set against the peaceful background of open skies and green lawns.
Image Gallery ofGuru Tegh Bahadur Memorial Delhi
History of Guru Tegh Bahadur Memorial
The memorial is built on the Singhu Border and was constructed by Delhi Tourism and Transportation Development Corporation. Built to honour the contribution of the Sikh community to India, the project costed around 25.75 crores and was inaugurated in June 2011 by Congress leader, Rahul Gandhi.
Things to Do at Guru Tegh Bahadur Memorial
The most exciting part of the memorial is its professionally designed Light and Sound Show. The theme is Panchtatva, the five elements, void, air, earth, water, and fire, and these elements become a depiction of the guru's character. It claims to be North India's largest installation artwork and has contributions from some of the biggest names in the entertainment industry.
The music has been composed by Ustad Amjad Ali Khan and Daler Mehndi has sung the first song while Om Puri and Kabir Bedi's voices have been used for the voiceover. The show runs for 25 minutes in English, Hindi and Punjabi languages between 7:30 a.m. and 9:40 p.m. on all days of the week.
Apart from the Light and Sound show, one can have a fun picnic in the green lawns and visit the cafeteria for some delicious snacks. The amazing architecture offers some interesting opportunities for photography as well!
There are also arrangements in halls to conduct religious celebrations or birthday parties.
Entry Fee and Timings of Guru Tegh Bahadur Memorial
Timings:
Open on all days
March to October: 10.00 a.m. to 6.00 p.m.
November to February: 8.00 a.m. to 5.30 p.m.
Tickets
Adult: Rs.10/-
Child: Rs.5/-
Light and Sound Show:
Adults: Rs 60/-
Child: Rs 30/-
How To Reach Guru Tegh Bahadur Memorial
Since it is located on National Highway 1, it does not have an efficient metro connectivity. The nearest metro station to Guru Tegh Bahadur Memorial, Jahangirpuri on the yellow line, is around 25 minutes away.
One can hire a taxi in Delhi and conveniently reach the memorial. You can also take a local bus here, although hiring a cab from top car rental companies in Delhi is the most convenient method.
The memorial has both a historical as well as a religious significance and is a must-visit for students and enthusiasts of history, architecture and culture. This new spot holds a unique place in the tourist locations of Delhi and is a wonderful getaway to visit with family, friends, or even alone.
---
For having a relaxed holiday experience in the national capital, Delhi Tourism, a division of Holidays DNA has curated Delhi Tour packages that cater to each and every one. You can choose the package that suits you best and have a memorable holiday that you would cherish for a lifetime. To know more about the various packages, please fill the Contact Us form.
Location Map for Guru Tegh Bahadur Memorial Delhi