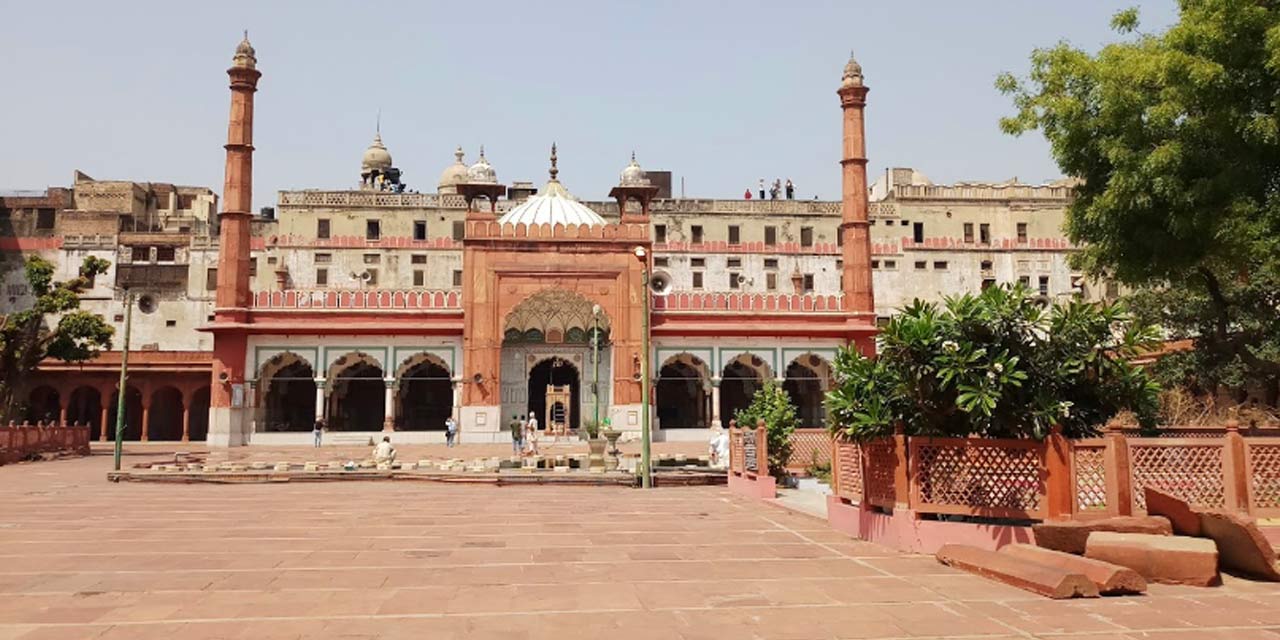 Fatehpuri Masjid Delhi Entry Fee
---
Fatehpuri Masjid Delhi Phone
---
Quick Facts about Fatehpuri Masjid Delhi
Fatehpuri Masjid Delhi Timings
| Day | Timing |
| --- | --- |
| Monday | 5:00 am – 9:30 pm |
| Tuesday | 5:00 am – 9:30 pm |
| Wedesday | 5:00 am – 9:30 pm |
| Thursday | 5:00 am – 9:30 pm |
| Friday | 5:00 am – 9:30 pm |
| Saturday | 5:00 am – 9:30 pm |
| Sunday | 5:00 am – 9:30 pm |
Rating:

| 4 stars, of total 57 reviews
Fatehpuri Masjid Delhi Address: Shahi Imam Masjid Fatehpuri, Katra Bariyan, Gadodia Market, Fatehpuri, Chandni Chowk, New Delhi, Delhi, 110006, India
---
Delhi, a city rich in heritage and history, houses many treasures within it. Of course, there are world-famous sites such as India Gate, Humayun's Tomb and the Lotus Temple. But a place that does not come up often in sightseeing places to visit in Delhi, is almost always hidden away in the narrow streets. One such monument is the Fatehpuri Masjid.
Fatehpuri Masjid is located on the western end of Chandi Chowk in Old Delhi. Built in the 17th century, it is named after Fatehpuri Begum, Mughal Emperor Shah Jahan's wife. Constructed entirely out of red stone, although this oasis of peace stands as a stark contrast to the hustle and bustle of Chandni Chowk market its location also allows it to be easily accessible by public transport.
Like many other monuments in Delhi, this masjid is a brilliant proof of the Mughal expertise in architecture. But instead of being located in the middle of well-groomed gardens, you will find Fatehpuri after walking through dusty streets, crowds of vendors and customers and spice in the air. Right in the middle of a spice market, it shares space with Khari Baoli, another iconic yet forgotten treasure.
One charming detail of this monument is the delicate synthesis of Persian and Indian design in its construction. From the very entrance of the mosque itself that is, the gates, you can observe the grandeur in the details. The mosque has three gates; one facing Red Fort, and the North and South gates with Khari Baoli and Katra Baryan on either side respectively.
If you are visiting Delhi as a tourist, you will certainly make your way to Jama Masjid for some wonderful photographs. But if you are here to experience the past and the present, Fatehpuri Masjid will open up a world of lived experiences and architecture that holds the history of the Mughals, Britishers and residents of Old Delhi within it.
Architecture of Fatehpuri Masjid
One enters the mosque through Buland Darwaza, which means Victory Gate and with a height of 54 metres, it establishes the magnificence of the place. Once inside the compound, there are three intriguing spots. First is the tomb of the great Sufi Saint, Shaikh Salim Chisti. Constructed out of white marble, there are colourful prayer threads tied on the jaalis by women with the desire of children. Secondly, there is an entrance to a barred tunnel which leads to the Agra Fort in Uttar Pradesh. And once in the courtyard, you will find the graves of around twenty scholars of Islam.
Talking about the main mosque itself, it is constructed on an elevated platform and is framed by two alluring minarets looking over it. The central opening in the prayer hall has the highest dome and is adorned with white marble. It is believed that fountains and a central tank used to exist here at some point but they were reduced to ruins in the 1857 British Invasion of the mosque.
History of Fatehpuri Mosque
Built in 1650, this mosque is still a haven of peace for worshippers and visitors alike. Not only does it stand to portray the history of Mughal rule, but it also holds within its walls the symbols of the British rule as well as the lives of the common people over time.
The Buland Darwaza, which is the entrance of the mosque, was built to depict allegiance and praise Akbar's victory in Gujarat. The white marble tomb which immediately captures attention is that of Shaikh Salim Chisti and towards the right side. There are the graves of his family members, thus establishing a lineage of Islamic knowledge.
The mosque had been used by the Indian Sepoys or rebels in their revolt of 1857, thus making it a symbol of rebellion against the East India Company. But after the first war, it became a property of the British administration and it was put up for sale. One man, Lala Chunnamal, a wealthy merchant from Delhi, purchased it for a mere 29,000 rupees, a considerable amount for that time.
In 1873, the British government tried to buy the mosque back but Chunnamal refused and it was only in 1877 that it was bought back from his son for an increased amount, along with four villages and thus reestablished in the name of the Muslim population of the city. Prayers resumed in the masjid and continue to this day.
Things to Do At Fatehpuri Mosque
If one is looking for exciting experiences at this location, they should reconsider their expectations. You are unlikely to find planned and staged experiences or even a guide inside. But what you will find is history and architecture that desires to be learned and explored instead of told from the pages of a guide book.
Spend some time walking or sitting in the courtyard for you are unlikely to find such an open space and open sky in any other spot in Old Delhi.
Talk to the worshippers and the religious heads at the mosque for they surely have some interesting myths and stories to tell.
Photograph the people inside and outside the mosque for they are the ones who have kept this place alive. You can also visit the Khari Baoli for some fascinating shots of the masjid from unusual angles.
The way leading up to the mosque is an exploration in itself and while the masjid may not be much for tourist appeal, it is worth a visit to slow down time.
Places to Visit Near Fatehpuri Masjid
Since the masjid is located in the heart of Chandni Chowk and Old Delhi, you can easily visit several other spots nearby:
1. Jama Masjid is around 2.2 km away and is a grander, more popular version of Fatehpuri.
2. Lal Quila is 3 km away, straight down the road and is immensely popular for its light & sound show.
3. The Chandni Chowk Market itself deserves to be explored for its affordable array of diverse goods!
4. Paranthe Wali Gali is a legendary street serving piping hot paranthas and it would not be fair to leave Chandni Chowk without treating your taste buds.
5. St. James Church is 2.8 km away and is also one of the oldest churches in the city.
Entry Fee and Timings of Fatehpuri Masjid
The masjid does not have any entry fee and is always open so visit anytime from 5:00 a.m. to 9:30 p.m. Do try to plan your visit during early morning or early evening to witness the monument with the backdrop of dramatic skies.
It is a quiet mosque so you need not worry about crowds or queues. However, since the courtyard is open, it can tend to get uncomfortable in the harsh sun so avoid a visit in the afternoon.
How to Reach Fatehpuri Masjid
The Chandi Chowk metro station on the yellow line is merely a kilometre away from the masjid and you can hire a battery rickshaw or take a walk through the market.
Getting cabs through apps can be difficult in Old Delhi as it is a congested area so booking a taxi in Delhi might be your best bet. If you are travelling in a big group, even getting an Innova in Delhi will allow you to visit Fatehpuri along with other spots in the city. Do Note that the cabs can only go to a certain point, post which it is advisable to walk or take a rickshaw.
Being in the middle of a busy market, it is accessible through public transport such as autos at all times of the day.
Image Gallery of Fatehpuri Masjid Delhi
---
All in all, when you are looking for places to visit in Delhi, it is going to be a fascinating location for anyone who is interested in history, culture, politics or simply art. If you are willing to take a step away from the usual spots, Fatehpuri Masjid has a lot to offer and you will carry some beautiful moments away while you set out to explore the rest of Delhi.
Delhi Tourism, a division of Holidays DNA offers Delhi Tour Packages to explore the popular sightseeing places of Delhi in pocket friendly prices. You can visit all the important landmarks of Delhi in a relaxed manner with a private cab at your disposal. To know more about the various packages, please fill the Contact Us form.
Alternatively, if you wish to book only a cab for your trip, you can book it through top car rental companies in Delhi at the best price.
Location Map for Fatehpuri Masjid Delhi