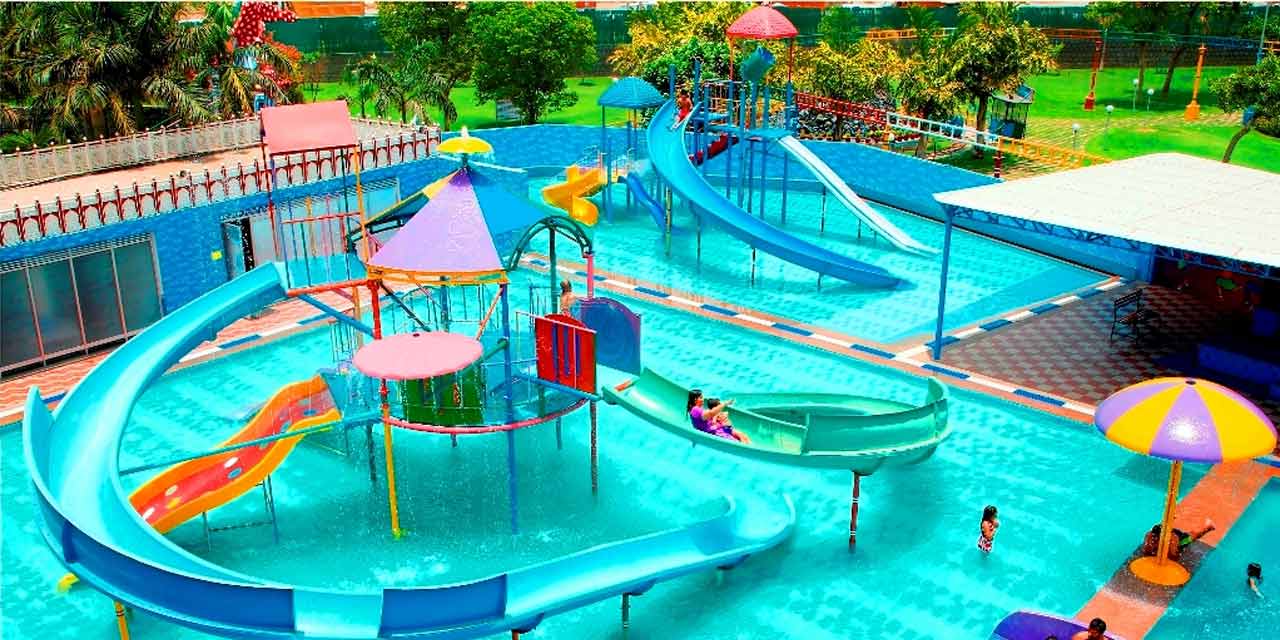 Aapno Ghar Water & Amusement Park Gurugram Entry Fee
899 Package 1 - (Child - Includes all rides + Mini Meal) Child between (33" to 54") Timing : 3:00 PM to 7:00 PM
1199 Package 1 - (Adult - Includes all rides + Mini Meal) Adult above 54" Timing : 3:00 PM to 7:00 PM | Male Stag entry not allowed in water and amusement park | Male stag should be accompanied by a couple
1199 Package 2 - (Child - Includes all rides + Breakfast + Lunch) Child between (33" to 54") Timing : 9:30 AM to 7:00 PM
1499 Package 2 - (Adult - Includes all rides + Breakfast + Lunch) Adult above 54" Timing : 9:30 AM to 7:00 PM | Male Stag entry not allowed in water and amusement park | Male stag should be accompanied by a couple
---
Aapno Ghar Water & Amusement Park Gurugram Phone
---
Quick Facts about Aapno Ghar Water & Amusement Park Gurugram
Aapno Ghar Water & Amusement Park Gurugram Timings
| Day | Timing |
| --- | --- |
| Monday | 9:30 am – 7:00 pm |
| Tuesday | 9:30 am – 7:00 pm |
| Wedesday | 9:30 am – 7:00 pm |
| Thursday | 9:30 am – 7:00 pm |
| Friday | 9:30 am – 7:00 pm |
| Saturday | 9:30 am – 7:00 pm |
| Sunday | 9:30 am – 7:00 pm |
Note: Package 1 Timings 3:00 pm to 7:00 pm - Entry To Water Park | Entry to Amusement & Activity Park | Food & Beverages
Note: Package 2 Timings 9:30 am to 7:00 pm - Entry To Water Park | Entry to Amusement & Activity Park | Breakfast, Lunch, Traditional food & Beverages
Rating:

| 4 stars, of total 64 reviews
Aapno Ghar Water & Amusement Park Gurugram Address: Delhi _ Jaipur Expressway, Sec-77 | 43rd Mile Stone, NH-8, Gurugram, 122004, India
---
We all eagerly wait for the weekend to come, right? And why not, after all, it is the only time when we get some relief from our boring and monotonous life. So, how do you plan to spend it? Like a usual day with your loved ones at home? We say, leave everything aside and enjoy your day at Aapno Ghar Water & Amusement Park to know the exact definition of an ideal weekend.
Among the many entertainment parks that are rising in the NCR region, it is indeed one of the best places to visit in Gurgaon. Located on Delhi-Jaipur Expressway, Aapno Ghar Water & Amusement Park offers countless options for people to soak in the magic of nature with several rides and slides that are perfect for a full-day excursion.
Spread over an area of 9-acres of land, Aapno Ghar introduces you to adventure, games and sports with a twist that keeps you get going in life, no matter what. Established in the year 1994, the amusement park boasts of various high-thrill rides and recreational activities that cater to all ages of people. Other than that, there is an action-packed water park that presents equally fascinating water slides for all those who love to play with water.
With so much to see and do, it won't be wrong to say that you can try something new and different every time you make your presence felt here.
Rides at Aapno Ghar Water & Amusement Park
Combining state-of-the-art facilities with unlimited fun, adventure and luxury, Aapno Ghar Water & Amusement Park offers plenty of activities for fun seekers, adventure enthusiasts and water sport lovers. It has categorized its rides into 2 main zones – Amusement Park and Water Park.
Amusement Park Rides at Aapno Ghar
Visit Aapno Ghar's Amusement Park in Gurgaon to experience a life that gives you the courage to face the next-level challenges without any fear or hesitation. Surrounded by beautiful landscapes, fountains and unmissable charm, the Amusement Park fills your day with joy and laughter as you try your hand at 21 thrilling rides. A few of the rides are:
Flying Bob – Make yourself comfortable on a two-seater and enjoy the ups and downs as the ride starts its rotation. It can be enjoyed by both adults and children.
Round About – Promising a heavy dose of excitement, this ride turns 360-degree in clockwise and anti-clockwise direction in an expected way.
Break Dance – True to its name, Break Dance, incorporate backdrops, allows you to rock and rock in all directions. It is inclined at an angle of 7.5-degree and moves opposite to the hub's movement.
Columbus – Go back and forth to the same position time and time again at Columbus. It completes the half circle and can be enjoyed by both adults and children.
Super Trouper – Meant for adults, the Super Trouper makes you listen to your heartbeat as the ride takes eccentric spins. It is not advisable for people who are suffering from a heart problem.
Bhul Bhulaiya – Play hide and seek game with your family at Bhul Bhulaiya. Step inside and you'll feel lost in the structure. It is fun to find your loved ones in the Bhul Bhulaiya.
Flying Dish – Make the most of your visit to Aapno Ghar with Flying Dish. This ride, powered by an electric motor, moves freely on a platform. It can be enjoyed by adults.
Merry-Go-Round – Widely famous among the little guests, the Merry-Go-Round is a classical carnival ride where your children can sit on a horse shaped seat and enjoy their time. It takes nearly 2-minutes for its cycle to complete.
Water Merry-Go-Round – Perfect for kids, the Water Merry-Go-Round ride spins round and round in the water. It is a great activity for children to play with water.
Jet Plane – Designed in a jet plane shape, the Jet Plane gives you the feeling of flying high in the air. It has 4 seats, where each seat can accommodate up to 4 people. This ride is suitable for children.
Commando Net – Have an amazing time at Commando Net. A great activity for families to spend some time with their little ones, Commando Net lets you cross the hurdles by climbing the net.
Baby Train – Do not forget to take your kids to Baby Train. It is a kind of ride that your children would love to try every time they come to Aapno Ghar.
Other rides such as Mono Cycle, Drum Run, Pan Ball, Western Train, Caterpillar and Coin Operated rides are also available at the amusement park for your enjoyment. You can also keep yourself occupied with stage activities and puppet shows that are organized during the peak season.
Water Park Rides at Aapno Ghar
Gear up for an exciting adventure while trying your hand at various activities in the water park of Aapno Ghar. Nestled in the calm countryside of Gurgaon, this unspoiled site has the best water park that pleases everyone, whether you are a thrill seeker, adventure lover or a family person.
Relax, rejuvenate and soak up the sunny heat at the leisure pool. You can take a refreshing plunge and curl up in the mist pool or simply enjoy a thrilling experience with an unparalleled effect at a set of slides such as Aqua Tube Slide, Turbo Twister Slide and Family Fun Slide.
For children, there is a separate playground with various games and for adults, the water park organizes the coolest rain dance party so that you can dance to the rocking music. In addition, you can enjoy the live DJ performances along with tasty treats to take a break from pulsating adventures.
Note: The Water Park remains closed during the winter season.
Image Gallery of Aapno Ghar Water & Amusement Park Gurugram
Accommodation at Aapno Ghar Water & Amusement Park
After an exhilarating time at the adrenaline-fuelled rides and slides, you can opt to stay in the room of your choice. Catering to everyone's holiday needs and budget preferences, Aapno Ghar Resort categorizes its accommodation as deluxe rooms, luxury rooms and suites.
All 65 rooms are extremely spacious and have been beautifully decorated with warm shades of earthy colours. They feature a private balcony or a terrace where you can sit back, relax and enjoy a sip of morning tea/coffee overlooking the breathtaking views of the lush green lawns and surrounding areas.
Each room has a king-size bed that is specially designed to provide you the ultimate comfort with premium bedding quality. Some of them are also equipped with a large living room, a dining table, a sofa seating and a workspace table. Other facilities such as free access to Wi-Fi, LED TV with satellite channels, air-conditioning and a fully-equipped bathroom with complimentary toiletries are also available for your convenience.
Food and Beverages at Aapno Ghar Water & Amusement Park
Aapno Ghar has a lot more for its visitors than just a wide range of entertainment activities. You can relish the taste of mouth watering delicacies at the Baza Restaurant that offers a relaxing ambiance with a 360-degree view of the water park. The restaurant compliments your visit with enticing music that leaves an everlasting impression on your mind and palate.
Rich in flavours yet simply prepared, the in-house multi-cuisine restaurant serves delicious and lip-smacking food with ample choice of desserts to make your dining experience unforgettable.
Start your day with tea, coffee or juice in the morning or order stuffed paratha with curd at the time of breakfast. For lunch and dinner, you can choose to satisfy your appetite with Chinese, South Indian, North Indian or Continental dishes. There is also a Madhushala Bar where you can chill out with your buddies over an array of refreshing beverages.
Entry Fee of Aapno Ghar Water & Amusement Park
The entry fee to visit Aapno Ghar Water & Amusement Park in Gurugram varies for children with a height between 33 inches to 54 inches and adults who are above 54 inches of height.
For package 1 that has a time duration from 3:00 PM to 7:00 PM, you need to pay INR 899 for children and INR 1199 for adults. This includes access to all the rides plus a mini-meal.
For package 2 that has a time duration from 9:30 AM to 7:00 PM, you need to pay INR 1199 for children and INR 1499 for adults. This includes access to all the rides plus breakfast and lunch.
Please note that the price is inclusive of all taxes. Also, male stag entry is not allowed in water and amusement park. It is important for them to be accompanied by a couple.
Timings of Aapno Ghar Water & Amusement Park
The opening and closing timings of Aapno Ghar Water & Amusement Park are from 9:30 AM to 7:00 PM. It welcomes its visitors on all days of the week i.e., from Monday to Sunday.
Facilities at Aapno Ghar Water & Amusement Park
What makes this park even more special than other amusement and water parks in Delhi is the list of facilities that are offered for the convenience of people. There is a separate changing room for both males and females, luggage storage counter to keep your belongings safe and ample parking space to park your vehicle. You can also take assistance from the travel operators at the tour desk to know about the available discount coupons and other offers.
Book a private party hall to organize a marriage function, kitty parties and birthdays. Aapno Ghar also features two party lawns with an ad-joining space for social events, corporate get-together and conferences/conventions.
How to Reach Aapno Ghar Water & Amusement Park?
Getting to Aapno Ghar Water & Amusement Park in Gurgaon is quite easy. Since it is only 1.5 km away from the INXT City Centre and 3.3 km from Indraprastha Institute of Aeronautics, it can be accessed by a short walk.
If you are staying somewhere close to DLF CyberHub, Guru Dronacharya Metro Station or The Radisson Blu Plaza Hotel, you can hire a private taxi from one of the top car rental companies in Delhi to reach your destination.
---
We at Delhi Tourism, a division of Holidays DNA, present our clients with all-inclusive Delhi tour packages at pocket-friendly prices. Our travel experts also assist people in planning the itinerary of their choice depending upon their holiday duration. For more queries, please reach us out by filling the Contact Us form.
Location Map for Aapno Ghar Water & Amusement Park Gurugram