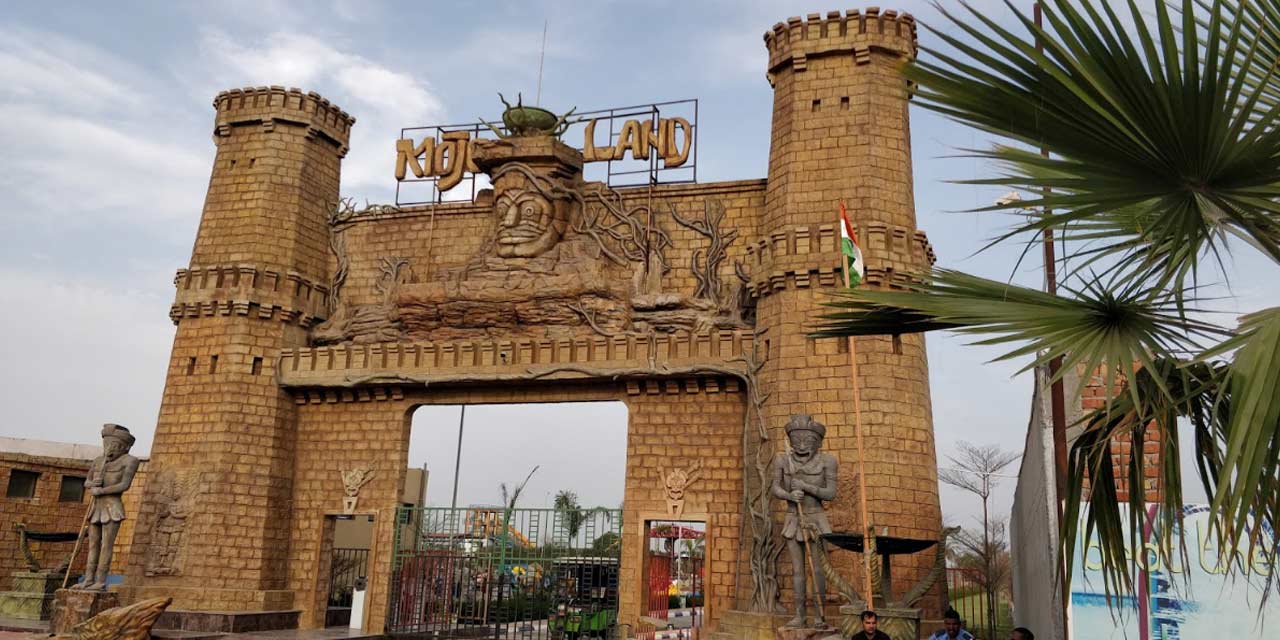 MoJoLand Water Park Murthal Entry Fee
600 per person for Adults (Adventure Park/Water Park)
500 per person for Children / Students / Senior Citizens / Army Persons / Ex-Army (Adventure Park/Water Park)
700 per person for Adults (Adventure Park + Water Park)
600 per person for Children / Students / Senior Citizens / Army Persons / Ex-Army (Adventure Park + Water Park)
---
MoJoLand Water Park Murthal Phone
---
Quick Facts about MoJoLand Water Park Murthal
MoJoLand Water Park Murthal Timings
| Day | Timing |
| --- | --- |
| Monday | 10:30 am – 7:00 pm |
| Tuesday | 10:30 am – 7:00 pm |
| Wedesday | 10:30 am – 7:00 pm |
| Thursday | 10:30 am – 7:00 pm |
| Friday | 10:30 am – 7:00 pm |
| Saturday | 10:30 am – 7:00 pm |
| Sunday | 10:30 am – 7:00 pm |
Rating:

| 4 stars, of total 86 reviews
MoJoLand Water Park Murthal Address: 54th Mile Stone, Grand Trunk Rd, Murthal Haryana, 131039, India
MoJoLand Water Park Entry Tickets Price
| Category | Adventure Park Entry Ticket Price | Lagoon Water Park Entry Ticket Price | Combo: Adventure Park + Water Park |
| --- | --- | --- | --- |
| Adult | 600 | 600 | 700 |
| Children / Students / Senior Citizens / Army Persons / Ex-Army | 500 | 500 | 600 |
---
Out of all the entertainment and amusement parks that are currently rising in the NCR region, the Mojoland Water Park is indeed one of the best multi-theme parks in Murthal that promises its visitors to offer the best of everything when it comes to adrenaline-pumping rides and slides.
Situated on the outskirts of Delhi, the Mojoland Water Park introduces you to the next level of adventure, sports, and other recreational games with a twist that leaves you enthralled for many days. Here you can set your heartbeat racing at the Adventure Park, chill with your family in the Lagoon Water Pool or simply choose to have fun at the Aero Sports Park. It is an ideal location for family picnics and weekend getaways, and definitely the best place for a full-day excursion.
Adventure Park at Mojoland Water Park, Murthal
Try your hand at a diverse range of adventurous activities to bring out the best of adventure in you. Catering to people of all ages, the Adventure Park at Mojoland Water Park boasts enough challenging rides to entertain all. These include:
Free Fall: Enjoy a thrilling free-fall experience to add some more excitement to your visit to this adventure park. It is indeed a great activity for adults and looks even more eye-catching when people cheer for you from the ground.
Sky Cycling: Another craziest yet ultra-focused activity that grabs everyone's attention is Sky Cycling. Here you can experience bicycling on a rope in the mid-air and witness the overall view of the park. Please note that this activity is carried out under the guidance of qualified trainers.
Zip Lining: Fly high in the sky without wings as you zip line yourself at Mojoland Water World in Murthal. It gives an adrenaline rush to your body and also allows you to enjoy a magnificent view that you just can't resist.
Rock Climbing: For all those who are interested in reaching the top in their life can give a try to Rock Climbing. Also known as Rappelling, it is a perfect outdoor sport for one looking to test their endurance, strength, and agility at the same time.
Commando Net: Have a great time with your friends at Commando Net and challenge each other to climb the vertical net faster than you. It's a kind of sport that tests your physical strength and can be enjoyed by both adults and children.
In addition to them, the adventure park also features Archery, Shooting, Giant Swing, Rope Climbing, Rocket Ejection, High Rope, Low Rope, ATV, Tire Walk, Bunjee Ejection, and Tarzan Swing to enjoy.
Image Gallery of MoJoLand Water Park Murthal
Water Park at Mojoland Water Park, Murthal
A great place to escape from the harsh heat of the tropical sun, the Water Park offers unlimited fun with a mix of joy and happiness. This unspoiled site presents a variety of water slides to lure people from different corners of the world and has something for everyone, whether you're traveling alone, as a couple, or with a group of friends.
Swimming Pool: Take a refreshing dip in the water and rejuvenate your senses as you engage yourself in various water slides and activities. You can maximize the fun with your family as the water park also features a family pool too. The swimming pool is not that deep, so you don't have to worry even if you don't know how to swim.
Wave Pool: If you want to do nothing other than just relaxing and enjoying in the water park, then you should head to the Wave Pool. The artificial waves here are sure to leave you speechless with the feeling that you are unwinding on a real beach.
Palm Beach: Perfect for beach lovers, the Palm Beach at the Mojoland Water Park is a kind of artificial beach that invites you to sit back and experience a laid-back atmosphere while soaking in the sun. Here you can also play volleyball or simply order a drink of your choice from the Beach Shack Café.
Rain Dance Shower Pool with Live DJ: What's better than dancing in the rain and that too on the music of your choice? Yes, the water park has a rain dance shower pool where you can enjoy a rain shower after an exhilarating time at various rides and slides.
Entry Fee and Timings of Mojoland Water Park, Murthal
The entry fee of the Mojoland Water Park varies as per the package you take. You can either buy a ticket for the water park or adventure park or simply go for a combo offer.
For the water park and adventure park, the ticket price is the same and it costs INR 600 per person for adults and INR 500 per person for children, students, and senior citizens. However, if you're interested in visiting both parks, then you'll need to pay INR 700 per person for adults and INR 600 per person for others.
It is open for its visitors from 10:30 AM in the morning to 7:00 PM in the evening on all days of the week.
Best Time to Visit Mojoland Water Park, Murthal
Since Mojoland Water Park welcomes its tourists throughout the year, it can be visited at any time. However, the recommended time would be between March and April, or October to November. At this time, the weather is quite pleasant and enjoyable to explore the incredible Delhi. Also, this is the only time when you can make the most of the rides in the water park.
Try planning your trip to Mojoland Water Park during the weekdays when it is less crowded. It usually receives a huge influx of people on weekends and holidays.
Facilities at Mojoland Water Park, Murthal
For your convenience, the Mojoland Water Park offers a wide range of facilities so that you can have the perfect time of your life. A few of them include separate changing rooms for both males and females, locker rooms to keep your belongings safe, and ample parking space to park your vehicle. There is also a canteen where you can stop to hog on your favorite snacks in between the rides and other activities, and satisfy your appetite.
How to Reach Mojoland Water Park, Murthal?
Getting to Mojoland Water Park in Murthal is quite easy. It is located at a distance of only 50 Km from the main city of Delhi and can be easily accessed by the public and private transport. However, to reach your destination, you first need to arrive in Delhi, which can be done in 3 ways:
By Airways: Board a direct flight to Indira Gandhi International Airport, which is the only airport in Delhi and it receives regular flights from all over the world. From outside the airport, you can look for Ola, Uber, or book a cab from the list of top car rental companies in Delhi to commute to the actual location.
By Road/Self-Drive: Choose to self-drive all the way to enjoy a road journey. Though it is time-consuming and a bit hectic too, it's always considered the best for all those who want to explore the surrounding areas and have fun. There is also a facility of bus service available that takes you to the Kashmiri Gate, which is the main bus stand in Delhi.
By Railways: Last but not the least, you can catch a direct train to New Delhi Railway Station from the prominent cities of India. Since it is considered as the major railway station in India, it maintains good railway connectivity with other railway stations of the nation. Outside the station, one can easily get a prepaid taxi to go further in the city.
---
Turn your Delhi tour into an unforgettable memory by booking an all-inclusive Delhi tour package with us! We at, Delhi Tourism, a division of Holidays DNA, present our tourists with the best travel deals that let you enjoy your holiday at pocket-friendly prices. You can also take assistance from our travel experts regarding the itinerary so that you can explore the most popular sightseeing places in Delhi. To know more, we request you to please fill the Contact Us form to get in touch with us.
Location Map for MoJoLand Water Park Murthal