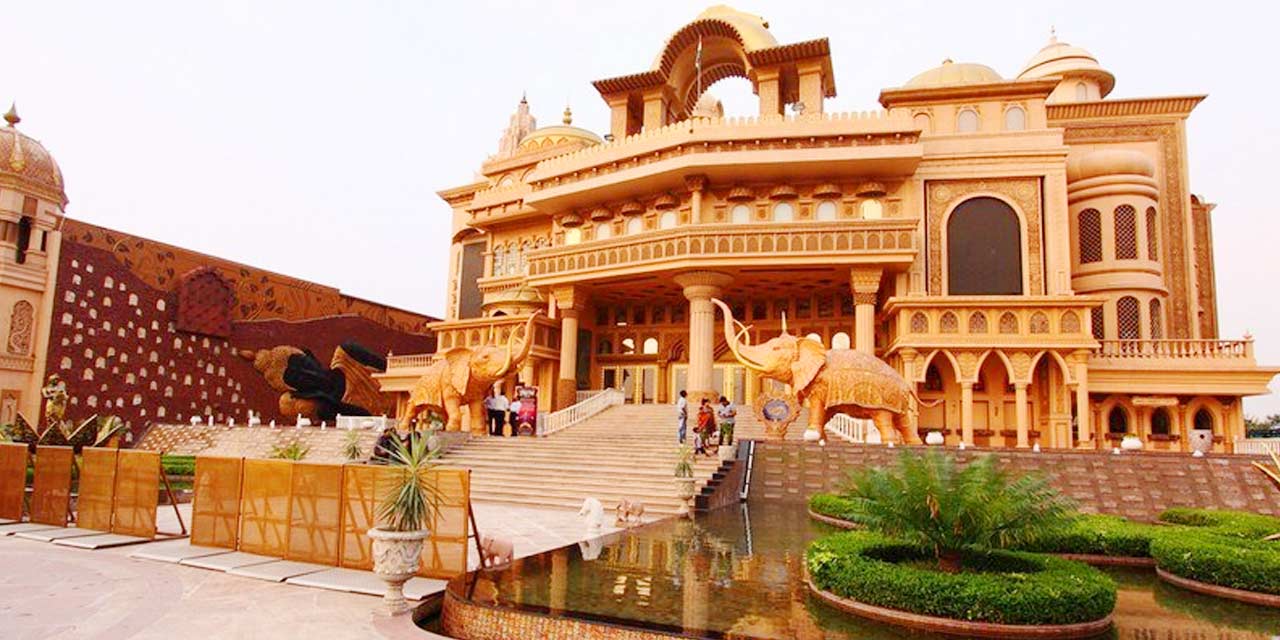 Kingdom of Dreams Delhi Entry Fee
600 per person for Culture Gully [Weekedays]
600 per person for Culture Gully [Weekeends]
---
Kingdom of Dreams Delhi Phone
---
Quick Facts about Kingdom of Dreams Delhi
Kingdom of Dreams Delhi Timings
| Day | Timing |
| --- | --- |
| Monday | Closed / Holiday |
| Tuesday | 12:30 pm – 12:00 am |
| Wedesday | 12:30 pm – 12:00 am |
| Thursday | 12:30 pm – 12:00 am |
| Friday | 12:30 pm – 12:00 am |
| Saturday | 12:00 pm – 12:00 am |
| Sunday | 12:00 pm – 12:00 am |
Rating:

| 4 stars, of total 86 reviews
Kingdom of Dreams Delhi Address: Auditorium Complex Near IFFCO Metro Station, Sector 29, Gurugram Haryana, 122001, India
Kingdom of Dreams Delhi Entry Tickets Price
Category
Weekdays Entry Tickets
Weekends Entry Tickets
Diamond
2,999 Per Person
4,999 Per Person
Platinum
2,499 Per Person
2,999 Per Person
Gold
1,999 Per Person
2,499 Per Person
Silver
1,499 Per Person
1,999 Per Person
Bronze
1,349 Per Person
1,499 Per Person
Culture Gully
600 Per Person
600 Per Person
---
Kingdom of Dreams is an amusement park which hosts live entertainment programmes and provides a diverse cultural experience.
It offers an opportunity to explore various cultures and traditions, along with the lifestyle of different parts of India. This place has a themed lounge and a village with multiple cultural setups and eateries. And you can enjoy musical performances and delicious dishes from different corners of the country.
Kingdom of Dreams also hosts numerous cultural festivals, enchanting activities and street shows. And you'll also find stalls selling hand-crafted items and fine art pieces.
It is also known for live programmes like Jhumroo and Zangoora. These shows are presented regularly, along with other shows organised from time to time. Kingdom of Dreams has two theatres for the live shows.
This entertainment park is a suitable destination for all age groups, from kids to adults and elderly parents. So, visit it with your family, kids, and friends and feel the magic.
Where is Kingdom of Dreams in Delhi?
Kingdom of Dreams is in Sector 29 of Gurgaon. And it is about 40 km away from Delhi. Whether you have the desire to enjoy theatrical shows, go on a shopping spree or eat mouth-watering dishes, Kingdom of Dreams is a must-visit place during your trip to Delhi.
Things to do at Kingdom of Dreams Gurgaon
1. Watch Zangoora in Nautanki Mahal – Nautanki Mahal is a huge auditorium built in the Kingdom of Dreams in Delhi. It is an amalgam of sound, light, and special effects. Here, you can witness mesmerizing performances once the curtains are raised.
Zangoora is one of the theatrical shows which has been running successfully since Kingdom of Dreams was built. You can also enjoy good food and drinks during the interval.
2. Get foot-tapping to the tunes of Jhumroo – Kingdom of Dreams Jhumroo is another regular and popular live theatre show to enjoy in Nautanki Mahal. It is a musical comedy packed with 19 Retro Bollywood songs of Kishore Kumar.
You can also see different national and international screenings in this themed theatre. So, check the show timings and book your tickets for the perfect theatrical experience in Delhi.
3. Walk down the streets of Culture Gully – Culture Gully in Kingdom of Dreams is a mixture of culture and entertainment. It is the arts, crafts and food boulevard of this amusement park. And it is a fascinating place to explore the culture of many states of India at one place.
Here, you'll find themed restaurants, libraries, village setups and much more. Culture Gully also has home decor shops and jewellery stores, all under one roof. And you can click tonnes of fun and candid pictures.
4. Taste the traditional dishes of India – Apart from enjoying a mini-tour of India, you also get to enjoy different varieties of food in Culture Gully. Different flavours from all over India come together in the eateries. From Punjabi stalls to Rajasthani restaurants and cafes selling special Assam tea, the aroma will tempt you to grab a bite even if you aren't hungry.
5. Enjoy a show at Showshaa Theatre – Showshaa Theatre is a magnificent amphitheatre designed for large stage shows. It has been used in production activities of Indian epic stories and other such events.
6. Relax in IIFA Buzz Lounge – IIFA Buzz Lounge is the perfect stop for Bollywood buffs. It is a themed bar with props from popular Hindi movies, nostalgic posters, star memorabilia and other decorations for you to live the Bollywood experience. The lounge also plays Bollywood music in the background.
7. Appreciate the street artists – Kingdom of Dreams also has many fun activities in and around Culture Gully. You can indulge in face reading, palm reading or even reverse bungee.
You can also admire the folk artists performing regional dances and playing regional music of their states. Some artists also present puppet shows and magic shows.
8. Have fun with kids on the rides – You'll find a variety of kid-friendly rides and activities in this entertainment park. Bumper Car, Elephant ride and Frisbee are among the popular activities in the arena. Then, you can watch the WizWits show with your kids and the entire family.
Image Gallery of Kingdom of Dreams Delhi
Kingdom of Dreams Timings and Entry Fees
Kingdom of Dreams entry time is from 12.30 PM to 12 AM (midnight) on weekdays and 12.00 PM to 12 AM on weekends. It is open throughout the year, except on Mondays. Culture Gully is also open all day from 12.30 PM to 12 AM, except on Mondays.
Different shows and events run during the day, the schedule of which you need to confirm with their office before booking.
The general timings of Jhumroo show are 7 PM (Tuesday, Thursday and Saturday), 2.30 PM (Wednesday and Friday) and 1.30 PM (Sunday). Kingdom of Dreams Zangoora show timings are 2.30 PM (Tuesday, Thursday and Saturday), 7 PM (Wednesday and Friday) and 6 PM (Sunday).
You'll find five categories for Kingdom of Dreams entry fees – Diamond, Platinum, Gold, Silver and Bronze.
Diamond tickets cost ₹2999 per person on weekdays and ₹3999 per person on weekends. Platinum tickets are priced at ₹2499 per person (weekdays) and ₹2999 per person (weekends) and Gold tickets cost ₹1999 and ₹2499. Then, Silver tickets are available for ₹1499 per person and ₹1999 per person, and Bronze tickets are for ₹1249 and ₹1499.
Children (below 4 ft) get free entry to this entertainment park.
If you don't want to watch the shows, the Kingdom of Dreams entry ticket without shows is ₹600. It is the entry fee for Culture Gully, and the fee can be redeemed against food available in the restaurants of Culture Gully.
Best time to visit Kingdom of Dreams Delhi
Although the Kingdom of Dreams in Delhi Gurgaon is open throughout the year, it is best to visit during the winter months, from October to March. Also, schedule your visit on weekdays, as those are less crowded than the weekends.
It is not advisable to visit during summer and monsoon. In summer, the unbearable heat makes it difficult to explore the place. And during the monsoon, rains can disrupt your plans.
Time to explore Kingdom of Dreams Delhi
You'll need around 5-6 hours if you want to enjoy Kingdom of Dreams shows and other activities in Culture Gully and around. So, visit it with your friends and family in the afternoon when the shows begin, and spend the rest of the evening in this amusement park. You've got plenty of experiences to explore.
Places to visit near Kingdom of Dreams
1. Fun N Food Village – Fun N Food Village is another amusement park near Delhi. It is on the Delhi-Gurgaon highway, only about 10 km away from Kingdom of Dreams. Fun N Food Village is one of the oldest amusement and water parks of Delhi. And it offers a variety of water slides, rides and food options.
2. Qutub Minar – Qutub Minar is a historical site about 16 km from Kingdom of Dreams. It is a minaret built of red sandstone, and it is considered to be the tallest minaret in the world built of bricks. Qutub Minar is a UNESCO World Heritage Site. And it is a part of the Qutub complex, with several tombs, architecture gateways and a garden.
3. The Garden of Five Senses – The Garden of Five Senses is a park known for its natural beauty and display of man-made art. This park has shady trees, flowery bushes and many other plants. And water fountains, pools and different artworks and rock-carved sculptures too, are part of the Garden of Five Senses. It is 18 km away from the Kingdom of Dreams.
4. Hauz Khas – Hauz Khas area is about 20 km away from Kingdom of Dreams. And it has many restaurants, discotheques and other places of tourist interest. This place also has the historical Hauz Khas Complex, which has the ruins of Hauz Khas Fort, Hauz Khas Lake and other tourist spots. You'll find many art galleries and shops too.
5. National Rail Museum –The National Rail Museum is spread over 11 acres, and it features 100+ exhibits of Indian trains. From different telecommunication systems and signalling instruments used in Indian Railways to antique locomotives, you'll find a lot to explore in its indoor and outdoor galleries. The National Rail Museum also has railway uniforms and antique railway furniture. It is about 22 km from Kingdom of Dreams.
How to reach Kingdom of Dreams from Delhi?
Kingdom of Dreams is in Gurgaon area, and it is easily accessible from most parts of Delhi. It is about 30 km away from New Delhi railway station, and 14 km from the airport. And here are the different ways to reach Kingdom of Dreams Delhi –
By metro – IFFCO Chowk metro station (Delhi Metro Yellow line) is the closest to the Kingdom of Dreams. It is only a few hundred meters away. You can either walk the distance or take a taxi/auto to this entertainment venue.
By bus – The bus stop near IFFCO Chowk metro station is the closest to the Kingdom of Dreams. And public buses from many parts of Delhi stop at this place.
By taxi/auto – You can also hire a taxi/auto from anywhere in Delhi to Kingdom of Dreams Gurgaon. It would take you around an hour, or more, depending on where you get your taxi/auto. You can also book a private cab from top car rental companies in Delhi if you wish to explore other popular places to visit in Delhi along with the entertainment park.
---
Explore all the popular sightseeing places in Delhi along with tourist attractions in nearby places like Gurgaon and Noida by booking a Delhi Tour package with us. At Delhi Tourism, a division of Holidays DNA you can book your choice of package depending on your budget and preferences. Please fill the Contact Us form to know more and we will get back to you.
Location Map for Kingdom of Dreams Delhi