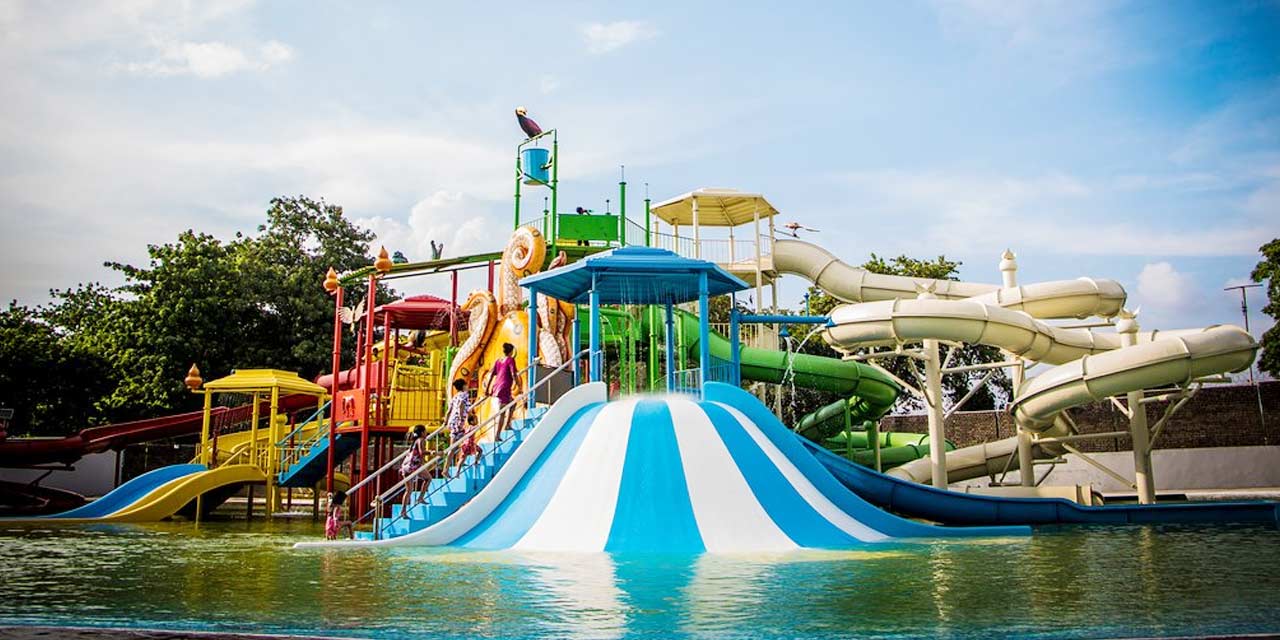 The Atlantic Water World Delhi Entry Fee
1199 per person for Single
2299 Couple
699 per person for Kids
799 per Student
1099 per person for Sr. Citizen
---
The Atlantic Water World Delhi Phone
---
Quick Facts about The Atlantic Water World Delhi
The Atlantic Water World Delhi Timings
| Day | Timing |
| --- | --- |
| Monday | 11:00 am – 6:00 pm |
| Tuesday | 11:00 am – 6:00 pm |
| Wedesday | 11:00 am – 6:00 pm |
| Thursday | 11:00 am – 6:00 pm |
| Friday | 11:00 am – 6:00 pm |
| Saturday | 11:00 am – 6:00 pm |
| Sunday | 11:00 am – 6:00 pm |
Rating:

| 4 stars, of total 92 reviews
The Atlantic Water World Delhi Address: Kalindi Kunj Park Adjacent to Kalindi Kunj Metro Station, New Delhi Delhi, 110025, India
The Atlantic Water World Delhi Entry Tickets Price
| Category | Entry Ticket | Buffet | Combo (Entry + Veg. Lunch Buffet) |
| --- | --- | --- | --- |
| Kids | 699 | 400 | 800 |
| Sr. Citizen | 1099 | 500 | 900 |
| Single | 1199 | 500 | 1300 |
| Couple | 2299 | 1000 | 2500 |
| Students | 799 | 500 | 1200 |
---
Atlantic Water World is one of the premier amusement parks in Delhi. And it's the perfect spot to have some fun family time together.
Atlantic Water World amusement park brings together 10+ water rides and activities. For adventure lovers, the park has slides like Gravity, Racer and Storm Eye among others. And if you would like to spend a relaxing day here, you have Lazy River, Rain Dance, Wave Pool and other attractions.
You can even enjoy sunbathing by the pools, with fresh lime soda or chocolate shake, whatever you prefer.
This water park is a fun zone, to beat the heat of Delhi, with something for everyone. Whether you come here with friends, family members or colleagues, you sure will have a memorable time.
Where is Atlantic Water World in Delhi?
Atlantic Water World Park is located in Southern Delhi. It is in Kalindi Kunj, and it is a gateway to fun, thrill and excitement.
Apart from the rides and pools, the park also has shady trees and sprawling lawns for you to spend time in. And therefore, it acts as an ideal venue for parties, family get-togethers and corporate events too.
Things to do at Atlantic Water World
1. Trying the adventure rides – Park has numerous water slides in which you can enjoy a full day. You can zoom down the Tornado, race down the Racer slide and enjoy the thrill of Gravity ride. Atlantic Water World Delhi also has other rides such as Aqua Funnel and Storm Eye. And kids-friendly rides like Baby Cool are also here. Toddlers can enjoy their day splashing water with others of their age.
2. Playing in the wave pool – The Atlantic Water World wave pool recreates the sea waves. You can chase the waves, face them or float over them with your group.
3. Swimming in the pool – This water park has a family pool too. Adults and kids both can have fun in this pool. It is shallow, and even non-swimmers can play along without any worries. You'll also find the lazy river – Slow Flow, in Atlantic Water World. It is perfect for those who want to float around doing nothing.
4. Rain dancing with music – You'll find a rain dancing stage in the park too. With DJ and party music, you sure will let yourself loose and enjoy your time here.
5. Relaxing on the beach – Atlantic Water World also has an artificial beach. And it's the ideal spot to soak in the sun and relax.
6. Checking out the food – The water park has two eateries to satiate your hunger. You can enjoy a fulfilling vegetable lunch buffet in one restaurant. And in other (Atlantic Cafe) you can try out the snacks and drinks available. From rolls and fries to shakes and coffees, you'll get a variety to choose from.
Image Gallery of The Atlantic Water World Delhi
Atlantic Water World Timings and Entry Fees
Atlantic Water World is open throughout the year, even on the public holidays. The entry opens at 11 AM, and you can be there until 6 PM.
Atlantic Water World entry fee is ₹1199 and the buffet lunch is at ₹500 per person for adults. The combo ticket is available for ₹1300 per person.
Kids shorter than 3 feet don't require any ticket for Atlantic Water World in Delhi. But for other kids, the charges are ₹699 (entry) and ₹400 (buffet), or only ₹800 (combo). And senior citizens have to pay ₹1099 and ₹500, or ₹900 for a combo ticket. Then, per couple ticket price for entry and food are ₹2299 and ₹1000, respectively. The combo ticket per couple costs ₹2500.
Also, you can get discounted rates for students. The entry ticket is available for ₹799 per person, and the buffet is priced at ₹500 per person. The combo ticket for groups costs ₹1200 per person.
Best Time to visit Atlantic Water World Delhi
Although Atlantic Water World park is open all around the year, it is best to visit it between March and April, or between October and November. August and September also have soothing temperatures, because of the monsoon, but the rainy season won't be the best to enjoy a trip to this water park. During other months, the climate of Delhi is extremely hot or extremely cold.
Time to explore Atlantic Water World
Atlantic Water World amusement park has several wet rides for you and your family to enjoy. And when you feel tired, you can rest in the pool itself, or on the beach here. So, have around 3 hours to explore the area. You can get refreshments from the cafe whenever you feel the need.
Things to keep in mind while visiting Atlantic Water World
Carry your hat and sunglasses.
Apply waterproof sunscreen.
Stay out of the water if you have water-borne allergies.
Senior citizens or people with health problems should avoid the slides.
Wear nylon/lycra swimwear for the water activities.
Carry a bag for your wet clothes.
Swimming costumes are available on rent.
Waterproof mobile pouches and towels are available on rent.
Food and drinks from the outside aren't permitted.
Smoking and consumption of alcohol aren't permitted.
Places to visit near Atlantic Water World
1. Lotus Temple – Lotus Temple, also known as the Bahai House of Worship, is one of the seven major Bahai temples in the world. It is built in the shape of a lotus, and it is surrounded by ponds and lush green gardens. Lotus Temple is a quiet and beautiful tourist spot, open to all religions. It is 7 km away from Atlantic Water World.
2. Hauz Khas – Hauz Khas is among the most popular places of Delhi, about 14 km away from Atlantic Water World. It has many restaurants, discotheques and other places of tourist interest. Visit the Hauz Khas Complex to see the ruins of Hauz Khas Fort, an Islamic madrasa, royal water tank and other points. Hauz Khas also has numerous art galleries and handicraft shops.
3. Qutub Minar – Qutub Minar is a UNESCO World Heritage Site, 16 km away from the water park. It is a tall structure built of red sandstone, and it is the tallest minaret in the world built of bricks. It is a part of the Qutub complex, which comprises several tombs, architecture gateways, and an iron pillar.
4. Iron Pillar – Iron Pillar is another historical structure within the Qutub complex. It is a 7.2 m high pillar made of wrought iron. It carries several inscriptions from different dates. The pillar is in the open air, and it has no protection from the environmental conditions. But it hasn't yet rusted. And this has fascinated tourists and scientists alike.
5. Garden of Five Senses – The Garden of Five Senses is a park which is an amalgamation of natural beauty and man-made art. It is built partly on rocky terrain and partly on a plain area. And it has trees, flowery bushes and many other plants. Water fountains, pools and different artworks and rock-carved sculptures too, are found in this park. The Garden of Five Senses is 15 km away from Atlantic Water World.
How to reach Atlantic Water World in Delhi?
Reaching the Atlantic Water World is easy. It is in Kalindi Kunj area of South Delhi, which has good connectivity with the entire city. It is about 17 km away from New Delhi railway station and approx. 22 km from the international airport. And here are the various ways to reach Atlantic Water World Kalindi Kunj –
By metro – Kalindi Kunj station (on Delhi Metro Magenta line) is the nearest metro station to Atlantic Water World. It is only a few hundred metres away from the water park, and you can walk the distance. Autos and e-rickshaws are also available from the station.
By bus – Public buses are available for Kalindi Kunj from all over the city. The bus stop is at a walking distance, and you can also get autos and e-rickshaws for the park.
By taxi/auto – You can also take a taxi or an auto from anywhere in Delhi, or nearby. It will take you around an hour to reach Atlantic Water World from New Delhi railway station or the airport.
You can also book a cab from top car rental companies in Delhi for a comfortable ride to Atlantic Water World and explore all other places of tourist interests in Delhi.
FAQs about Atlantic Water World Delhi
---
Q. Do kids get free entry in the park?
A. Kids shorter than 3 feet get free entry in this water park. For other kids, Atlantic Water World tickets are available at ₹600.
---
Q. Is outside food allowed inside the park?
A. Food and drinks from outside aren't allowed in Atlantic Water World. The park has a cafe from where you can buy snacks, water and other cold drinks at reasonable prices. Vegetarian lunch buffet is also available.
---
Q. Does the park have changing rooms and lockers?
A. Separate changing rooms for men and women are available. Digital lockers are present too.
---
Q. Are there any height restrictions for rides?
A. No, there are no height restrictions.
---
Q. What is the dress code in Atlantic Water World?
A. The park doesn't have any dress code. But nylon/lycra swimwear is recommended during the water activities. You can get swimming costumes and towels on rent in the park.
---
Make the best of your Delhi tour by booking a Delhi Tour package with us. We at Delhi Tourism, a division of Holidays DNA have designed these packages to cater different kinds of tourists. Choose the package that fulfills your requirement or ask for customisation of the package to suit your needs. To know more, please fill the Contact Us form.
Location Map for The Atlantic Water World Delhi