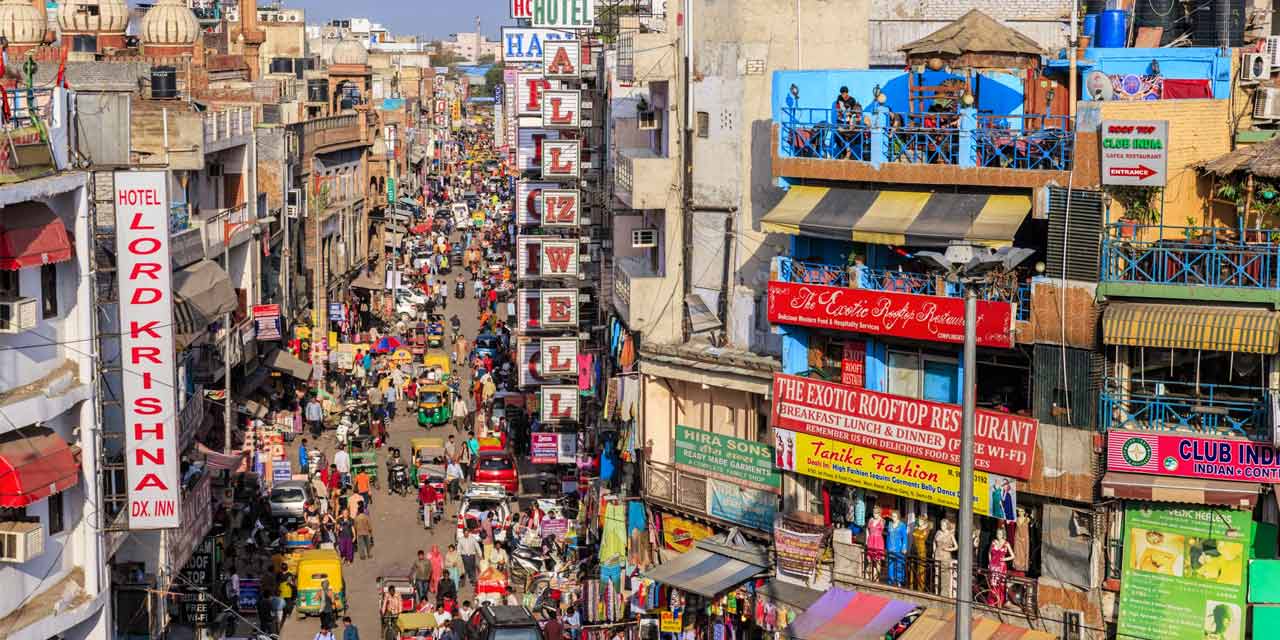 Paharganj Delhi Entry Fee
---
Paharganj Delhi Phone
N/A
---
Quick Facts about Paharganj Delhi
Paharganj Delhi Timings
| Day | Timing |
| --- | --- |
| Monday | Closed / Holiday |
| Tuesday | 11:00 am – 9:00 pm |
| Wedesday | 11:00 am – 9:00 pm |
| Thursday | 11:00 am – 9:00 pm |
| Friday | 11:00 am – 9:00 pm |
| Saturday | 11:00 am – 9:00 pm |
| Sunday | 11:00 am – 9:00 pm |
Rating:

| 3 stars, of total 52 reviews
Paharganj Delhi Address: Paharganj, New Delhi, Delhi, 110055, India
---
Located at a kilometre's distance, west from the New Delhi Railway Station is the Paharganj Market which is a hub spot for tourists owing to its close proximity to Central & Old Delhi. This Market is well known for hosting cheap hostels & hotels and is every budget traveller's paradise. This place attracts a lot of backpackers travelling from various parts of the world.
Its chaotic yet colourful streets, an array of bakeries and bars, a line of shops selling everything from junk jewellery to bags, attract people, including the locals. If you are looking for peace and serenity, this may not be your preferential choice.
However, if you want to experience the charm of real Delhi, discover stories, spend time among fellow travellers, Paharganj Market would in no time become your favourite. The touristy vibe of the place has been shown in various movies like DevD, Holy Smoke and thus has gained immense popularity in the pop culture.
Fun Fact: 'Paharganj' which literally means 'Hilly neighbourhood' was derived from the fact that it was closely located to the Raisina Hill, which is where the Rashtrapati Bhavan is located.
History of Paharganj Delhi
Interestingly, Paharganj holds great historical significance.
Shahjahanabad, which was the capital of the Mughal Empire during the reign of Emperor Shahjahan, extended beyond the walled city (known as the Ajmeri Gate) and had spread across various suburban areas, one of which was Paharganj. By 1739, Paharganj became one of the biggest markets of the era and the only one which rested outside the walled city. As a matter of fact, Paharganj was previously also known as Shahganj, meaning King's Market.
During India's struggle for Independence, and primarily during the extended Quit India Movement, various barracks of the British army in Paharganj were destroyed and several areas were burnt down.
Paharganj has also witnessed the Hindu Muslim Riot of 1924. On the day of Bakr-Id, cows were slaughtered by the Muslims at a slaughterhouse, very close to the Paharganj Temple. This tremendously hurt the sentiments of the Hindus and Jats and led to a big riot. This further caused massive damage to life & property.
Shri Nand Lal Sharma, a dhaba which was established in 1928 has now been converted into a 3 storey hotel, 'Metropolis', which is immensely popular for its rooftop dining.
One of the oldest colleges of Delhi University, Zakir Hussain College was also established here in 1986.
Delhi's first 70 mm cinema hall, which is popularly known as 'Sheila cinemas', is also located here.
What to Buy from Paharganj Market?
Even though Paharganj is a lesser-known market for street shopping yet you will be surprised to see the abundance of products available here at a very affordable range. You might have to wear your bargaining cap but these products are ideal for daily use and can even make great souvenirs. Here is a range of products you can buy from Paharganj Market.
1. Footwear: The market is highly dominated by leather shoe shops and you will find a range of ethnic Juttis to Boots. The quality is outstanding and there are various styles on offer. Some of the shops can also customise formal shoes for both men and women.
2. Handbags: From Leather, Suede to Faux, you will find bags in different quality ranging from Rs.200 to Rs.3500. Some of the shops do not display their entire collection and if they see you are interested, they will take you to their godown through dank alleys. Shop for sling, laptop, duffel bags here.
3. Jewellery: Even though junk jewellery sold here can typically be found in all the street markets of Delhi, few shops sell silver jewellery and jewellery made using semi-precious stones. At first, you may feel hesitant since the shops aren't in good condition but they certainly offer good quality and fashionable jewellery.
4. Ittar: This is one product you won't find at most of the markets in Delhi. You can find ittar in roll-ons, dabbas, bottles. Not only do they smell good, but they also are packaged very beautifully. They come in various fragrances such as sandalwood, lavender, rose, marigold etc.
While at Paharganj, you can also visit an astrologer who does Palm Reading & Vedic Astrology for a small fee.
Where to eat at Paharganj?
There are more than a dozen bakeries and cafes that serve various cuisines. The popular ones are German Bakery, famous for their cakes, Sam's Cafe & My Bar for cheap alcohol and quick bites, The Shim Thur for its authentic Korean cuisine, Rooftop Karen Cafe famous for its ambience.
Places to visit near Paharganj Market
Considering Paharganj is located in Central Delhi, various places can be visited in its vicinity.
1. Connaught Place- One of the prime locations of Delhi, Connaught Place is located at a distance of 3 km from Paharganj Market. This place is popular for branded showrooms, cineplex, street shopping and hundreds of cafes, bars and eateries.
2. Karol Bagh Market - Immensely famous for imitation bags, watches, sunglasses and for phone and phone accessories is the Karol Bagh Market which is located at a safe distance of 3 km from Paharganj Market.
3. Old Delhi- Old Delhi which is insanely famous for its chaotic & noisy streets, food, cheap decor items and the Red Fort is hardly at a distance of 5 km from Paharganj Market.
4. Bangla Sahib Gurudwara- Bangla Sahib Gurudwara which is famous for its Sarovar and 'Karah; prasad is only 2.5 km away from Paharganj Market.
Timings of Paharganj Market
Paharganj Market is open from Tuesday-Sunday from 11.00 am to 09.00 pm. Paharganj Market is closed every Monday.
How to reach Paharganj Market
Paharganj is easily accessible by cabs, buses and metro. The closest metro station to Paharganj is R.K Ashram Marg which is on the blue line. The closest exit is gate no. 5 and one can easily walk the market from there which is only 100m away.
Distance from New Delhi Railway Station: 2.8 km
Distance from Indira Gandhi International Airport: 14.8 km
For those visiting Delhi for the first time, it is best to hire a cab from top car rental companies in Delhi for a hassle free commutation within the city.
---
Image Gallery of Paharganj (Shopping) Delhi
To explore the various tourist attractions of Delhi, we at Delhi Tourism, a division of Holidays DNA offer Delhi Tour packages at affordable prices. You can choose the package that suits you best and enjoy your holiday in a relaxed manner. To know more about the various packages, please fill the Contact Us form.
Location Map for Paharganj Delhi