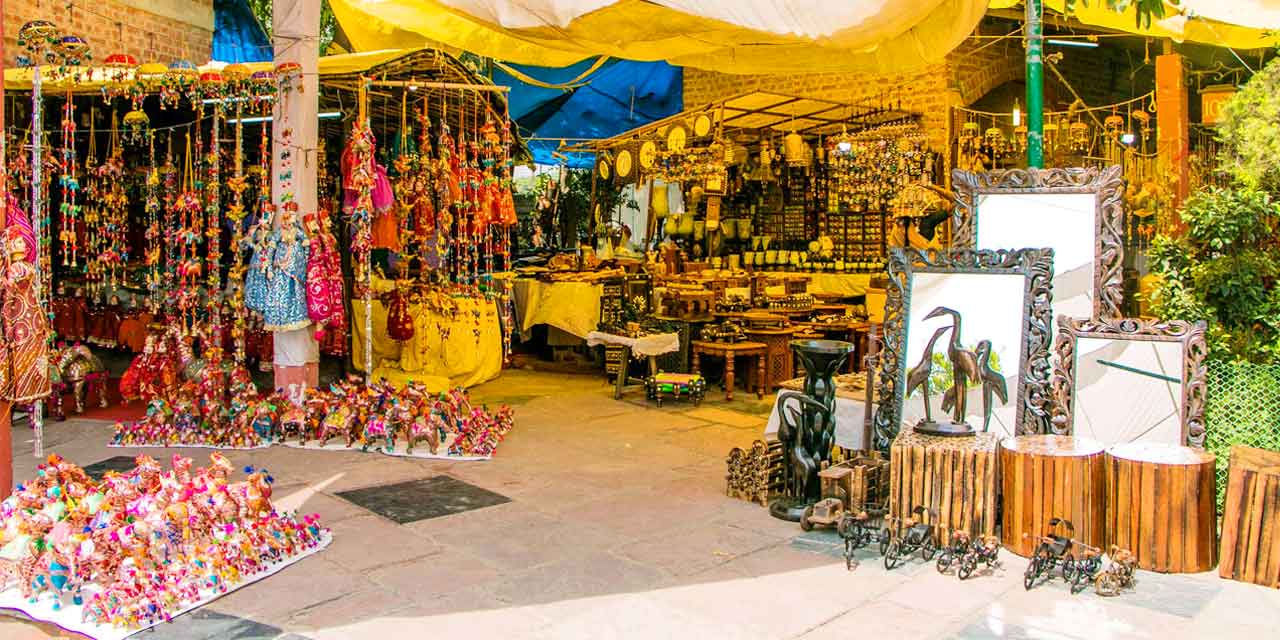 Dilli Haat Delhi Entry Fee
30 per person for Adults

20 per person for Children

100 per person for Foreign Tourists

---
Dilli Haat Delhi Phone
---
Quick Facts about Dilli Haat Delhi
Dilli Haat Delhi Timings
| Day | Timing |
| --- | --- |
| Monday | 10:30 am – 10:00 pm |
| Tuesday | 10:30 am – 10:00 pm |
| Wedesday | 10:30 am – 10:00 pm |
| Thursday | 10:30 am – 10:00 pm |
| Friday | 10:30 am – 10:00 pm |
| Saturday | 10:30 am – 10:00 pm |
| Sunday | 10:30 am – 10:00 pm |
Rating:

| 4 stars, of total 55 reviews
Dilli Haat Delhi Address: Sri Aurobindo Marg, Laxmi Bai Nagar, New Delhi, Delhi, 110023, India
---
Dilli Haat is where the culture of all states come together under one open-air complex. It's where you can buy state known handicraft items from across the country at reasonable prices. It allows local artisans and craftsmen to present, market and sell their handicraft items.
It has a massive food court which has counters from all the different states of the country. From Rajasthan's Gatte ki sabzi to Bengal's Fish, you will get it all. Not just that, you will also be experiencing some cultural activities that happen here every now and then.
Created with the thought of preserving and displaying the Indian Culture, Dilli Haat is a go-to place for every kind of traveller to experience the culture and tradition of 29 states under one roof.
Apart from a few shops that are permanent here, most shops here are on a bi-weekly rotational basis at a nominal fee of Rs.100 per day and hence you will find new vendors every time you visit it.
Talk to the local artisans from across the country, understand their skills, eat, shop, and participate in the various activities and spend a wonderful day here. A great place to buy souvenirs but do remember to bargain and get yourself the item at a reasonable price. Items start here as low as Rs.50.
Do Note: There are 3 Dilli Haats in New Delhi. However, the information mentioned here is about Dilli Haat INA.
The other two Dilli Haats, namely Dilli Haat Pitampura and Dilli Haat Janakpuri were only constructed recently and they are not as expansive and have markets and activities only during certain festivals such as Teej, Rakhi, Diwali, Karwa Chauth etc.
Also, do not be mistaken for shops that are named as Dilli Haat at various locations in Delhi.
Fun Fact: India's First Comic Con was hosted at Dilli Haat, INA in 2011.
History of Dilli Haat
Dilli Haat INA was constructed in the early 90s and was jointly formed by Delhi Tourism Department, Government of Delhi, Ministry of Textiles and Ministry of Tourism, Govt. of India. The other Dilli Haats were constructed in the early 21st century. Small developments like the construction of a food court, wheelchair access, a fully functional bathroom happened over the years.
Architecture of Dilli Haat INA
When you walk into Dilli Haat, you will be mesmerized to see an entire village like set up created using red stone and bricks. It is spread across 6 acres of land. The architecture is very common to the typical North Indian Style houses and also strikes a close resemblance to the bazaars of Jaipur. Each of these shops is formed in the shape of a small cottage with stone roof.
The items range from colourful Chikankari Kurtis to Kolhapuri Chappals and in all, it gives a very colourful, vibrant and ethnic vibe to the entire place. There are various flowers and shrubs that give it a very pleasant and harmonious look. There is also a small stage which is supported by a beautifully done graffiti wall and makes it a good spot to take photographs.
Image Gallery of Dilli Haat Delhi
Things to do at Dilli Haat
You will be thrilled by the number of things you can do at Dilli Haat.
Recommended Time: 2-3 Hours
1. Shopping at Dilli Haat: Dilli Haat is every shopper's paradise. There is so much that you can even be confused as to what to buy from Dilli Haat.
You can shop a range of items including but not limited to ethnic wear, shawls, jewellery, wall decor, ceramic and pottery crockery, furniture, lanterns, paintings and sculptures, antiques, organic food products, essential oils and so much more.
Since these handicraft items come directly from the craftsman, it not only ensures that the craftsman is getting paid better but you also get the product at a better price as compared to handicraft emporiums.
Do note that there is only one ATM at the entrance and the shopkeepers do not keep a card machine, so it is advisable to carry liquid cash.
2. Food Parade at Dilli Haat: See India get united with food stalls from different states of the country. If you are wondering what should you eat in Dilli Haat, we recommend ditching your regular staple and trying something which would be new for your palette. From Sikkim's famous Momo to Nagaland's Thukpa there is so much for you to taste and try.
Do not expect a luxurious restaurant, but rather a more comfortable and cosy outdoor environment.
3. Tarot Card Reading at Dilli Haat: There is a stall where you will usually find a professional tarot card reader who can predict your future and suggest you changes that you can make in your life accordingly.
4. Get Hand Mehendi and Hair Braided at Dilli Haat: This one is extremely famous with young girls and ladies. As soon as you enter the complex of Dilli Haat, you will find women sitting with threads, ready to braid your hair, or with their Mehendi cones to adorn your hand with beautiful designs.
5. Cultural Activities: One can be taken by surprise with various unplanned cultural activities happening at Dilli Haat such as a flash mob or a nukkad natak, most of which are trying to convey a social message.
Entry Fee and Timings of Dilli Haat
The entrance fee for Dilli Haat are nominal and are as follows:
Adults: Rs.30
Children (upto 12 years of age): Rs.20
Foreigners: Rs.100
Dilli Haat is open all days of the week from 10.30 am to 10.00 pm.
Places to visit near Dilli Haat
There are a lot of places to visit near Dilli Haat which you can easily cover on the same day. Consider adding these to your itinerary as they are also among the top ten tourist attractions to visit in Delhi:
1. Lodhi Garden: Located only 3 km from Dilli Haat is the Lodhi Garden. The park boasts of an open gym and a jogger's track which makes exercising out in nature both peaceful and satisfying.
The garden also has the tomb of Mohammad Shah Sayyid. The ruins of the tomb are marvellous, to say the least. There is a tiny lake with swans and it is a sight to catch.
If you are a dog lover, you will be delighted to see dog parents bringing them for a walk! This is the perfect place to start your day, bask under the sun and drink a cup of chai.
2. Sarojini Nagar Market: Located at a convenient distance of 2.5 km from Dilli Haat is the Sarojini Nagar Market which is famous amongst women for offering a great street shopping experience. From export surplus items to local shops, you will find it all. The price of clothes here start from as less as Rs.50 and can go up to Rs. 500 or more.
Sarojini Nagar is also a haven for street-style accessories like jhumkas, neckpieces, scarves and even footwears. One can also find beautiful and artistic home decor items. Bargaining is the key to shopping at Sarojini Nagar. If you are hungry, there are various eateries like Haldirams, McDonald's, Sagar Ratna, Cafe Coffee Day and many more.
3. Hauz Khas Village: The perfect place to take a stroll around nature, see deers, sit by the lake and catch picturesque images at the fort, and grab a bite to eat is Hauz Khas Village. It is located at a distance of 5 km from Dilli Haat. The village boasts of designer showrooms, antique shops, pubs, cafes and the Hauz Khas Fort.
The fort is very popular amongst college students for providing a splendid view of the lake and offering the perfect space for creativity to blossom. You will often find youth playing the guitar or trying their hands on the camera or friends simply sitting and having a great time.
4. Safdarjung Tomb: As the name suggests, this historical monument is the mausoleum of Nawab Safdarjung and is located only 1.5 km from Dilli Haat. It is constructed using sandstone and marble and has ornate carvings. The architecture is very similar to Humayun's Tomb and often tourists get confused between the two.
The tomb is also surrounded by lush green gardens which makes it a perfect spot to relax for a while. It is also a photographer's paradise to capture the Mughal Architecture.
There is lack of commercialisation here and you will hardly find any tourists flocking, unlike the more popular spots. This is what adds on to the beauty of this Mughal mausoleum.
5. India Gate: India Gate is a very popular tourist spot and is of great national importance since it stands as a war memorial for more than 70,000 soldiers who died during the First World War. The structure of India Gate is made using sandstone and it has the name of 13000+ soldiers inscribed on it.
There are lush green gardens, a children's park and a War Memorial. You will also find various street vendors selling street food, tea, coffee, ice-cream, balloons and other toys. If you visit India Gate during the evening, you can see it lit up in the colours of the Indian National Flag. This place is sure to awaken your patriotic spirits.
How to reach Dilli Haat
Reaching Dilli Haat is very easy as it is very conveniently located in South Delhi. The nearest metro station to Dilli Haat is INA metro station, approximately 100 m away. This station is well connected with both Yellow and Pink Line. One can easily take the metro or can even take an auto, bus or hire a cab.
Distance From New Delhi Railway Station: 12.5 km
Distance From Indira Gandhi International Airport Terminal 3: 16.5 km
Distance From Kashmiri Gate Bus Stand: 15 km
Distance from Connaught Place: 7.3 Km
There is a reason Dilli Haat happens to be in every traveller's bucket list and if you are planning to visit Delhi, do make sure it is in yours too. For a hassle free trip within the city, you can also opt for a private cab from top car rental companies in Delhi and have a relaxing holiday.
---
If you wish to explore the various popular tourist attractions of Delhi, then opt for a complete tour of the city by choosing one of our All-inclusive Delhi tour packages. Delhi Tourism, a division of Holidays DNA offers these packages at affordable prices to facilitate a happy and hassle-free vacation. To get more information about our packages, you can reach us by filling the Contact Us form.
Location Map for Dilli Haat Delhi