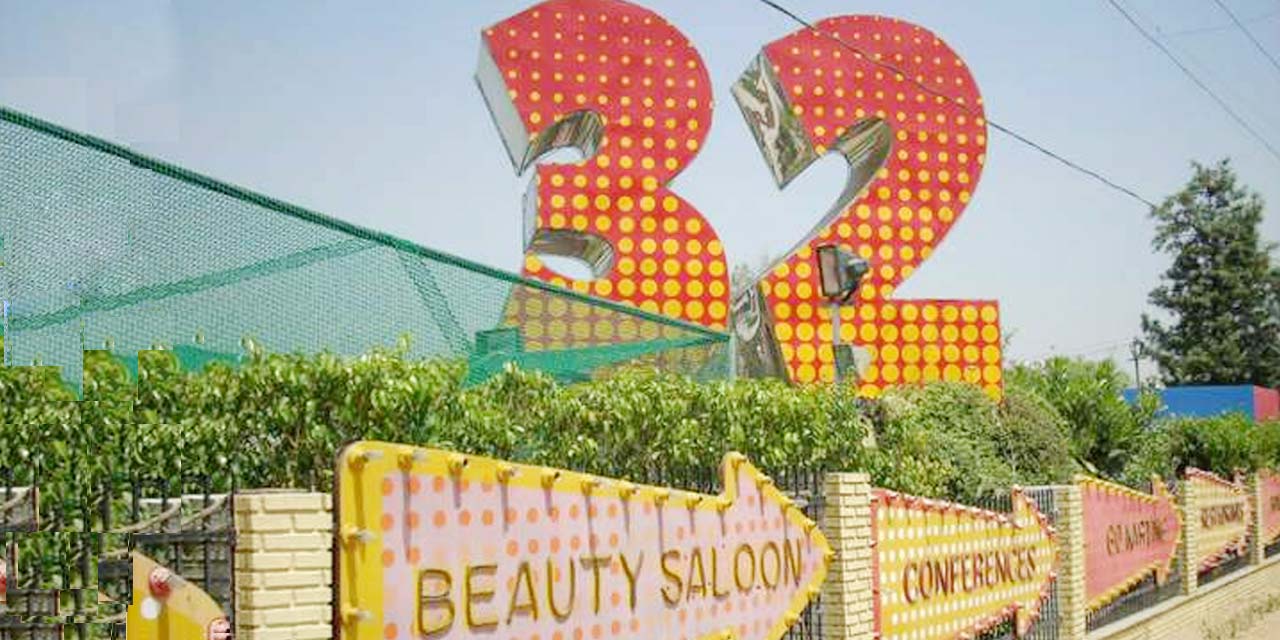 32nd Milestone Gurugram Entry Fee
No Entry fee
Gaming Prices Individual charges for each activity
---
32nd Milestone Gurugram Phone
---
Quick Facts about 32nd Milestone Gurugram
32nd Milestone Gurugram Timings
| Day | Timing |
| --- | --- |
| Monday | 10:00 am – 11:00 pm |
| Tuesday | 10:00 am – 11:00 pm |
| Wedesday | 10:00 am – 11:00 pm |
| Thursday | 10:00 am – 11:00 pm |
| Friday | 10:00 am – 11:00 pm |
| Saturday | 10:00 am – 11:00 pm |
| Sunday | 10:00 am – 11:00 pm |
Rating:

| 4 stars, of total 87 reviews
32nd Milestone Gurugram Address: Nh-8, Sector 15 Part 2, Sector 15, Gurugram Haryana, 122001, India
---
32nd Milestone is an entertainment complex which has been a hangout hub for local people. Bowling and Go-karting are the most popular activities here. But it also has Net Cricket, Rifle Shooting and other indoor and outdoor recreational activities.
The place is also known for the luxurious hotel and the lush green lawns, apart from the fun activities. So, along with playing various games, you can also spend a weekend away from the chaos of the city.
You'll also find an array of cafes and restaurants at 32nd Milestone Gurgaon. From a variety of north and south Indian delicacies to dishes from Continental and Malaysian cuisines, you have a lot of food options to explore here.
Where is the 32nd Milestone amusement park?
32nd Milestone hotel and recreation centre is in Sector 15 of Gurugram (aka Gurgaon). It is at a convenient place, on Delhi-Jaipur Bypass, accessible from all parts of Delhi. It has been known for the enjoyment it brings to the youngsters. And you can also enjoy a pleasant stay along with delicious food.
History of 32nd Milestone Gurugram
32nd Milestone was earlier known for the luxurious hotel built in the 1990s. But what you see today is a renovated entertainment centre. And along with an elegant hotel and the gaming centre, this place now also has a range of eateries. The focus is on fine dining experience with a pleasant ambience.
This spot, although renamed to 32nd Avenue, is still popular as 32nd Milestone.
Things to do at 32nd Milestone Gurugram
1. Having a bowling competition – 32nd Milestone Gurgaon bowling alley is an automated four-lane bowling alley. You can enjoy the game alone or team up with your friends to compete against strangers. And the memories of a competitive bowling game will remain for a lifetime.
2. Go-karting with friends – Go-karting is another of the popular activities in 32nd Milestone Gurgaon. And the multi-level go-karting tracks will keep you and your friends entertained for sure.
3. Enjoying the day at leisure – You can enjoy cool drinks sitting in the lounge or play games with your kids on the lawn outside. 32nd Milestone also has other games and activities besides bowling and go-karting. And you can buy individual tickets for each game as you prefer.
4. Snacking at dishes from around the world – When you're done with your choice of activities, you can satiate your appetite in one of the restaurants in the complex. The place has specialty eateries like Potbelly Divine (for dishes from Bihar), Carnatic Cafe (for South Indian dishes) and Malacca (for Malaysian and Indonesian cuisine) among others. You'll also find cafes and a speciality bakery here.
5. Having a pleasant getaway – Apart from the varied dining options, you also get an opportunity of enjoying a luxurious and peaceful stay in the hotel at 32nd Milestone. The warm hospitality and modern comforts will make your stay (and holiday) a lively experience.
Image Gallery of 32nd Milestone Gurugram
32nd Milestone Timings and Entry Fees
The games and other facilities at 32nd Milestone in Gurgaon are open through the day, 10 AM onwards. Bowling, go-karting and other activities are available on all days, until late evening (some even till 11 PM). You can come here during the weekends or on holidays and spend your time rejuvenating.
32nd Milestone Gurugram doesn't charge any fee for entry in the premises. You can buy tickets for individual activities and enjoy them.
Best time to visit 32nd Milestone
The 32nd Milestone entertainment park is open throughout the year.
But in summer months, the unbearable heat makes it difficult to enjoy all the activities. And during the monsoon, intermittent rains will keep disturbing you.
So, it is best to visit it during the winter months when it's cool. Therefore, plan your trip between October and March, and schedule your visit on weekdays. The weekdays are less crowded as compared to the weekends.
Time to explore 32nd Milestone Gurgaon
You can spend one entire evening playing games, eating and unwinding in 32nd Milestone. And you'll also need extra time to reach the place as it's on the outskirts of Delhi. So, have around 5 hours at least, to visit this entertainment zone.
Places to visit near 32nd Milestone Gurgaon
1. Wet N Wild Resort – Wet N Wild Resort is a serene resort with an amusement park and a water park. It offers a bunch of thrilling rides and water slides for the entire family to enjoy. And if you are in the mood of relaxation, you can pick a tube and waddle around in the swimming pools. The resort also has facilities for other outdoor games and indoor games. It is about 15 km away from the 32nd Milestone.
2. Kingdom of Dreams – Kingdom of Dreams is an entertainment park known for providing live entertainment and cultural programmes. The place offers you an opportunity to explore various cultures and traditions of India in one place. It also has themed eateries serving dishes from different states. And you can enjoy cultural festivals, playful activities and street shows too. This amusement park is 4 km away from 32nd Milestone.
3. Fun N Food Village – Fun N Food Village is another amusement park near Delhi. It is one of the oldest amusement/water parks in the area, only about 10 km away from 32nd Milestone. It has a variety of amusement rides and water slides for all age groups. The park also has a special water play zone for kids, a snow park and a food court with a plethora of food options.
4. National Rail Museum – National Rail Museum is dedicated to preserving the history of India Railways. Along with an exhibition of 100+ Indian trains, it also features different telecommunication systems and signalling instruments which have been used by Indian Railways. The museum showcases various antique locomotives, railway uniforms and old furniture in its indoor and outdoor galleries. It is about 23 km from 32nd Milestone Gurgaon.
5. Safdarjung's Tomb – Safdarjung's Tomb is an architectural marvel about 25 km away from 32nd Milestone. The structure is made of marble and sandstone, and it reflects the cultural influences of the Mughal era. The tomb has detailed carvings on its walls, and the ceilings have been inscribed with Arabic phrases. Also, the tomb building is surrounded by well-maintained lawns. And the complex has fountains and a water canal too.
How to reach 32nd Milestone Gurgaon from Delhi?
The 32nd Milestone is on Delhi-Jaipur Bypass in Gurgaon. It is a short drive away from Delhi. Also, it is only about 15 km away from Indira Gandhi International Airport. And you can take your car or hire a full-day cab from top car rental companies in Delhi to reach the place.
And here are the other ways to reach 32nd Milestone Gurugram –
By metro – IFFCO Chowk (Delhi Metro Yellow line) is the closest metro station to 32nd Milestone Gurgaon. It is about 5 km away. And from the station, you'll get a taxi/auto to get here.
By bus – You can take a bus from Delhi to Gurugram and then take a taxi/auto to reach the 32nd Milestone. It is about 3 km away from Gurugram bus stop.
By taxi/auto – You can also hire a taxi/auto from anywhere in Delhi to reach 32nd Milestone in Gurgaon directly. It should take you around an hour, or more, depending on where you are in Delhi.
---
Delhi Tourism, a division of Holidays DNA has been a pioneer in designing Delhi tour packages that cater to different kinds of travellers. Whatever your travel needs are, we have a package that suits you best. We ensure that you explore all the popular places to visit in Delhi with these packages and have a memorable holiday experience. To know more, please fill the Contact Us form.
Location Map for 32nd Milestone Gurugram