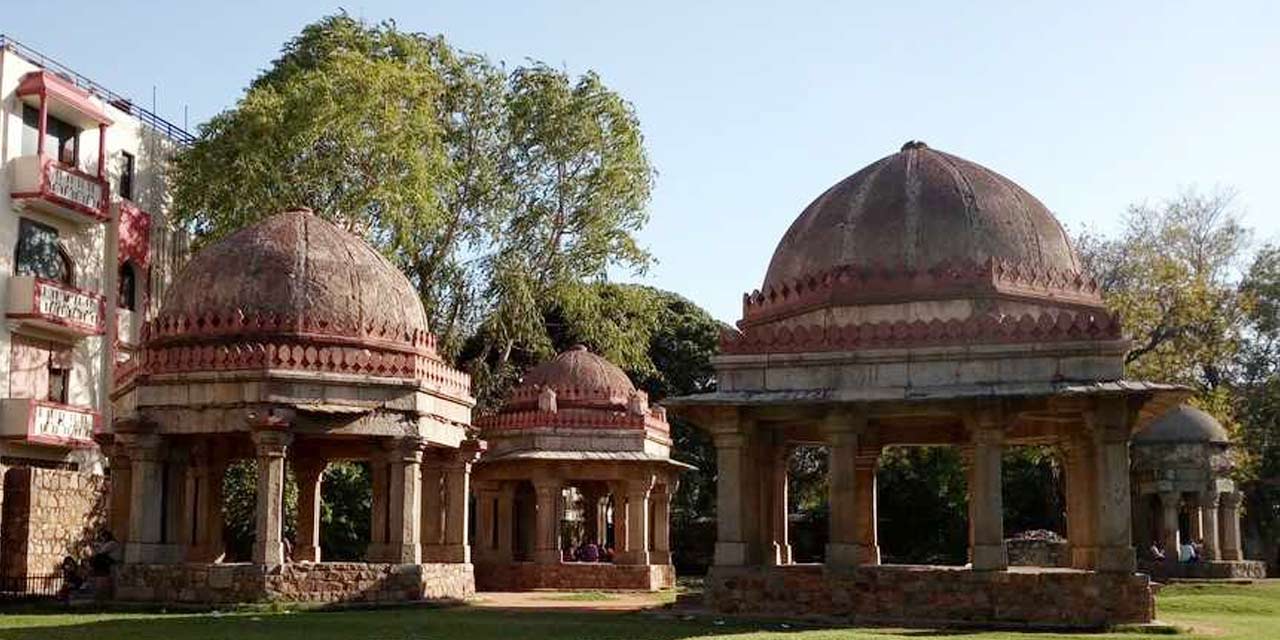 Hauz Khas Fort Delhi Entry Fee
25 per person for Indians
200 per person for Foreign tourists
---
Hauz Khas Fort Delhi Phone
---
Quick Facts about Hauz Khas Fort Delhi
Hauz Khas Fort Delhi Timings
| Day | Timing |
| --- | --- |
| Monday | 10:30 am – 7:00 pm |
| Tuesday | 10:30 am – 7:00 pm |
| Wedesday | 10:30 am – 7:00 pm |
| Thursday | 10:30 am – 7:00 pm |
| Friday | 10:30 am – 7:00 pm |
| Saturday | 10:30 am – 7:00 pm |
| Sunday | Closed / Holiday |
Rating:

| 4 stars, of total 55 reviews
Hauz Khas Fort Delhi Address: Hauz Khas Village, Deer Park, Hauz Khas, New Delhi, Delhi, 110016, India
---
Hauz Khas Fort near Hauz Khas Village was constructed during the reign of Allaudin Khilji, and the place has the remains of its glorious past. Apart from the Hauz Khas Fort ruins, the complex has the royal water tank, an Islamic madrasa and several pavilions, along with other monuments. People come here to marvel at the lost beauty of the place, and also for the serenity it offers.
Hauz Khas Fort was the part of the medieval city Siri, and the ruins now offer plenty of opportunity for the photography buffs. Locals frequent the complex to spend time among the lush green lawns or at the lakeside. Kids play outdoor games like tennis and cricket here, and you can take part too once you are back from exploring the hidden passages.
History of Hauz Khas Fort
Construction of the Hauz Khas Fort complex began with the digging for the water tank. Allaudin Khilji planned it to provide water to the residents at the fort built at Siri. He named the tank Hauz-e-Alai (Hauz means Tank, in Urdu).
Later, Firoz Shah Tughlaq, ordered reconstruction of the water tank and renamed it to Hauz Khas (which translates to Royal Tank). He also constructed various other buildings on the banks, and nearby. Along with the Hauz Khas Fort and Lake, the area saw the development of mosques, tombs and pavilions in the coming years. But the complex now is reduced to ruins.
Things to do at Hauz Khas Fort
State government organises a light and sound show every evening in Hauz Khas Village complex. The show narrates the history and importance of Hauz Khas and other structures around it. Other than that, exploring the fort complex on foot is the only activity available.
The views during sunrise and sunset are spellbinding. Then, the dark alleys and the rubble spread around act as an arena for some amazing photographs. And among the ruins and broken walls, you will find numerous rooms and passages.
While you can't check Hauz Khas Fort architecture in detail, you can still glimpse at the Islamic style from the remnants of those majestic monuments. Various square, hexagonal and octagonal pavilions (or chhatris, as called locally) are present in the campus. From the fort, you also get a full view of the garden and reservoir below. Hauz Khas Complex also has a Deer Park near the gate. Peacocks, guinea pigs and rabbits are there, among other animals.
Whether you want to spend some time with yourself at the lake, read a book in a corner or click some memorable photographs, Hauz Khas Village Fort is the place to be. You will also find plenty of eateries to savour some lip-smacking delicacies outside the complex.
Hauz Khas Village Fort Timings and Entry Fee
You are free to visit Hauz Khas Village any time during the day. It is in one of the prime locations of Delhi and is surrounded by a plethora of shops, art galleries and entertainment avenues. However, Hauz Khas Fort entry timings are between 10:30 AM and 7 PM. The place is open every day except on Sunday. So make sure you plan accordingly.
Hauz Khas Fort ticket price is ₹25 per person for Indians and ₹200 per person for foreign tourists.
Image Gallery Hauz Khas Fort, Delhi
Best Time to visit Hauz Khas Fort
Hauz Khas Fort Complex has a madrasa, a mosque and a tomb of Firoz Shah apart from other constructions and is accessible throughout the year. However, on account of unbearable Summer heat, the best time to visit the place is during October-November or March-April. You can visit the place during the winter months too – from November to March, but thick fog reduces visibility and impedes the views.
Time Required to explore Hauz Khas Fort
You will need 3-4 hours to explore the area. Whether you want to check the interiors, stroll beside the lake or bask in the warmth of the winter sun, you can take in all in those hours. The place is open until sunset.
Places to visit near Hauz Khas Fort
1. India Gate – At the end of Rajpath, India Gate and its surroundings are a popular spot for recreation and relaxation. It's a war memorial, constructed to honour the soldiers who died during the First World War and is situated about 9 km away from Hauz Khas. The Amar Jawan Jyoti, with an eternal flame, too stands there, in memory of the martyrs of 1971 Indo-Pakistan War.
2. Humayun's Tomb – This tomb of Mughal emperor Humayun is surrounded by a huge garden. Humayun's Tomb is a UNESCO World Heritage Site and is at a distance of about 5 km from India Gate. It is an impressive structure built in the Mughal style of architecture, with red sandstone. Apart from the main tomb, the complex has mosques and 100+ tombs of other Mughal emperors and royals.
3. Qutub Minar – Qutub Minar is another UNESCO World Heritage Site near Hauz Khas Fort Tank. At the height of 72.5 metres, it is one of the tallest minarets in the world. The complex is dotted with gardens and lawns spread all around. Similar to Humayun's Tomb, this mighty structure too, is built with red sandstone. It is about 4 km south of Hauz Khas.
4. Lotus Temple – Also known as Bahai Temple, this serene place is surrounded by ponds and lush green gardens. This beautiful temple isn't dedicated to any deity or religion but stands for peace and unity among all religions. Lotus Temple is one of the most visited religious spots of Delhi, and it's only 7 km away from Hauz Khas.
5. ISKCON Temple – ISKCON temple is a Hindu temple, dedicated to the worship of Krishna and Radha. It is located about 2 km away from Lotus Temple and is one of the largest temple complexes in the country. The devotees believe in spreading awareness about the Vedic culture and the temple thus, has a cultural centre, art galleries and a library among other facilities.
How to reach Hauz Khas Fort Delhi?
You can reach Delhi using roadways, railways and airways. As it is the capital of India, it is connected to every part of the country, and international destinations as well. And Hauz Khas Fort is in the South of Delhi. It is easily accessible from all major parts of the city. You can take taxis or book private cab from top car rental companies in Delhi for a complete Delhi trip. Public buses and metro services are also available.
The best way to reach Hauz Khas fort is via metro. Hauz Khas Metro Station on the yellow line is the nearest metro station to Hauz Khas fort. Another nearby metro station is Green Park station, also on the yellow line.
Here's how to reach Delhi.
By Road – A network of highways connects Delhi to all over India. Frequent buses run between Delhi and other parts of North India, even across state boundaries.
By Rail – Delhi has several railway stations connecting the capital to different parts of the country. New Delhi railway station is the main station, but Hazrat Nizamuddin railway station, Old Delhi railway station, Anand Vihar railway station and Sarai Rohilla railway station also connect Delhi to other prominent destinations in India.
By Air – Indira Gandhi International Airport is one of the busiest airports in the country. Apart from domestic flights to the metropolitan cities, regular flights are available from places in different corners of India. The airport also connects Delhi to important tourist destinations all over the world.
---
A trip to India's capital city is best enjoyed with Delhi tour packages offered by Delhi Tourism, a division of Holidays DNA. You can have a memorable holiday experience with our tour packages that include a visit to all the popular and important tourist attractions of Delhi. Please fill the Contact Us form for us to help you better.
Location Map for Hauz Khas Fort Delhi